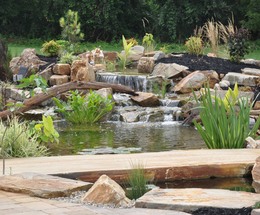 Making Homes Beautiful
Turpin Landscaping offers homeowners a "one-stop shop" for outdoor lifestyles
Turpin Landscaping, founded by brothers Jason and Chad Turpin, has been improving outdoor living for homeowners in Chester County and beyond for nearly a decade.
From an early age, Jason knew he had a passion for ponds and has since become a Certified Aquascape Contractor; he also holds certifications with the Interlocking Concrete Pavement Institute and the National Concrete Masonry Association. Jason's passion for ponds and water features, combined with Chad's unique talents, has blossomed into a highly successful and diverse venture.
Today Turpin Landscaping is a versatile family business based in Coatesville. Its mission is to be a full-service landscape company, wholly dedicated to creating outdoor lifestyles that exceed customer expectations while enhancing the beauty and value of their homes. Jason and Chad's expertise and hard work, combined with the efforts of a 14-person crew, enable Turpin Landscaping to install any landscape, water feature and hardscape job with ease and efficiency.
"If you want an outdoor kitchen, fireplace and a patio next to your pond with professional lighting and interesting plants around it, we can give you that," says Jason, 29. "When we're done it's like you're able to have a vacation in your own back yard. It's all about experience and passion with us. I work with ponds, my brother goes in with his hardscape expertise, our mom, Becky, she handles the landscape design, and that's what we each do every day.
"We have somebody who specializes in their field every day," he continues. "We feel we can create the best outdoor lifestyles for our clients."
Chad, the company's 27-year-old co-founder, with his own skills and training in machine technology, carpentry, masonry and welding, has the unique ability to take practical needs and transform them into works of art. He specializes in creative and practical solutions for constructing outdoor spaces, which include but are not limited to patios, walkways, amazing outdoor kitchens, distinctive spa installations, fire pits and fireplaces.
Jason and Chad have been growing their company and expanding their capabilities and client services since 2001. Together they can accomplish for their clients installations ranging from a small pond for just a few thousand dollars to a complete outdoor renovation, including intricate hardscaping.
"Every job is different," says Chad. "Some can be finished in as little as one day, and others can last months, all based on the needs and wants of the customer."
The brothers now proudly employ their mother, Becky Turpin, who handles landscape design and is cherished by customers for her vast knowledge of plant life. Her passion and knowledge for plants enhances Turpin Landscaping's designs by offering their customers outstanding plant material selections. "I choose extraordinary plants that will keep in scale with their space and complement their surroundings while having a dramatic impact of their own," she says. "Everything we do is quite unique." This is true of foundation plantings and specialty gardens as well as planting ponds and making the areas nearby exceptionally gorgeous while still appearing to be beautifully natural.

Continued Growth
The recent economic downturn has encouraged homeowners to turn to Turpin Landscaping to help create new outdoor living spaces—not only to improve the value of their homes but also to enjoy a whole new outdoor lifestyle developed exclusively for them and their budget. Not everyone can afford an entire package at once, but with carefully executed creative planning they can achieve exceptional results over a few years. This philosophy has contributed to 2010 being Turpin Landscaping's best year thus far.
Clients have endless possibilities when it comes to ponds or water features, according to Jason. He was originally attracted to ponds while in high school and participated in a "Ponds for Kids" program, in which a contractor had come to the school and installed a pond with the students. He was so excited he knew he could do it, and his skills have evolved considerably since then.
A pond is a "private paradise," he says, but it can also create natural screening for noise or a privacy buffer to help homeowners unwind through a combination of natural sights and the soothing sounds of falling water. Colorful Koi fish are a welcoming sight upon arriving home after a long day, and are mesmerizing to watch swimming at night in a lit pond.
Personalized onsite pond consultations help clients envision how a pond would best fit into their landscape and be appreciated from the inside looking out, as well as when enjoying their outdoor oasis. Another option for those who don't spend as much time at home and would rather not have their waterfall run 24-7 is a "pondless waterfall," which is a stream of falling water that disappears into a bed of stone and gravel that provides many of the same meditative qualities as a pond but without any upkeep. Water features can be created in many sizes and pondless needs only about 10 square feet to fit almost anywhere, while a pond needs slightly more space.
In addition to pond installation, Turpin Landscaping has expanded its service capabilities, with a devoted team and vehicle stocked and loaded with pond supplies such as water treatments and fish food, to provide customers with reliable maintenance service options (weekly, bi-weekly, etc.) as well as special services such as winterization. Finally, the addition of professional landscape lighting can enhance the beauty of water features and landscaping, while increasing the usability, security and safety of one's property.
Turpin Landscaping's business has grown to include a retail store and outdoor showroom, which customers can visit to shop from a vast selection of more than 200 aquatic plants and pond products, while benefiting from the knowledge of onsite staff. The Turpins and their employees hold classes and events on Saturdays, including several "Build a Pond" and "Build a Waterfall" days throughout the year, along with seminars on plants, lighting and rainwater harvesting. (Visit TurpinPondSource.com for more information and to register for special events.) Their new office building with an upstairs conference room will enable Turpin Landscaping to hold classes on rainy days, and the new store will be located in front of the offices. The outdoor spaces are also being completely renovated for 2011.
The company also gives back to the community and its clients in other ways. Last July, for example, the company held a two-day charity event in which it invited customers to the Brandywine Valley Water Garden Tour, which helped raise $9,800 for The Chester County Food Bank. (This year the tour is scheduled for July 30 and 31, to include a country barbecue, silent auction and raffle; more information will be posted soon.) The event includes a self-guided two-day tour throughout beautiful landscapes, with water features to explore and enjoy while raising money for The Chester County Food Bank.
"I am most proud of how Chad and I have grown this company together, and that with the collaboration of our family we can provide the whole package of outdoor living from the first stage of planning and design through construction, and helping to maintain the lifestyle for our customers," Jason says. "We are truly a one-stop shop. Above all I am most proud of the relationships we have built with our clients and how together we have been able to give back to the community."

Turpin Landscaping Inc.
287 Martins Corner Road, Coatesville
610-380-1119
TurpinLandscaping.com
TurpinPondSource.com