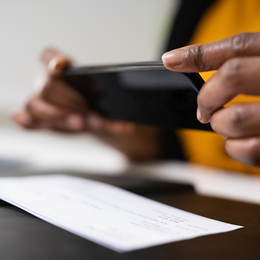 Invested at Home
As the pandemic revealed, community banks go "all in" to help businesses and families thrive.
Last year, in the whirlwind chaos brought about by the pandemic, business owners and checking-and-savings customers rediscovered an old ally: the community bank. Locally based community banks' around-the-clock efforts helped thousands of local businesses keep the lights on and the doors open through the Payroll Protection Program. In the same vein, banks enhanced their digital offerings and drive-through availability to ensure convenient access to funds at a time when branch lobbies were largely closed to the public.
"The use of digital banking services has seen significant growth over this past year," says William McKenna, chief marketing officer for ESSA Bank & Trust, which has multiple branch locations in the Philadelphia suburbs. "Drive-thru traffic has increased significantly, too. People who used to go into the branches are now going into the drive-thru instead.
"When it became clear that the pandemic was going to change the way we do business, we did everything possible to communicate with customers via email and our website that we would still be able to help them, either through the drive-thru or through our digital services," he continues. "It wasn't that we didn't want to see their faces, but we let them know there were good alternatives at a time when seeing people face to face wasn't really an option."
Being a community bank requires immersion in a community, helping in ways beyond dollars and cents. After all, banks that are based locally tend to invest in their communities both literally and figuratively.
* Centric Bank, a Harrisburg-based firm with financial centers in Doylestown and Devon, as well as a loan production office in Devon, provided crisis response across Pennsylvania during the pandemic. From March through November 2020, Centric sent a total of $46,500 to four Pennsylvania food banks.
* Late last year, Millersburg-based Mid Penn Bank raised more than $100,000 for the Division of Urology at Penn State Cancer Institute by completing its fifth annual "No Shave November" challenge. The campaign, which supports prostate cancer research, rallied financial support from employees and community partners during the month of November. Mid Penn Bank operates retail locations throughout Pennsylvania, including Bucks, Chester, and Montgomery counties.
* Perkasie-based Penn Community Bank worked with the United Way of Bucks County on the Bucks County COVID-19 Recovery Fund, described by the Philadelphia Business Journal as a "difference-making partnership" between a local business and a nonprofit organization. The bank, which has locations throughout Bucks and Montgomery counties, earned a 2021 Faces of Philanthropy award for the partnership.
* Quakertown-based QNB Bank recently donated $40,000 to local education organizations through Pennsylvania's Educational Improvement Tax Credit program. Since 2017, QNB has donated $192,750 through the program, which awards tax credits to businesses for contributions to Educational Improvement Organizations. For 2021, QNB donated to 17 nonprofit organizations, including Big Brothers Big Sisters of Bucks County, Bucks County Community College Foundation, and North Penn School District Educational Foundation.
Community banks have come a long way in the past 10 years, particularly on the technology front. That high-tech trend is likely to continue, according to McKenna, in part because of new consumer habits brought about by the pandemic.
"The digital transformation has been accelerated by COVID-19," he says. "We're continually updating our technology to make digital banking services more convenient, for both business and personal. We saw a big interest in remote deposit capture over the past year. It's a huge convenience for people who want to cash checks without physically coming into one of our branches."
Even though the mechanism by which people use their banking partners will continue to evolve, banking remains, first and foremost, a people business. Whether it's an entrepreneur seeking a loan to expand her fledgling enterprise or a single father with a savings account looking to finance his child's education, bankers do their best work by taking the time to get to know their customers and best determine their needs. This, McKenna adds, is where community banks have the opportunity to shine.
"Our branches will always have people on site, but the branch of the future will be more consultative rather than transactional—people looking for some guidance that aligns with their needs," he says. "We're already seeing that now, but more and more people will be coming in only when they need to have a face-to-face discussion, so we're trying to hire people who have that skill set and a good understanding of that value we're trying to provide."
Community Pillars
The Philadelphia area has a many respected community banks with deep local roots, including some that maintain their headquarters in the city or its surrounding suburbs. The following financial institutions continue to expand their presence in the area, either by adding branch locations, expanding the products and services they offer (in person and online), or by ramping up their efforts to support the communities in which they do business. Some check every box.
Ambler Savings Bank
amblersavingsbank.com
C&N
cnbankpa.com
Centric Bank
centricbank.com
Citadel Credit Union
citadelbanking.com
ESSA Bank & Trust
essabank.com
The First National Bank & Trust Co. of Newtown
fnbn.com
First Resource Bank
firstresourcebank.com
Genisys Credit Union
genisyscu.org
Harleysville Bank
harleysvillebank.com
Hatboro Federal Savings
hatborofed.com
Huntingdon Valley Bank
hvbancorp.com
Inspire Federal Credit Union
inspirefcu.org
Malvern Bank
mymalvernbank.com
Meridian Bank
meridianbanker.com
Mid Penn Bank
midpennbank.com
Penn Community Bank
penncommunitybank.com
Philadelphia Federal Credit Union
pfcu.com
QNB
qnbbank.com
Reliance Federal Credit Union
reliancefcu.com
Republic Bank
myrepublicbank.com
Tompkins VIST Bank
vistbank.com
TruMark Financial Credit Union
trumarkonline.org
Univest Bank and Trust Co.
univest.net
Victory Bank
victorybank.com
WSFS Bank
wsfsbank.com
Published (and copyrighted) in Suburban Life, May 2021.