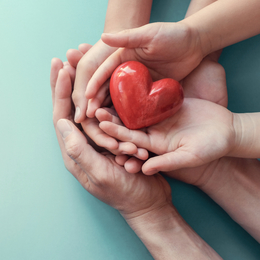 All Better
Local health systems enhance their ability to preserve and protect patients' health.
If the COVID-19 pandemic has taught us anything, it's that nothing is more important than our health and that of our loved ones.
Given the abundance of health systems nearby, anyone who lives in Philadelphia or the surrounding suburbs is in good hands should he or she face a serious health concern. While health systems may differ in terms of their size, capabilities, and areas of specialty, all share a common goal: to provide the best possible care for patients throughout the Delaware Valley. They have done so by devoting the time, energy, and financial resources to acquiring the human talent and state-of-the-art technology needed to preserve and protect, if not improve, patients' health.
On the following pages we explore some of the recent additions, enhancements, and expansions made by the area's health systems. Many of these changes came to fruition within the past year, during the most serious healthcare crisis the world has faced in more than a century.
* Capital Health's medical group has experienced significant growth over the past five years and continues to expand at a fast pace. In 2017, Capital Health provided care for 31,750 covered lives, a number that will grow to more than 150,000 by the end of 2021. The organization has grown to include 23 primary care offices throughout Bucks, Mercer, and Burlington counties (up from nine in 2017) and employ 89 primary care physicians (up from 42). In 2021, Capital Health opened offices in Princeton, Bordentown, Browns Mills, Lawrenceville, and East Windsor, and it will soon open another office in West Windsor.
In addition, Capital Health Cancer Center has made tremendous strides since opening its doors just a few years ago. Since joining the organization in 2018, Medical Director Cataldo Doria, M.D., Ph.D., M.B.A., FACS, has helped transform Capital Health's nascent oncology program into one of the region's foremost destinations for cancer care. One of the most significant steps forward recently came in the form of an affiliation with Temple University Hospital for liver transplant and advanced surgical services. Under the terms of the affiliation, Capital Health patients who are approved candidates will be able to receive liver transplants at Temple, and will receive pre- and post-transplant care at Capital Health Medical Center – Hopewell under the direction of both Capital Health and Temple physicians. Similarly, Temple University Hospital patients who are approved candidates will receive ex vivo liver resection with liver auto-transplant, and robotic-assisted Whipple procedures at Capital Health and will receive pre- and post-surgical care at Temple University Hospital under the direction of both Temple and Capital Health physicians.
* Children's Hospital of Philadelphia (CHOP) has long been known as a leader in groundbreaking research and clinical trials for the treatment of pediatric cancer, autism, and congenital heart disease, among other conditions that affect children. The organization continues to find new ways to better serve local patients and families, such as the Richard D. Wood Jr. Center for Fetal Diagnosis and Treatment. Through a $25 million gift from the Wood family, Wawa's founding family, CHOP will use the center to tackle initiatives such as building out clinical space for the Garbose Family Special Delivery Unit; creating a birth defects biorepository to aid in research and guide treatment and care decisions; and establishing new endowments to help CHOP recruit, retain, and train top talent.
In addition, CHOP continues to expand the CHOP Care Network, which includes more than 50 primary care offices, specialty care and surgical centers, urgent care centers, and community hospital alliances throughout Pennsylvania and New Jersey. The latest expansion is a 37,000-square-foot Specialty Care Center in Abington.
* Crozer Health's Crozer-Chester Medical Center in Upland became certified by The Joint Commission as a Comprehensive Stroke Center. Crozer says this is the highest possible stroke certification, issued to fewer than 200 hospitals across the country, and Crozer-Chester Medical Center is the first Comprehensive Stroke Center in Delaware County, Pennsylvania.
Neurosurgery and neurologic care are among Crozer Health's strongest suits. The Global Neurosciences Institute (GNI) at Crozer Neurosciences Center of Excellence, which was created in 2017, combines Crozer's high-acuity capabilities with the clinical expertise of GNI. Utilizing Crozer Health's advanced hybrid OR capabilities, GNI's surgical team performed the first minimally invasive procedure to remove blood clots (thrombectomy) within Delaware County on a stroke patient. In addition, GNI at Crozer created a dedicated neurologic ICU supported by neurologic pharmacy specialists and a 24/7 team of neuro critical care-trained physician assistants under the direction of fellowship-trained comprehensive vascular neurosurgeons.
* Doylestown Health has had a busy year so far. In April, the organization dedicated its new Clark Center for Critical Care Medicine, which aims to provide "the next level of specialized and intensive care" for critically acute patients. The centerpiece of Clark Critical Care is the newly opened Putman Intensive Care/Intermediate Unit, which includes 32 private patient rooms featuring universal ICU/IMU beds and a dedicated nursing staff. With the opening of the new Putman ICU/IMU, Doylestown Health continues to enhance its nationally recognized Intensivist Program, a model in which board-certified physicians provide 24/7 care for critically ill patients in the ICU.
In January, Doylestown Health enhanced its "One Vision" goal to $100 million—a $25 million boost—to advance the next phase of transformation across the health system. To date, signature accomplishments made possible by donor investments include the opening of the Cardiovascular and Critical Care Pavilion, home to the Woodall Center for Heart and Vascular Care and the Clark Center for Critical Care Medicine; the Ambulatory Center, home to the Clark Outpatient Rehabilitation Center, as well as pre-admission testing and other outpatient services; and the expansion of the Doylestown Hospital Surgical Suite, currently underway. Future initiatives include the relocation and expansion of the Women's Diagnostic Center in Doylestown Hospital to incorporate new advancements in technology and treat more patients, and renovations and expansions that will advance the transition to an all-private bed hospital.

* Einstein Medical Center Montgomery, Einstein Healthcare Network's campus in East Norriton, opened its doors in 2012. Since then, it has expanded its licensed beds from 146 to 195, with the difference being split among medical/surgical, neonatal, and observation units. The medical center has also gone to great lengths to maintain the quality of its facilities—it's currently replacing all patient beds, for example—and widened its off-campus footprint through ambulatory sites throughout the county (Blue Bell, Collegeville, King of Prussia, Lansdale, etc.) for various areas of specialty.
In addition, Einstein Montgomery has renovated existing space to support a residency program.
In July, the campus will welcome 34 new residents, joining the 40 already in place, according to President and COO Beth Duffy. "It's extremely prestigious to say you are now an academic teaching facility," she says. "We want to make sure we are selecting people of the highest quality, and people who want to stay in this system and in this community."
* Complete spine care is now available through Grand View Health. The Grand View Heath Spine Program, a service of Upper Bucks Orthopaedics at Grand View Health, brings together specialists in orthopedics, physical medicine, neurosurgery, and physical therapy to offer area residents a wide range of options for spine-related conditions such as cervical and lumbar stenosis, herniated disks, and sports- and work-related injuries, among others.
Anyone driving on Route 313 in Dublin may have wondered about the new construction taking shape in town. It's the future site a new Grand View Health outpatient center. Once complete, the center will offer same-day primary care appointments, modern physician offices, specialty care, and walk-in X-ray and lab services.
* The long-awaited merger between Einstein and Jefferson Health is moving forward. After the Federal Trade Commission challenged the merger on the grounds that it would stifle competition, the FTC in March reversed course and said it would no longer oppose the merger. Once finalized, the merger will expand Jefferson's network from 14 to 18 hospitals, and is expected to improve health education and bolster research opportunities in the region. In addition, the merger will bring together two of the nation's foremost hospitals for inpatient rehabilitation—Jefferson Health – Magee Rehabilitation Hospital and MossRehab/Moss Rehabilitation Research Institute. The merger, the beginnings of which can be traced back to 2018, is expected to be completed by year's end.
* Main Line Health's Riddle Hospital in Media has broken ground on a $327 million modernization of its campus that will include a new patient pavilion, as well as renovations to existing care units and support areas. Riddle's campus modernization project will occur in two phases. The first phase, expected to be completed in the summer of 2023, will include the construction of a 230,000-square-foot, five-story patient pavilion that includes 76 acuity-adaptable private patient rooms, an operating room suite with 10 operating rooms and three procedure rooms, and other amenities. The second phase, which will be completed in the summer of 2024, will include a renovation of the hospital's ICU. Upon the project's completion, the hospital will be equipped with all private patient rooms, contemporary facilities, and advanced technology to support the evolving needs of the community.
* While the pandemic was a hugely disruptive event, it did not disrupt Penn Medicine's ability to continue its groundbreaking advancements in research and clinical care.
At Chester County Hospital in West Chester, for example, the organization took bold steps forward with its Structural Heart Disease program. The latest example is the CardioMEMS HF System, an implantable device that detects changes in a patient's blood pressure and sends information wirelessly to a patient's cardiology care team. The implant, which acts as a kind of early warning system that a patient's condition may be worsening, has been clinically proven to reduce hospital admissions among patients with heart failure.
Chester County Hospital embraced the community throughout the COVID-19 pandemic. Led by President Michael J. Duncan, the hospital took a hands-on, almost grassroots approach to educating community members about the safety and efficacy of the COVID-19 vaccine. As a result, the hospital was able to increase vaccinations among groups that may have been hesitant about receiving the vaccine, particularly those in the black and brown communities.
* St. Mary Medical Center, which is part of Trinity Health Mid-Atlantic, has been a multiyear recipient of "America's 100 Best Hospitals" award for joint replacement and coronary intervention. The Langhorne campus has become a magnet for talented physicians and other medical professionals looking to utilize state-of-the-art technology to optimize patient outcomes—for example, surgeons who are trained in robotic-assisted surgery.
St. Mary also plays a role in fostering the next generation of medical professionals through initiatives such as a pharmacy residency program. The one-year program, which is accredited by the American Society of Health-System Pharmacists, aims to contribute to the development of clinical pharmacists through training opportunities in areas such as acute care, transitions of care, and clinical services, among others. Noha Eltoukhy, PharmaD, the program's director, says residents receive "a rewarding experience" by further developing the critical thinking skills needed to move forward in their respective pharmacy practices.

* Temple University Health System has expanded its reach through affiliations apart from the one with Capital Health. For example, Temple University Hospital recently announced an affiliation with St. Luke's University Health Network for advanced lung disease and lung transplant services, designed to provide patients living in the Lehigh Valley with streamlined access to Temple's lung transplant team and pulmonology specialists. This announcement builds on previously established affiliations between Temple and St. Luke's for heart, liver, kidney, pancreas, and bone marrow transplant.
Temple has broadened its ability to serve patients' health needs in other ways. In March, the Temple Lung Center opened a new clinic location at Temple University Hospital – Jeanes Campus. Temple suggests the location will allow patients in Northeast Philadelphia, eastern Montgomery County, and Bucks County to have access to Temple pulmonologists and services closer to home. Also, Fox Chase Cancer Center, which is part of Temple University Health System, continues to adopt revolutionary clinical care as a means of optimizing patient outcomes.
* Tower Health's network, which includes several regional hospitals that provide a broad range of medical and surgical services, continues to invest in technology and talent designed to better serve patients' needs. For example, Phoenixville Hospital recently added the da Vinci X surgical system robot—the third da Vinci robot at Phoenixville, according to a Tower Health spokesperson. The system enables surgeons to perform minimally invasive surgery with an advanced set of instruments and a 3D high-definition view of the surgical area. The surgeon is 100 percent in control of the robotic-assisted da Vinci Surgical System, which translates his or her hand movements into smaller, more precise movements of tiny instruments inside the patient's body. Compared with open surgery, the less invasive surgical technique offers benefits such as less blood loss, fewer postoperative complications, and shorter hospital stays, as well a quicker recovery.
Season of Renewal
With summer nearly upon us, many of us are looking in the mirror and contemplating a change or two. Earlier this year Suburban Life conducted a months-long poll in which readers were asked to share their votes for the area's top physicians. We added some selections of our own, based on recent stories about doctors who have devoted their careers to serving patients' needs. The list included plastic surgeons, dermatologists, and other medical specialists is the realm of cosmetic medicine, all highly educated and trained to help patients look and feel their best.
AESTHETIC/COSMETIC MEDICINE
Dr. Eric F. Bernstein
Main Line Center for Laser Surgery
Ardmore
dermguy.com
Dr. Steven L. Davis
Davis Cosmetic Plastic Surgery
Philadelphia, Cherry Hill, N.J.
daviscps.com
Dr. Glenn A. DeBias
The Institute for Laser and Aesthetic Medicine
Doylestown
ilamed.com
Dr. Jason Emer
Dr. Gene Levinstein
Novique Medical Aesthetics
Doylestown
novique.com
Dr. Anshul Gambhir
Dr. Vibha Gambhir
Gambhir Cosmetic Medicine
Exton and King of Prussia
drgambhir.com
Dr. Richard M. Goldfarb
Center for SmartLipo & Plastic Surgery
Langhorne
centerforsmartlipo.com
Dr. John J.W. Lee
Bryn Mawr Facial Aesthetics Center
Bryn Mawr
drjohnleesurgery.com
Dr. Robert J. Skalicky
Modern Aesthetic Plastic Surgery
Newtown, King of Prussia
modernaestheticplasticsurgery.com
DERMATOLOGY
Dr. Imran Amir
City Dermatology Skin Institute
Bensalem, Warminster
cityderma.com
Dr. Rachel B. Anolik
Dr. Kara D. Capriotti
Dr. Victoria A. Cirillo-Hyland
Dr. Julia H. Cohen
Dr. Noushin Heidary
Dr. W. Teresa Hsu
Dr. John K. Mulholland
Dr. Edward F. Ryan
Cirillo Institute | Cirillo Cosmetic Dermatology Spa | Bryn Mawr Skin & Cancer Institute
Bryn Mawr, Newtown Square
cirilloinstitute.com
Dr. Samy Badawy
Dr. Toby Shawe
Skin Smart Dermatology & Skin Care Center
Wyndmoor
skinsmartderm.com
Dr. Elizabeth C. Benstock
Crozer-Keystone Health System
Multiple locations
crozerkeystone.org
Dr. Edward E. Bondi
Dr. Bruce A. Brod
Dr. George Cotsarelis
Dr. Glen H. Crawford
Dr. Cherie M. Ditre
Dr. Alain H. Rook
Dr. Adam I. Rubin
Dr. Victoria P. Werth
Penn Medicine
Multiple locations
pennmedicine.org
Dr. Anthony V. Benedetto
Dermatologic SurgiCenter
Philadelphia, Drexel Hill
benedettoderm.com
Dr. Carmen Campanelli
Yardley Dermatology Associates
Yardley
yardleyderm.com
Dr. Robert Fox
Einstein Healthcare Network
Multiple locations
einstein.edu
Dr. Fern G. Fried
Dr. Richard G. Fried
St. Mary Medical Center
Langhorne
stmaryhealthcare.org
Dr. Thomas Griffin Jr.
Dr. Michael S. Lehrer
Dr. Erica Perilstein
Dr. Jonathan T. Wolfe
Dermatology Associates of Plymouth Meeting
Plymouth Meeting
plymouthmeetingdermatology.com
Dr. Thomas D. Regan
Pennsylvania Centre for Dermatology
Philadelphia
pennsyderm.com
Dr. Adrienne Rencic
Rencic Dermatology
Glen Mills
rencicderm.com
Dr. Robert J. Willard
Dermatology & Mohs Surgery
Multiple locations
dermatologyandmohs.com
Dr. Dorota Wilson
Wilson Dermatology
Langhorne
wilsonderm.com
OCULOPLASTIC SURGERY
Dr. John J.W. Lee
Bryn Mawr Facial Aesthetics Center
Bryn Mawr
drjohnleesurgery.com
PLASTIC & RECONSTRUCTIVE SURGERY
Dr. Vidhi Adlakha
Dr. Blair Armstrong
Dr. John-Paul Regan
Dr. Robert J. Skalicky
Modern Aesthetic Plastic Surgery
Newtown, King of Prussia
modernaestheticplasticsurgery.com
Dr. Scott P. Bartlett
Children's Hospital of Philadelphia
Philadelphia
chop.edu
Dr. Ernest J. Cimino
Capital Health Medical Group
Yardley
capitalhealth.org
Dr. Brannon Claytor
Main Line Health | Claytor Noone Plastic Surgery
Bryn Mawr
cnplasticsurgery.com
Dr. Kevin J. Cross
Cross Plastic Surgery
Philadelphia, Villanova
crossplasticsurgery.com
Dr. Steven L. Davis
Davis Cosmetic Plastic Surgery
Philadelphia, Cherry Hill, N.J.
daviscps.com
Dr. Raphael Gabay
Gabay & Gottlieb Cosmetic Surgery Center
Philadelphia
gabaycosmeticsurgery.com
Dr. Edward S. Kole
Kole Plastic Surgery Center
Southampton
koleplasticsurgery.com
Dr. Matthew J. Lynch
Dr. Jamie R. Wisser
Princeton Rejuvenation Institute LLC
East Windsor, N.J.
primedspa.com
Dr. Craig Mezrow
Craig Mezrow, MD, MS, FACS
Bala Cynwyd
drmezrow.com
Dr. Gary A. Smotrich
Lawrenceville Plastic Surgery
Lawrenceville, N.J.
lawrencevilleplasticsurgery.com
Dr. Christian Subbio
Subbio Plastic Surgery & Medical Spa
Newtown Square
drsubbio.com
Dr. Neal S. Topham
Fox Chase Cancer Center
Philadelphia
foxchase.org
Dr. Gary A. Tuma
Capital Health Medical Group | Plastic Surgery Associates of New Jersey
Pennington, N.J.
psaofnj.com
Dr. Allan Wulc
W Cosmetic Surgery
Plymouth Meeting
wcosmeticsurgery.com
VASCULAR SURGERY
Dr. Eric T. Choi
Temple Heart & Vascular Institute
Philadelphia
templehealth.org
Dr. Michael Cornwell
Dr. Abhi Kasinadhuni
Dr. Mehul N. Shah
The Center for Vein Restoration
Multiple locations
centerforvein.com
Dr. Danielle M. Pineda
Jefferson Health
Multiple locations
jeffersonhealth.org
Dr. Atul S. Rao
Doylestown Health
Doylestown
doylestownhealth.org
Published (and copyrighted) in Suburban Life, May 2021.