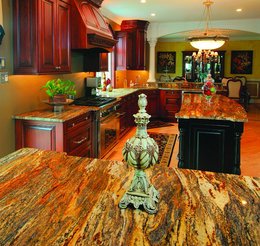 Perfect Cut
Natural stones from Let's Get Stone'd transform homes into showplaces
Creativity and one-of-a-kind artistry are part of what makes Warrington-based Let's Get Stone'd (LGS) unique. LGS owners Kirk Raysky and his father, Eric, provide customers an outlet for achieving individual home masterpieces through the use of natural stones such as granite and marble. From exotic to basic, dark to light, subtle to shimmering, no two stones are alike.

LGS customers Janet and Jeff Marozzi of Warrington chose the granite known as "Hurricane" for their complete kitchen renovation. With an array of browns, tans, blacks, grays and terracotta, the multicolored stone is a stunning complement to their custom black glazed cherry cabinets.

"I was blown away," says Janet Marozzi, her voice ecstatic as she describes her countertops, islands and back splashes feeding into traditional Corinthian arches and columns. This was Marozzi's first exposure to kitchen remodeling and LGS's unique cutting and installation techniques. At first Marozzi wasn't sure about the need for the company's process of creating and using plywood templates. "But then you realize why they do it that way when you see the granite's focal points and movements."

The entire process, from start to finish, receives high praise from Marozzi. From selecting and pre-approving granite slabs, to fabrication and meeting Kirk at the shop, LGS's customer service was "outstanding," says Marozzi. "They were motivated, dedicated, professional and really cared about making sure everything was going to work out."
In business since 2001, LGS's Warrington showroom has a steady flow of customers viewing its marble (primarily for bathrooms), flooring, tiles and granite samples. Beyond the showroom, onsite fabrication includes offering customers a variety of countertop edges: quarter-inch and half-inch bevel, demi bull-nose, flat, ogee, double ogee and full bull-nose.
In LGS's rear yard, approximately 150 granite slabs are available in a wide array of colors, such as Wild Sea, Thunder Wave and Red Montana. Customers are encouraged to take a sample home or bring its existing cabinet drawer into the LGS professional designer for help in choosing style and color to complement their existing lighting, floors and appliances.

In-Home Investment
"We do focus on the customer," says Anya Raysky, Kirk's wife and colleague. "When you come to us, you are really involved from the beginning to the end. … We focus on the customer being happy and we get back to them right away.
"At Let's Get Stone'd," she continues, "we pride ourselves on not doing anything without the customer's approval. We're also in-house fabricators—the same person who comes into your house to make the template is usually the same one who cuts your piece of granite and installs your counters."
LGS clients Ruth and Dale Broderick of Solebury appreciated such personalized service when they chose LGS to upgrade their kitchen. "They were so nice and competent and confident that they could do a good job," Dale explains. "And they could do it promptly."
The Brodericks wanted granite counters and a full backsplash, and they found their granite of their choice—Paradisio Bash—in the LGS showroom. They returned later with one of their cabinet doors to make sure it worked well with the granite's colors, and then went outside in the back of the showroom to choose their slab. LGS technicians came out later that week to make the template, according to Dale.
Back at the showroom, the Brodericks used the template to decide exactly which portion of the slab would become their counters.
The LGS crew that worked in the Brodericks' home was "very pleasant to have in the house," says Ruth. In fact, the only person who wasn't an LGS employee was the person who had to take old tiles off the backsplash that had been installed improperly when the house was built. Even so, LGS made all the arrangements for a specialist to do the job.
"The time between making our decision and getting them installed was two weeks," Dale says. In all, the Brodericks were thrilled to have their new countertops from LGS, just in time for holiday entertaining.
"You develop a love for your granite," says Anya. "That's the fun in choosing a natural stone instead of a synthetic stone that is always the same. … In this economy, people are not moving, so they are investing in granite. You get over 100 percent return in the value of granite when you go to sell your home."
Let's Get Stone'd
414 Easton Road (Route 611), Warrington
215-491-7814
LGSGranite.com
Jill Yris is a freelance writer based in Doylestown.
Maria Martino Evans is a writer and PR professional based in Pipersville.