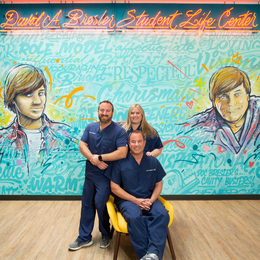 Unforgettable, That's What You Are
The life and legacy of Dr. David A. Bresler, gone but never to be forgotten.
What kind of impact did I leave on this world? How many lives did I help make better? These are some of the questions that David A. "Doc" Bresler, D.D.S., may have wondered in his final days in March 2015, when he passed away at the young age of 61. His loving family has made sure to do everything in their power to preserve and further enhance the legacy he left behind.
Doc Bresler had many guiding principles that he followed to help him in the creation and growth of the pediatric dentistry practice he founded in 1982, Doc Bresler's Cavity Busters. These philosophies kept him in good stead as a pediatric dentist, educator, humanitarian, and devoted family man. Now, to commemorate the life and legacy of this inspiring professional, his three children—Joshua A. Bresler, D.M.D., Jason M. Bresler, D.M.D., and Rachel L. Bresler, D.M.D.—are proud to announce the recent opening of the David A. Bresler Student Life Center at the Kornberg School of Dentistry at Temple University.
While the pandemic prevented a major grand opening at the end of 2020, students have started to utilize the newly renovated student center on the fourth floor, an area of the school that had been long overdue for a makeover. The center includes an area of beautifully done murals that honor Doc Bresler, and illustrate his legacy in fine detail.
"This philanthropic project is very near and dear to our hearts, and something our dad would have loved to be a part of," explains Dr. Rachel, adding that her father valued his years as a doctoral student at Temple, and then as an educator (since 1979) to many generations of students. "Our dad used to give the welcome speech to the incoming class of students, and always referenced the fourth floor and the lack of change since he was a student there. It was fitting that if anyone was going to make a change, we would honor our dad's legacy. By creating a beautiful, functional space enhanced with colorful murals, we get to 'be the change' while telling our dad's story, and sharing his important contributions."
Doc Bresler always felt grateful for the education he received at Temple University and "stressed being aware of the gifts you are given in life and the importance of giving back," says Dr. Josh. Some of the greatest gifts Doc Bresler was given included being able to teach all three of his children, who have succeeded him in his work with Cavity Busters.
"We wanted to use the space as a way to reach out to alumni and show the importance of supporting the dental school," adds Dr. Rachel. Like her two brothers, she graduated from Temple's dental school—she in 2014, Dr. Josh in 2003, and Dr. Jason in 2006—and are proud to be active in the school's alumni association.
One of the two murals incorporates the responses from Cavity Busters' staff and dental students when asked to describe Doc Bresler and his legacy. Their responses include words such as "caring," "loving," "thoughtful," and "teacher." The murals—a beautiful way to honor this special space—show the many aspects of Doc Bresler's life: student, educator, humanitarian, business owner, and family man.
Doc Bresler's Advice: 'Find Something You Love and Be the Best at It'
"We want to convey our dad's philosophy: 'Find something you love and be the best at it. This was his way to motivate and encourage us, and his students, to always reach their full potential."
As his children point out, Doc Bresler was a true visionary whose "outside-the-box thinking" truly transformed pediatric dentistry in Philadelphia, and beyond. He was bold in how he designed his dental offices, the colors he used, and even the clothes he wore. He had a zest for life in which he believed in the need to "work hard and play hard."
His eldest son, Dr. Josh, says his father's cutting-edge ideas included outfitting the office with free video games, a wacky car museum, neon, and other colorful attractions and decorations. "The games got the patients and their parents in the door, but the compassionate high-quality dentistry kept them coming back," he recalls.
Doc Bresler's goal was to "raise a whole generation of children who can look forward to going to the dentist," as he told Suburban Life in 2010. By making children "feel comfortable and secure in their surroundings," he said, "they are much more likely to be open to a new experience" and practice lifelong good dental hygiene.
Cavity Busters has been regarded as Philadelphia's premier pediatric dental practice for nearly 40 years. The organization has grown to eight locations, an orthodontic practice, Special Touch Dentistry, which is dedicated to adults with special needs, and the Red Lion Surgicenter, the nation's first freestanding ambulatory surgical center dedicated to providing dental care under general anesthesia.
Doc Bresler's Legacy: 'Leading by Example'
Doc Bresler taught his three children that "nobody works for us; everybody works with us," Dr. Jason says. "Where you came from, or your level of education was immaterial to our dad. He believed you lead by example, and show your staff that you are willing to do whatever it takes to get the job done, and that everyone has the same intrinsic value. He was truly gratified by helping people."
For example, every year Doc Bresler would give a lecture to the incoming freshmen, titled "How to Survive Dental School."
"What he stressed was teamwork, and if students went through everything together, their experience would be so much better than if they tried to be cutthroat and step on one another's backs," says Dr. Jason. "He stressed that it was about creating a chain, and coming up together."
Dr. Jason remembers dinners out with his father, and every time Doc Bresler would go out of his way to acknowledge the owner, the hostess, and the busboy. "He wanted to pass on that mentality to his students, staff, and family—that it didn't matter what position someone is in," he recalls, "and that everyone is equally important and should be treated with respect."
The murals on the Temple University campus not only pay homage to Doc Bresler's dedication to the dental school, Dr. Rachel believes, "but are inclusive of our family, and our wish for the school to continue to thrive and turn out professionals who are just as dedicated to the school, as we are."
Their father's passion, she says, "was contagious, and led us to ultimately find our passion within the same field. Our dad said, 'You'll never work a day in your life if you love what you do.' His love and dedication to pediatric dentistry went further than influencing just his children. It reached those students who were fortunate enough to have had him as a valued teacher and incomparable mentor."
His three children point out that Doc Bresler's enduring legacy is their close-knit relationship as both siblings and dental professionals. "We work side by side every day, get along well, and our happiest times were when we were fortunate enough to work with him every day," Dr. Josh says. "He taught us his work ethic by example, which is something we hope to do for our own children."
Finally, Doc Bresler taught his children from an early age to "respect your family." They quickly learned that the word family applies to a much larger group than just parents, siblings, and relatives.
"We think of our patients and employees as part of our family," Dr. Rachel adds. "We strive to create strong bonds with everyone, and provide an environment where everyone feels not only like they are part of the team, but truly a part of the Bresler family."
Doc Bresler's Cavity Busters has office locations in Doylestown, Dresher, Jenkintown, Newtown Square, Northeast Philadelphia and Lower Northeast Philadelphia, Roxborough, and South Philadelphia, as well as multiple Brace Busters locations, and Red Lion Surgicenter and Special Touch Dentistry, both in Philadelphia. For more information, visit cavitybusters.com or call (215) 543-5555.
Photograph by Alison Dunlap
Published (and copyrighted) in Suburban Life magazine, June 2021.
---