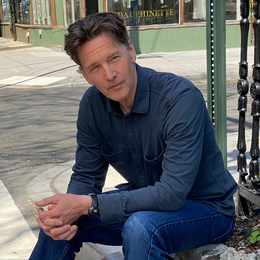 All Grown Up
"Brat Pack" member Andrew McCarthy reflects on his past with an eye to the future.
When Andrew McCarthy was a heartthrob in Hollywood's "Brat Pack," he had no idea how those early years would impact the rest of his life. Best known for his roles in hit 1980s movies such as St. Elmo's Fire, Weekend at Bernie's, Pretty in Pink, and Mannequin, which was filmed in Philadelphia, his coming-of-age experiences would later make him question everything.
In his newly released memoir, Brat: An '80s Story, McCarthy reckons with conflicted ambition, innocence, addiction, and masculinity. The book includes touching stories about his childhood, his years as a young actor, and his work as a director (Orange is the New Black, Gossip Girl, The Blacklist) and a travel writer. Of course, he also covers his membership in the Brat Pack, the iconic group of ingenues and heartthrobs that included Emilio Estevez, Rob Lowe, Demi Moore, and Molly Ringwald, that came to represent a film genre and a defined era in pop culture.
We spoke with McCarthy about his memoir, how fear and insecurity got the best of a younger version of him, and what his children think of his '80s filmography.
Q&A
What prompted you to write this book?
I think it took me a long time to grow up and be able to look at it clearly. Those few years with the Brat Pack that happened in the '80s and those movies had such a profound effect on my life and completely changed who I would become. I think I ran from it for a long time, and I needed time to have enough distance to look back on it and kind of go, "Let me look under that rock to see what happened there."
Is there something that you learned about yourself in the process?
What I figured out is the public imagined the Brat Pack as this super cool, ultimate "in-crowd," but that was not my experience at the time. I saw it as this very pejorative term, that was kind of limiting, negative, and boxed us in. But looking back now, I had it wrong all these years. … It's become this ironically affectionate term for not only some movies and a period in pop culture, but for a certain generation's youth and those memories of their youth—a time when they were 20-odd years old, bursting into the world. We could stop listening to grownups and our lives were this blank canvas to be painted on, a rich moment for all of us. It took me a long time to realize that that's kind of a beautiful thing and a great gift as opposed to something to run from.
I just reacted so often out of fear and insecurity when I was young, and I didn't realize that was a motivating factor a lot of times. When I finished the book I just kind of looked back at what would I tell my 20-year-old self, and it was, "You can afford to believe in yourself a little more." A lot of decisions and actions I took were because I just didn't quite have enough faith in things or myself.
Your son, Sam, just finished the Netflix series Dead to Me, and your daughter, Willow, is a Broadway actress. You must be proud.
Proud, yes. I just always thought it's a weird kind of funny life, so it didn't occur to me that they would ever want to do it because there's nothing glamorous about acting in our household. They see it for what it is—a fantastic job that's also inconsistent. If someone wants to act, you have to let them do it. I don't want to be that person who 30 or 40 years old looks back and goes, "I wanted to do that and my parents made me go to law school." Let's face it: Acting saved my life when I was a kid. … So, who am I to stop them?
Do your children like your movies of the '80s?
My kids could care less. Someone suggested that my daughter should watch Pretty in Pink. She's 14 and so she watched the trailer and she saw me kissing Molly Ringwald and said, "I am not watching some movie where you're kissing some other woman. I don't need to see that." My son saw Weekend at Bernie's and called it "the stupidest movie I've ever seen." To my kids, I am just their dad, so that's ancient history to them, like prehistoric times.
You're an avid traveler and travel writer. How did the pandemic affect those aspects of your life?
Yeah, all of it just stopped. … I can't wait to get back out on the road. I've been directing television pretty much nonstop while also wondering what the hell just happened to the world. I'm going up to Alaska in October. I'm also going to go to Ireland where my wife is from. I'd love to go back out traveling, and that depends on the travel-writing assignments. … Years ago, I walked across Spain on the Camino de Santiago for 200 miles, which is an ancient pilgrims' route. My oldest son and I are going to walk across Spain together, and I'm going to write a father-son book about our experiences.
Photograph by Jesse Dittmar courtesy of Grand Central Publishing
Published (and copyrighted) in Suburban Life magazine, June 2021.