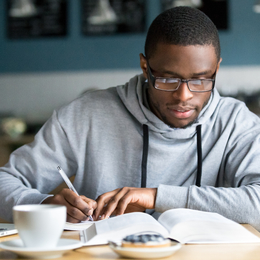 Blazing a Path
Students find ways to simplify the challenging transition from high school to college.
The road to college can be a bumpy one, especially when the journey comes without a map to get from Point A to Point B. By their senior year, high school students are expected to know what they want to do with the rest of their lives. For many, if not most, that's a daunting task. Throw in a pandemic and uncertainty about what college will look like, and even the best-laid plans can get derailed.
"Today, many schools are extremely difficult to get into," says Patrick Brett, director of the Future Plans Center at North Penn High School in Lansdale. "Each school has different requirements, but the majority of schools still focus on grades, SAT scores, the vigor of a student's schedule, participation in sports or other extracurricular activities, letters of recommendation, and school rank."
Brett encourages students to work closely with their guidance counselors, future-plans counselors, or college and career counselors. Doing so will isolate subjects of interest, determine their strengths, and then identify the college that will help them achieve their goals.
"Students often begin participating in career-interest programs organized by their schools beginning in seventh, eighth and ninth grade," he adds. "Some schools offer programs that allow students to shadow or intern with people in the community to get a feel for what they'd like to do. Career internship programs can help students get a good look at what's to be expected at a real job and help them determine whether it's something they'd really like to do for a living."
The first step toward college for many students still comes in the form of standardized tests, namely the PSAT/SAT or ACT exams. Students typically take the PSAT in October of their junior year, although some students opt to take the test as early as 10th grade. The test measures knowledge and skills in reading, writing and language, and math, and serves as preparation for the longer SAT test that students take later in their junior or senior year.
"The nice thing about the PSAT, officially called the PSAT/NMSQT, is that it connects students to scholarship money through the National Merit Scholarship Qualifying Test program," says Mitch Blatstein, the owner and operator of Education Plus Inc., an academic tutoring and consulting service located in Jenkintown.
Students who score in the top 3 percent during 11th grade can earn the qualification of National Merit Scholar, which can lead to a variety of scholarships and merit aid from universities and can give students a leg up in the college admissions process. Increasingly, students are turning to tutoring programs such as those offered by Education Plus to gain a competitive edge on standardized tests and enhance their self-confidence and test-taking abilities.
Testing is hardly the only consideration when it comes to higher education. For that reason, Blatstein developed a program called "Navigating the Road to College," which he presents to school districts and families free of charge to help students determine how to plot a course through the college applications process.
North Penn's Brett encourages students to "get their feet on the ground" at colleges as early as 10th grade, so they can begin to get a feel for the different types of campuses—rural, urban, suburban, etc.—and determine the best fit. Of course, students must also identify whether the school is within their reach financially or if scholarship funds may be available.
"Students, and their parents, should talk to their guidance counselors, research the schools that they're interested in, and put together a list of questions for the school admissions representatives," Brett adds. "By 11th grade, students should have narrowed down their list of potential schools, started working on their essays and begin preparing for the application process."
Many schools now accept applications through Common App, a nonprofit organization that represents nearly 900 colleges and universities and connects students to these institutions through a single application. It's a convenient alternative to sending out individual applications to numerous schools.
"The college application process typically starts around mid-July prior to a student's senior year," says Brett. "Students should always check with their guidance counselors before sending out applications and find out when their transcripts will be ready. … Some schools begin accepting applications as early as August, and most deadlines close by the end of November. A good rule of thumb is to have everything in by Thanksgiving break of your senior year."
Brett's best advice: "Find out what you want to do first, what you're passionate about, and what you can see yourself doing, and then find the college or university that will get you there."
Published (and copyrighted) in Suburban Life magazine, June 2021.