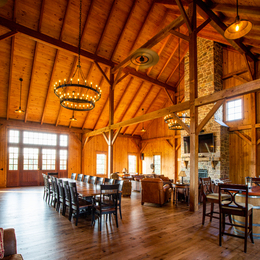 Transformative
A Schwenksville couple remakes an historic bank barn into a multiuse "piece of artwork" to enhance their lifestyle.
The love story between Tim McGowan and Susan Underwood, M.D., began in upstate Pennsylvania, where they were high school sweethearts. In 1982, however, a few years after graduation, they agreed to go their separate ways; he went on to forge a career in law, while she made her name in medicine. They would keep in touch over the years, as both eventually migrated to the Philadelphia suburbs.
In 2011, nearly 30 years after their breakup, they rekindled their romance. When an "interesting" old stone farmhouse in Schwenksville came on the market, the couple decided to have a look.
"I grew up doing construction work, and as soon as I walked in the house, I saw the woodwork and said, 'We're buying this house,'" McGowan recalls. "It was impeccable work. The house itself was made in 1834, torn down to the bones and then rebuilt. They did a beautiful job."
The other structures on the property—namely, a bank barn once used to house horses and a Quonset hut-like structure formerly used to store farming equipment—were a different story. Both were in disrepair, so the couple decided to vet some contractors to amend the problem. The ultimate winner: B&D Builders, a custom barn builder based in Paradise, Pennsylvania, whose work McGowan had grown to admire.
"I was having ice cream at a place in Intercourse, out in central Pennsylvania, and I turned around and saw this building with a beautiful façade, and it just hit me like a thunderbolt," he says. "The use of materials—mixing wood, metal, and stone—was absolutely beautiful. I walked around and said, 'I have to find out who did this.' … When I found out it was B&D, I had to track them down."
Considering the land's history dating back to the nation's forefathers, the couple felt compelled to preserve as much of the barn as they could. They also wanted to transform it into a multi-use space where they could host gatherings, share meals with friends and family, and otherwise facilitate their lifestyle.
"Tim is one of eight [children], and I'm one of seven," says Dr. Underwood. "Family functions are important to both of us, so we needed something that would not only look nice but also be functional for large gatherings."
In other words, they wanted a so-called "party barn," complete with a kitchen, central gathering area, bedroom, bathroom, loft, and garage, among other amenities.
Working in concert with Downingtown-based Mark C. Myers Architects, B&D Builders began construction in 2018. B&D also enlisted the expertise of two sister companies, Mid-Atlantic Timberframes and Vintage Wood & Forged Iron, to provide much of the detail work. Although B&D technically had to raze the barn structure, the firm was able to reclaim much of the existing material to reincorporate into the new barn.
"Preserving it was important to us," McGowan says. "The community felt strongly about the history of the barn, too; a lot of people were upset when they thought we might tear it down. It's nothing short of amazing what these guys did. They took down the original structure and had a massive amount of old wood just sitting there. Their guys would crawl through the pile, find a piece they wanted, take it back to the shop and re-mill it, and then reincorporate it.
"The entire floor is made from the old barn rafters that were re-milled," he continues. "The old barn was built in 1834, using hand-hewn lumber. The original wood is from trees that were here on the property in the 1700s. You're basically walking on lumber that was part of this place before our country was a country. They used the old stone, too, merging it with the walls that were still intact."
Work on the reimagined barn wrapped up in 2019. Finishing touches included custom doors, chandeliers, and hammered-iron stair railings, as well as restaurant-grade appliances in the kitchen. The latter came in handy for hosting holiday dinners and retirement parties, according to McGowan, who describes his better half as "a wonderful doctor but an even better cook." The space also provided a sanctuary of sorts for the early days of the pandemic.
"We put in a high-definition TV over the fireplace to watch Penn State and Eagles games, but sometimes it's just me in there watching football," he says. "Every time I come in here, I lay there in wonderment looking up at the 35-foot cathedral ceiling, and ask, 'What did I do to deserve this?' And it's not just me who says that. Every time someone comes in here, it's the same reaction. To a person, the next thing that happens is they take out their cellphone and take pictures. … It feels like a piece of artwork."
B&D also erected a timber-frame storage structure to replace the old Quonset hut—perfect for housing a 45-foot-long motorcoach to feed McGowan and Underwood's shared appetite for travel. The couple couldn't be happier with the results, or with B&D, which had previously done a small cabin on a piece of property McGowan owned in Sullivan County, west of Scranton. Next time they have a renovation in mind, they say they would not hesitate to place it in B&D's hands.
"They make buildings like the Swiss make watches," McGowan adds. "It's hard to articulate what some people can do by mixing wood, stone, and metal, and the ability those combinations have to make you feel something. It's transformative. This place is almost like a refuge for us."
Photography courtesy of B&D Builders
Published (and copyrighted) in Suburban Life magazine, June 2021.