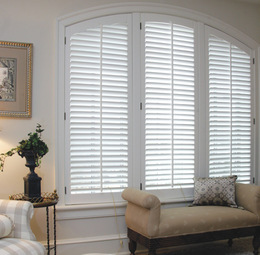 Window Dressing
Enhance any home with The Louver Shop's superior blinds, shutters and shades
Selling high-quality products at a fair price is by no means a new concept. For Jim Guess, owner of The Louver Shop, this idea served as one of the principles on which his father founded the company in 1972. More importantly, it is also the way in which this family-owned venture continues to operate today.
The Louver Shop offers many types of window coverings, including solid and louvered shutters, blinds and shades. Based in Dahlonega, Ga., with offices around the country (including the Philadelphia area), the company is the largest manufacturer and retailer of shutters in the United States. Furthermore, Guess proudly states that the company's wooden shutters are manufactured in the United States from American hardwoods, with dowels, screws and glues for superior durability; each piece passes through the hands of six inspectors, assuring it is of the highest quality.
Because The Louver Shop manufactures and retails its items, the company can offer the lowest prices in the industry while providing services that many other companies cannot. Measurement, hardware and installation are all included in the price, and The Louver Shop's products are covered by a comprehensive manufacturer's warranty.
The idea for the business was first conceived nearly 50 years ago, when Guess' father began installing blinds for customers of the store where he worked as a junior sales manager. This service expanded into providing product customization for a growing area. As The Louver Shop grew, Guess recalls his father sanding and painting shutters to prepare them while his mother scheduled the installations. Today the sales and installations are handled by local representatives such as Scott Banfield.
Banfield has worked in the shutter business for more than a decade. After receiving a degree in marketing, he apprenticed with a shutter manufacturer and has come to thoroughly understand the business. He not only meets with customers to present the options and take measurements, but he also installs their products. He has always enjoyed woodworking and likes the process of meeting someone new and working with them to plan how shutters can enhance their home.
"People love the fact that after they get to know me during our initial meeting, I'm the same guy who will come back to install their shutters," he says. "That is not true of many companies selling shutters. … When the installation is done, and the customer starts raving about how beautiful the shutters look, I truly feel a sense of accomplishment."
The initial consultation is free of charge and without obligation. The Louver Shop strives to meets its customers' needs even if that means offering a competitor's information when it doesn't carry the appropriate product, according to Guess. It would be unusual, though, to want or need a product that The Louver Shop does not offer; the company provides both solid and louvered shutters, which it can manufacture to fit virtually any specialty size or shape, along with a full line of Hunter Douglas products, blinds and shades.
The Louver Shop's traditional shutters are readily available in 15 standard paint colors and eight stains, or can be custom matched to the color of a customer's choice. The line of plantation shutters, for example, is available in a variety of sizes, thicknesses and louver-width options.

Beautiful, Functional
"Shutters are as functional as they are beautiful," says Banfield. For example, shutters have a good insulation value compared to many window treatments, and can reduce drafts in certain types of installations.
In most cases shutters are mounted on hinges so they can be swung open and away from the window. The louvers within the shutter can be closed fully to darken the room for privacy. They can also be closed partially, allowing for light to filter through but creating privacy in the room at the same time. Louvers can also be divided within the shutter panel so the top and bottom half of the shutter can be controlled separately. This also allows for light and privacy, and creates a more traditional shutter look.
These shutters can also complement a variety of decorating and architectural styles. According to Banfield, two-and-a-half-inch louvered shutters are by far the most popular shutter style in this area, but he suggests there are many ways shutters can be tailored to fit almost any décor. "For instance," he says, "a larger three-and-a-half-inch shutter installed with one panel per window instead of two and without the tilt bar would suit a very contemporary décor."
Alternately, a smaller shutter with the top and bottom half of the window each having a separate set of shutters is a very traditional look and is more common in historic and old houses trying to keep a period look. "You can swing the top shutters away from the window and leave the bottom ones closed," Banfield says.
There are many choices for blinds and shades, which come in various colors, materials and style options. A representative will bring samples so a customer can actually see the product and discuss all of the options available. Banfield suggests The Louver Shop's online portfolio is ideal for customers who wish to view examples of installations and gather more information. The website, LouverShop.com, also includes show dates, specials, videos and links to The Louver Shop's newsletter and Facebook page.
Sharon A. Shaw is a freelance writer from Doylestown.
The Louver Shop
Phone: 610-264-1812
Toll Free: 800-528-7866
LouverShop.com