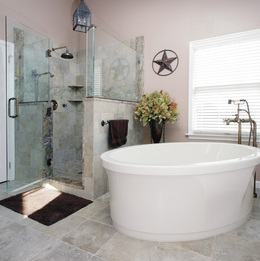 Affordable Luxury
In Diamond Kitchen & Bath, homeowners discover custom interior remodels that are "to die for"
Luckily for Eve Berger, Diamond Kitchen & Bath owner Mike Reisbord kept a close eye on her remodeling budget—even when her eyes wandered from it.
"I had a knack for gravitating toward materials that could've taken me out of my price range," says Berger, a Doylestown resident. "Mike wanted me to have the kitchen and bathroom I dreamed of, but he was equally concerned with staying within my budget. So he'd suggest, 'How about using that tile as an accent, rather than as an entire backsplash? That way, you can incorporate it without going over your number.'"
It's the kind of give-and-take communication that Reisbord and business partner Paul Selitskiy noticed lacking between most contractors and clients. This prompted them, in 2001, to create Diamond Kitchen & Bath—a full-service remodeling firm based in Feasterville, whose comprehensive approach eliminates pitfalls ranging from disjointed communication to overspending.
"Diamond Kitchen & Bath is truly a one-stop shop," Reisbord explains. "We design the renovation alongside the client, supply materials, install, and manage the entire project, which translates into lower costs, a more cohesive renovation, and less responsibility for the customer."
That's right: lower costs. "Affordability" might not be the first word that comes to mind upon stepping into Diamond Kitchen & Bath's impressive 5,000-square-foot Feasterville showroom, but Reisbord points out that the company's all-encompassing approach results in efficiencies and savings that are passed along to customers.
"When people walk into our showroom they see the beautiful cabinetry, tile decorative fixtures and think, this place must be expensive," he says. "But the opposite is actually true. Spend the same amount here that you would spend at a big box home supply store, and you'll receive far superior materials and meticulous installation."
And with that price comes a value added perk: customer freedom.
"So many remodelers burden homeowners with the task of driving from supplier to supplier with samples in hand, purchasing materials they know little about, and basically acting as an unpaid project manager," Reisbord says. "It's not only a hassle but the client will pay more and it can also be detrimental to the process."
All about Options
A second Diamond Kitchen & Bath showroom is opening in Lower Moreland in April or May, and will feature more of the hands-on displays that have proven useful and popular at the Feasterville showroom, including two design studios featuring giant screens to view your future projects design. The showrooms are staffed by Diamond's four professional designers.
"On the screens, customers virtually walk through a composite of what their finished room will look like," Reisbord says. "At the same time, they shop materials in house and have in full view everything from the countertops to shower heads to cabinet doors that will be used."
Computer-aided design actually begins at the in-home consultation, according to Reisbord: "We go to a customer's house for a consultation, assess the property and room, draw up a number of options for layout and design, and present it to the prospective customer when they come to the showroom."
Berger remembers the first time a Diamond designer showed her some options for turning her stark, white kitchen into a warm, earth-toned haven ideal for dining and entertaining.
"On the computer, Mike was able to move my double ovens to another wall, put my refrigerator in a different place, and show me what my kitchen would look like if we got rid of the built-in desk that was there when we moved in," she says. "It gave me the ability to envision every option for my kitchen before choosing a direction."
Berger was so thrilled with her new kitchen that she had Diamond return to remodel her two bathrooms soon after. Again, the computer-aided design program gave her the confidence to make dramatic changes, such as going with a larger shower stall and changing wall heights.
"My master bathroom is to die for!" she gushes. "It used to be white and tan—very plain looking. But seeing the options on the computer screen inspired me to make big changes, like going with a stand-alone shower. And in my daughter's bathroom, we looked at a few style options before opting for a spa-like, Zen feel, complete with a soaking tub and green, funky tiles."
To the delight of Berger and other clients, Diamond Kitchen & Bath's designing services come at no charge.
"Our business is so unique," Reisbord says. "We're not just contractors or designers; we're all of the above. Even more, we treat every customer's project with the same perfectionism no matter what their budget."
And don't let the name fool you: Diamond's scope of capabilities far exceeds the realm of kitchens and baths.
"The majority of our projects are kitchens and bathrooms, but any type of custom interior work is within our grasp," Reisbord says. "We've done many home offices, home theaters, and finished basements."
He points out that homeowners looking to breathe new life into bathrooms or kitchens should consider moving quickly: "The best time to buy is now because people want their projects finished for summer, before there is a backlog of projects."
Danielle Burrows is a freelance writer based in Philadelphia.
Diamond Kitchen & Bath
2580 W. Maple Ave., Feasterville
Phone: 215-752-4400
Toll Free: 866-671-4800
DiamondKB.com