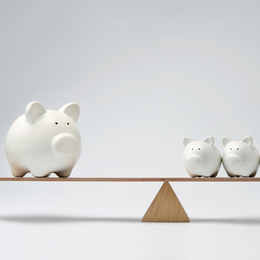 In Balance
Banks with strong community ties strive to help local families and businesses thrive.
Philadelphia has been home to more than its share of historical events. It's where the Founding Fathers signed the Declaration of Independence. It's where the Constitution was written. It's where Benjamin Franklin conducted his illuminating experiment to demonstrate the connection between lightning and electricity.
It's also the birthplace of banking in modern America. The U.S. Congress drafted the charter for the First Bank of the United States in 1791, dreamed up by Alexander Hamilton and OK'd by none other than George Washington. Erected in Philadelphia, then the nation's capital, the First Bank of the United States was designed to provide a safe place for housing public funds, offer a destination to conduct commercial banking transactions, and maintain necessary "checks and balances" on the government's behalf.
The city's strong banking tradition continues to this day. The Philadelphia area is home to numerous community banks with deep local ties. Some even maintain their headquarters in the city and surrounding suburbs, or right across the Delaware River in South Jersey.
Local families and business have long appreciated the value of banking with an institution that has strong community ties. The COVID-19 pandemic further underscored the importance of locally rooted banks. Early into the pandemic, when the U.S. government enacted the CARES (Coronavirus Aid, Relief, and Economic Security) Act, businesses scrambled to gain access to vital funds that could keep their workforces employed by way of the Payroll Protection Program. Many local banks rose to the task, helping business owners and entrepreneurs—including those who were not existing customers—qualify for PPP loans that they could not obtain elsewhere.
Community banks have continued to buttress their in-person and online offerings, as well as resources to help families and business owners make more informed decisions about their financial futures. They have also strengthened the communities they support. For example, Perkasie-based Penn Community Bank recently extended its partnership with St. Luke's University Health Network to ensure that children in the Quakertown area do not go without a nutritious lunch during the summer months. Likewise, ESSA Bank & Trust, which is headquartered in Stroudsburg, supported a recent event to benefit Violette "Stand for the Children" Home to help the Bushkill-based charitable organization gain the resources it needs to fund a home for local orphans and foster children.
In addition, financial institutions based close to home have expanded their local presence. Some have done so by adding new branch locations that redefine the service experience. Others are expanding the products and services they offer both onsite and online, without losing the personal touch that made them special in the first place. And others, much like the two banks mentioned earlier, have increased their efforts to support families and businesses in the communities they serve. Of course, some are doing all these things and more.
In an industry not always known for flexibility and personalization, the following banking institutions have made great efforts to serve the customer when, how, and where the customer needs to be served. Whether it's giving a family the tools it needs to save for a child's education, helping a business owner fund an acquisition to jumpstart growth, or educating the next generation through financial-literacy programs, these banks have committed to helping local communities stay strong and resilient far into the future.
2021 Five-star Banks
Ambler Savings Bank
amblersavingsbank.com
C&N
cnbankpa.com
Centric Bank
centricbank.com
Citadel Credit Union
citadelbanking.com
ESSA Bank & Trust
essabank.com
The First National Bank & Trust Co. of Newtown
fnbn.com
First Resource Bank
firstresourcebank.com
Genisys Credit Union
genisyscu.org
Harleysville Bank
harleysvillebank.com
Hatboro Federal Savings
hatborofed.com
Huntingdon Valley Bank
hvbancorp.com
Inspire Federal Credit Union
inspirefcu.org
Malvern Bank
mymalvernbank.com
Meridian Bank
meridianbanker.com
Mid Penn Bank
midpennbank.com
Penn Community Bank
penncommunitybank.com
Philadelphia Federal Credit Union
pfcu.com
QNB
qnbbank.com
Reliance Federal Credit Union
reliancefcu.com
Republic Bank
myrepublicbank.com
TD Bank
td.com
Tompkins VIST Bank
vistbank.com
TruMark Financial Credit Union
trumarkonline.org
Univest Bank and Trust Co.
univest.net
Victory Bank
victorybank.com
WSFS Bank
wsfsbank.com
Published (and copyrighted) in Suburban Life magazine, July 2021.