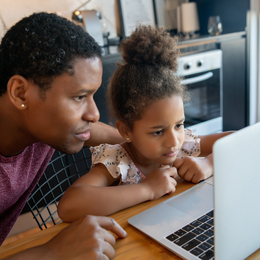 Back in Session
How will education evolve as schools prepare for post-pandemic life?
Less than ideal graduation ceremonies. Cancelled proms. A ban on sporting events and extracurriculars. Time away from friends and teachers. Considering the prolonged heartache and disruption caused by the pandemic, one can forgive students if they fail to see a silver lining in the pandemic. Perhaps they should.
Emily Greene does not suggest overlooking the experiences students lost over the past year; rather, she favors focusing on the valuable skills they gained. Furthermore, she says the positives gleaned from the past year may help foster a brighter future for education.
"During the pandemic, the disruption of school essentially transformed every household into a homeschooling household," says Greene, who holds a master's in creativity from the Drexel University School of Education. "Parents everywhere had a new 'up close and personal' relationship with their children's schooling like never before."
Greene shares what she learned in the process of educating her children, both inside and outside of traditional schools, in her new book, School, Disrupted: Rediscovering the Joy of Learning in a Pandemic-Stricken World. She says she wrote the book to share "an uplifting perspective," and to offer resources, research, and personal experience that may help parents and children thrive in any schooling situation.
Greene hopes to inspire parents to think differently about the future of schooling through practical strategies to help restore "balance and optimism" in learning. Through the Kiddovate program she developed, she has worked with hundreds of teachers and students to "ignite curiosity and creativity in the classroom and at home." Also, as the co-founder of VIVA Creative, she and her team created live and digital events to bring people together in innovative ways during the pandemic. In 2020, she received an Ernst & Young Entrepreneur of The Year award in recognition of her work.
We interviewed Greene via email about the new educational responsibilities parents and caregivers had to shoulder over the past year, the shifting role of remote learning as we emerge from the pandemic, and what she will remember most from the disruption caused by COVID-19.
Q&A
The book's subheading—Rediscovering the Joy of Learning in a Pandemic-Stricken World—is curious. Tell me some joyful things you and your children discovered over the past year.
Outside of the century-old structure of the traditional school day, many kids (including mine) had more free time for curiosity, nature, family time, and play. In fact, during quarantine, entire families embraced the newfound free time to be curious, take on new hobbies, ignite creativity, make things, get outside, and focus on gratitude. These things are scientifically proven to open new pathways in the brain for joyful learning.
Remote-learning technology facilitated information sharing in lieu of in-person interactions. It also sparked a lot of innovation and made people adapt. At the same time, some students have suggested that their remote-learning experience was less than adequate, and a lot of us are still suffering from "Zoom fatigue." Did the changes that stemmed from the pandemic result in a net gain or a net loss for students?
Rather than asking what our children didn't learn, which is a backward-looking question based on the standard curriculum in an ordinary year, let's focus on all the unexpected and important things our children did learn in this very unusual year. For example: resilience to face and overcome challenges; adaptability in learning an entirely new way of going to school with online classes, learning pods, and virtual platforms; discovering the true value of face-to-face time with family and friends; compassion for the ill and the frontline workers who served; patience to endure the challenges of quarantine; renewed focus on mental health and balance; curiosity to take on new hobbies; coping skills to face uncertainty; gratitude for simple things like getting outside into nature, family time, and the return of in-person activities; and so much more.
Most schools will welcome students back to in-person learning in the fall. What role will remote education play going forward?
Few people realize there has been more innovation in education in the last 12 months than ever before by teachers, parents, students, and entrepreneurs. We were all forced out of the status quo that has been stagnant for many years, and several innovative approaches to education emerged.
Distance and hybrid learning is here to stay. For example, there are many new independent online schools. Several public-school systems now offer online or hybrid options, something that did not exist before. And with the tremendous growth in homeschooling and learning pods, new "micro-teaching" platforms deliver personalized, ad hoc, subject-specific support for parents. In addition, classroom teachers have a new array of resources at their fingertips, like virtual field trips and expanded electives that can individualize learning for their students. It's an exciting time for parents and students as more options exist than ever before.
You must learn a few things when you undertake a project like this. Name one or two things you learned over the past year-plus that you think will stick with you.
I learned just how fast parents, students, and teachers can adapt. Before the pandemic, a commonly held belief about our school system was that it takes time to implement changes and new ideas on a large scale. This limiting belief has prevented our school system from evolving to meet the needs of today's students. The pandemic proves that change can and should happen much faster, and that parents, students, and teachers should be empowered to lead the way to a brighter future of school.
I also learned the importance of expanding our definition of "learning." During quarantine, many parents felt like failures if their children were not learning the standard scope and sequence precisely as they would have learned it in the school building. However, so much other meaningful and relevant learning was happening with our children. I hope my book offers a broader perspective on the distinction between learning and schooling, and helps to lighten the load that parents have felt in these challenging times.
Published (and copyrighted) in Suburban Life magazine, July 2021.