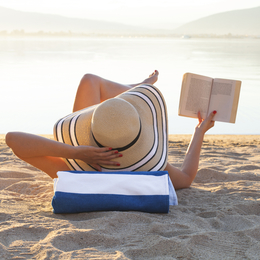 Text Me
New books from local authors leave a lasting impression.
Any trip to the beach, mountains, or other vacation spot is incomplete without a book to keep you company. Whether you prefer memoirs, novels, or another genre, the Philadelphia area has no shortage of authors who are turning out noteworthy works. See the following five books from writers with strong local ties as evidence.
BUILD YOUR HOUSE AROUND MY BODY
Build Your House Around My Body
is a satisfying follow-up to The Frangipani Hotel, the first published work of Bucks County's Violet Kupersmith. This creatively named novel eclipses distance, time, and generations. Spanning 50 years of Vietnamese history, the novel is part revenge tale and part ghost story. It reads like a puzzle that must be pieced together, one artfully drawn page at a time.
DEACON KING KONG
James McBride
has become a household name for good reason. His books—the National Book Award-winning novel The Good Lord Bird and the New York Times bestselling memoir The Color of Water—paint vivid, intimate, and honest portraits of characters that have been built to entertain. His latest, Deacon King Kong, is no exception. The novel begins with a bang—literally—and the story deepens as McBride (a native New Yorker now living in the New Hope area) explores the lives of the people who must deal with the outcome of the opening act.
NEVER TELL A HERMIT CRAB WE CAN'T REPAIR THE WORLD
Hermit crabs are passive, placid little creatures that lead boring and unremarkable lives, right? Never Tell a Hermit Crab We Can't Repair the World turns that assumption on its ear. Written by Rabbi Howard Fogelson Bogot and illustrated by Daniel Sean Kaye (with an introduction by Congresswoman Madeleine Dean), the book centers on a thoughtful hermit crab named Milo. Each page reinforces many of the simple truths that too many of us seem to have forgotten—including the fact that a world with more kindness, understanding, and diversity will be a better place for us all. It's a timely follow-up to Kaye's prior works, Never Underestimate a Hermit Crab and Never Take a Hermit Crab for Granted.
NESHAMINY
A joint effort between the Doylestown Historical Society and the Bucks County Writers Workshop, Neshaminy highlights the history, fiction, art, and poetry of people who call (or have called) Bucks County home. The spring/summer 2021 edition of this historical and literary journal includes compelling biographies of personalities almost anyone would recognize, such as Pearl S. Buck, the Doan Outlaws, and Jean Toomer, as well as the one and only Lassie. (Who would have guessed that the courageous collie of radio and film had such strong ties to this neck of the woods?) In addition to historical figures, the current edition of Neshaminy features contemporary figures such as the painter Robert Beck, the composer Stephen Sondheim, and the novelist Jenni L. Walsh.
ZERO ISLAND
In Zero Island, thriller author Chris Bauer—Philadelphia born, now a product of Bucks County—spins a breakneck sequel to his gritty 2019 novel, Hiding Among the Dead. The story follows Philo Trout, a crime-scene cleaner and bareknuckle boxer, and his associate Patrick Stakes (named for a certain South Philly culinary landmark) on a vacation of sorts. The pair travels from the City of Brotherly Love to the pristine shores of the Hawaiian Islands, but their trip quickly takes a grisly detour courtesy of a cutthroat organized crime syndicate. Fans of Bauer's prior works will find all the elements that made his other novels so enjoyable—namely, taut writing, almost nonstop action (a considerable body count, too), and enough twists and turns to keep the reader turning pages.
Published (and copyrighted) in Suburban Life magazine, July 2021.