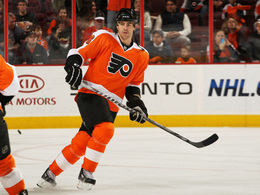 Flyer Power
How rugged Flyers defenseman Sean O'Donnell makes the best team in hockey even better
In the belly of the Flyers Skate Zone practice facility in Voorhees, N.J., a sweat-soaked Sean O'Donnell lumbers beneath a slab of concrete block painted with the team logo and the words "We supply everything but guts." He heads for the showers, passing a matrix of to-the-minute league standings determining which teams will compete in the two-month-long test of will, pain and endurance known as the National Hockey League playoffs.
On this blustery February day, with more than two months to go in the regular season, the standings reveal that O'Donnell's Philadelphia Flyers have climbed past the Pittsburgh Penguins, Tampa Bay Lightning and other rivals to sit atop the NHL's Eastern Conference. The 2010-11 Flyers, apparently, have a surplus of intestinal fortitude—i.e., guts—with talent to match.
O'Donnell, a July 2010 free-agent acquisition, has quickly paid dividends as an anchor on one of the league's leading defense corps, which also includes Olympians Andrej Meszaros, Chris Pronger and Kimmo Timonen. He's big, nasty and willing to sacrifice his body for the good of the team—as he demonstrated in an October game vs. the Lightning, when he traded punches with heavy-hitting Steve Downie, a former Flyer more than 15 years O'Donnell's junior, during a scrap in front of the Flyers' goalmouth.
"I like to think that's why they brought me here and why I've had the career I've had," says O'Donnell, at 39 still capable of mastering a game that requires of its players a mix of speed, skill and grit. "It's important to have the respect of your teammates. I've played in over 1,000 games and I'm very happy with my career, and I think if you asked other players around the league, other executives around the league, you would get some complimentary words.
"I definitely think I have some talent," he continues, "but I can't get by on talent alone or work ethic alone. It's all about attention to detail, and that has kept me in the game."
A veteran of more than 1,150 regular-season NHL games, O'Donnell has played for seven different teams since joining the Los Angeles Kings in 1994. In that time he has tallied more than 200 points and close to 1,800 minutes in penalties. However, no one will mistake him for his higher-profile, headline-grabbing teammates. Unlike Mike Richards and Jeff Carter, he doesn't score "pretty" goals … or many goals, for that matter—as of press time, just 31 in his career. Unlike Danny Briere and Claude Giroux, he has yet to suit up for an NHL All-Star Game. Perhaps the best thing one can say about him is that, unless he's delivering a bone-jarring hit or dropping the gloves in defense of a teammate, his handiwork goes mostly unnoticed—which, for a defensive-minded blueliner, means he's doing his job perfectly.
"For a sixth defenseman, Sean O'Donnell is really on top of the list," says Justin Johnson, a Mt. Laurel, N.J.-based Flyers correspondent for sports-media outlet The Hockey Writers. "He's not counted on to log the big minutes, but he is going to take some of the heat off Pronger and Timonen. … He's really earned his paycheck."

Staying on Top
Even though there's still plenty of hockey to be played, the tenor on the ice and in the Flyers' locker room, not to mention in the national news media, suggests O'Donnell and his teammates could very well be playing into mid-June, when the weather outside has turned warm and sunny—perfect conditions for a championship parade down Broad Street.
It's a stark difference compared with last year, when a desperate Flyers team replaced its head coach partway through the season and squeaked into the playoffs only by surviving an overtime shootout on the season's final day. The Flyers shone in the postseason, however, outlasting their Eastern Conference rivals to earn a berth in the Stanley Cup Final, where they lost the championship to the Chicago Blackhawks in six hard-fought games.
With spring approaching in the aftermath of another deep and dark winter, the city's sports fans are stricken with a much-needed case of Phillies fever, especially with the off-season reacquisition of pitching ace Cliff Lee. But this year's Flyers are intent on giving local sports fans more than one team to cheer about.
In terms of depth and overall skill at every position, general manager Paul Holmgren has assembled a squad that ranks among the best to ever wear the Flyers' signature orange and black—all funded and supported by a hyper-competitive longtime owner, Ed Snider. At the goaltender position, for example, the team has an embarrassment of riches; veteran Brian Boucher and rookie Sergei Bobrovsky played so well early on that Michael Leighton, the team's No. 1 from last season, was placed on waivers to tend goal for the team's farm club, the Adirondack Phantoms.
"I've never had this kind of experience before with another organization," says O'Donnell. "It is different here. Whether it's a current Flyer or a player who retired 10 years ago, anyone who was part of this organization has great things to say about it—from Mr. Snider all the way down. … Every year this organization is trying to win the Stanley Cup."
Even many respected pundits, including those from national networks such as ESPN and Versus, have picked the Flyers to win it all this year.
"In the Eastern Conference this season, the Flyers have to be the favorite [to win the Cup]," says Johnson of The Hockey Writers. "The reason they lost last year was goaltending and
defense. With the additions of Meszaros and O'Donnell, the defense has really improved; if they're not the best [defense corps] in the NHL, they're definitely in the top three."
Likewise, Ron Raymond, a professional sports handicapper based in Ottawa, Ontario, believes the Flyers have filled in the "missing pieces of the puzzle" that last season kept them from gaining the franchise's first Stanley Cup since 1975—one of the NHL's longest championship droughts.
"I believe everything is based on cycles," he says. "If it goes the way I think it will, it will be Detroit and Philadelphia in the Final, which goes back to the '97 Final, a series which Detroit won. … And as long as Philly stays in the first or second seed [in the East], I don't see anyone knocking them off."
O'Donnell knows from experience that a lot needs to happen before the city makes room in the trophy case. In 2001, as a member of the New Jersey Devils, he suffered the pain of losing the Stanley Cup to the Colorado Avalanche in a grueling seven-game series. In 2007, however, his Anaheim Ducks team—which, incidentally, included Pronger—steamrolled the opposing Ottawa Senators in a five-game Final series to bring the Cup to California.
"They were both good teams—the one that lost in the Final, and the one that won," O'Donnell says. "This [Flyers] team is right up there, but … you need to win the whole thing to be thrown in with those teams that won before. This team made a couple of additions after last season, and hopefully we can win those two more games this year."

Next Steps
The grind of the NHL forces most hockey players to retire long before their 40th birthday, so it makes sense that O'Donnell would begin to think about "what happens next." A surprising number of Flyers, after they retired from on-ice play, have earned jobs in the organization's front office or on the scouting and broadcasting staffs. And even though O'Donnell has been with the team just a short time, one can imagine him sticking around for a while.
As an example, O'Donnell's silky baritone would make for a good "broadcaster's voice," as a member of the Flyers communications staff described it. That, combined with his affability and articulateness during press interviews, makes it easy to envision him one day providing commentary for games televised locally, or even nationally on NBC or the Versus network. He already has experience in the broadcast booth, from his days as a Boston Bruin when a sprained medial collateral ligament temporarily kept him out of the lineup.
"I wasn't going on the road trips, so I worked two games—sort of like what [former Flyer] Rick Tocchet does now [for Comcast SportsNet]," he says. "They would shoot back to the studio for the pregame and postgame, and I would give some commentary. I did that twice and thought it was a lot of fun. That's one of the things I'd be interested in doing once I'm done playing."
If O'Donnell's playing days do come to an end after this season, tens of thousands of loyal Flyers fans pray his final on-ice moments include a victory lap around the Wells Fargo Center's confetti-littered rink, hoisting a big silver chalice—Lord Stanley's Cup—over his head. But, as of now, any talk of retirement is premature.
"We decided to come out to Philly, and we're really kind of on a year-to-year basis," says O'Donnell, referring to him and his wife, Laura. "We're hoping to bring the Cup to Philly—that's the focus. Hopefully in mid-June, after we get done raising the Cup, we'll sit down with Mr. Holmgren and the rest of the city and talk about the next year."