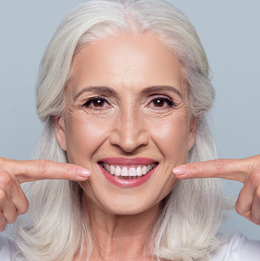 Seeing Straight
Patients pursue a perfect smile, and realize the many health and lifestyle benefits that follow, in the care of a skilled orthodontist.
A beautiful smile is one of life's blessings that too many people take for granted. Only when it's gone, or when it's compromised, do we fully appreciate the subtle but significant ways it can influence a life.
In this regard, orthodontics can be a life saver, both literally and figuratively. Orthodontic treatment helps ensure proper function of teeth and create healthy smiles, according to the American Association of Orthodontists. A good bite makes it easier for a person to bite, chew, and speak. In addition, properly aligned teeth are easier to clean and can prevent abnormal wearing of tooth enamel, thereby enabling an individual to avoid procedures someone with misaligned teeth might need to correct the problems that could follow.
The American Dental Association defines the dental specialty of orthodontics as the diagnosis, prevention, interception, and correction of malocclusion, or the misalignment of the upper and lower teeth, as well as neuromuscular and skeletal abnormalities of the developing or mature orofacial structures. An estimated 3.9 million U.S. children are orthodontic patients, according to the AAO, but children represent only a fraction of orthodontic patients; adults account for the fastest-growing population of patients who invest in their smiles through orthodontic treatment such as traditional braces or aligner therapy. The AAO suggests one out of every three orthodontic patients is an adult.
Put another way, it's never too late in life to pursue a perfect smile.
Suburban Life invited readers to vote for local orthodontists who possess the skill, compassion, and commitment to their vocation. In addition to readers' suggestions, we included a few notable orthodontists who have been featured in the pages of this magazine.
We celebrate our 2021 Top Orthodontists.
2021 Top Orthodontists
Dr. Andrea Appel
Dr. Andrew Appel
Dr. Steven Appel
Appel Orthodontics
Philadelphia
appelortho.com
Dr. Alexander C. Apple
Penn Dental Family Practice
Multiple locations
mypenndentist.org
Dr. Benjamin K. Azizi
Azizi Orthodontics
Ambler and Glenside
aziziorthodonticsambler.com
Dr. Benjamin A. Cassalia
Cassalia Orthodontics
Chalfont and Ottsville
drcassalia.com
Dr. Daniel Cassarella
DCO Orthodontic Specialists
Worcester
dco-ortho.com
Dr. Jordan Cogan
Dr. Cathleen George
CG Orthodontics
Yardley and Richboro
buckscountyortho.com
teethstraight.com
Dr. Steven M. Cohen
Steven M. Cohen, D.M.D., M.S.D.
Philadelphia
phillybraces.com
Dr. Anthony L. Cook
Dr. Patricia D. Gutsche
Cook & Gutsche Orthodontics
Springfield
greatorthosmiles.com
Dr. Tanja J. de Marsche
Dr. William Roberts
Roberts & de Marsche Orthodontics
Philadelphia and Lawrenceville, New Jersey
robertsanddemarsche.com
Dr. Jake Dorfman
Dorfman Orthodontic Group
Bensalem and Southampton
dog-ortho.com
Dr. Marianna Evans
Infinity Dental Specialists
Glen Mills and Newtown Square
infinitydentalspecialists.com
Dr. Shawn M. Faust
Faust Orthodontics
Havertown
faustorthodontics.com
Dr. Christine Ferrell
West Chester Orthodontics
West Chester
wcbraces.com
Dr. Catherine Foote
Foote Orthodontics
Bryn Mawr and Wayne
footeorthodontics.com
Dr. Jamie N. Goodreau
Jamie N. Goodreau, D.M.D., M.S.D.
Chalfont
drgoodreau.com
Dr. Colleen Gordon
Gordon Orthodontics
Ambler
orthodontistambler.com
Dr. Sally Gupton
Sally A. Gupton, DDS
Fort Washington
sallyguptonortho.com
Dr. Neil Mandalia
My Smile Orthodontist
Newtown
mysmileorthodontist.com
Dr. LynAnn Mastaj
Mastaj Orthodontics
Bryn Mawr
lynannmastaj.com
Dr. Anna Morrison
Heine & Associates Family Dentistry
Newtown
heinefamilydental.com
Dr. Antonino G. Secchi
Devon Orthodontics
Devon
devonortho.com
Dr. Tejjy Thomas
Center City Orthodontics
Philadelphia and Cherry Hill, N.J.
centercityortho.com
Dr. Orhan Tuncay
Rittenhouse Orthodontics
Philadelphia
rittenhouseorthodontics.com
Dr. Todd M. Welsh
Bucks County Orthodontics
Doylestown
buckscountyorthodontics.com
Published (and copyrighted) in Suburban Life magazine, July 2021.