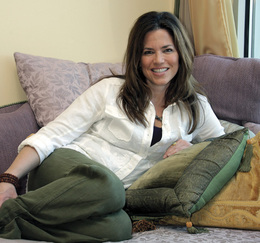 A Different Pose
The enlightened path of model and "Seinfeld" star turned New Hope yogi Melanie Smith
To understand Melanie Smith's approach to life and—in essence—the secret to her success, listen to her tell a story about her introduction to advanced improvisational acting. The class, which she took during her tenure on the hit Fox series "Melrose Place," taught her that even improv has rules … however shapeless they may be.
"In improv, it's never 'no and,' it's always 'yes but,' and I believe that's life," she says. "Everything that comes to you is 'yes, but.' … Whatever has come to my feet and asked me to experience it, I've always said yes to, and it's given me a good life. I operate purely on instinct and intuition and a connection to something greater, and when I go against that I always get my butt kicked."
In other words, "yes but" has led Smith on a long and spiritually rewarding journey, taking her far from her birthplace in working-class Scranton. She's known most famously for her roles on "Seinfeld," "As the World Turns," "Beverly Hills, 90210," etc., but has also enjoyed stints as a model, dancer, choreographer, songwriter and jingle composer, among other occupations. (In the early 1990s, for example, she co-authored Sprint's "Be There Now" advertising campaign, which starred Candace Bergen.) Although she has stopped acting, she's still "on stage" regularly; she now owns and operates a highly successful yoga studio in New Hope called, appropriately, Yogaphoria.
Although one might question Smith's decision to quit acting at the height of her career, she did so for the best reasons imaginable: to spend more time with her son, Gideon Moses, and to right her "emotional alignment." Moving from Los Angeles to Bucks County—a location she chose over the runner-up, California's Napa Valley—enabled her to be nearer to her family in Scranton. The art of yoga, which she has been practicing for 23 years, helped her attain clarity in such life-changing decisions.
"It was when I started feeling that I was not happy that I knew it was time for me to retire, because I felt life was about feeling connected to who you are," she says. "They had offered me a new series [FX's "Nip/Tuck"], and that's when you know you're done—when you're offered a series, and it's a great series, and you say no.
"It was a really big thing that I made the choice," she adds. "I wasn't a person who left acting because the jobs dried up. That helps, that you were very, very clear, in the deepest part of yourself, to be able to say, 'I need to change my path.' The other thing that helps is to constantly use the part of yourself that you loved using in those places in your life. … You take the things that you love and find another place to put them. I love to speak, I love to learn, I love to tell stories, I love to laugh, and I get to do all those things every time I teach [yoga]."
She didn't necessarily know she was going to open a studio in lieu of acting, but everything fell into place when she pulled into the Union Square lot in New Hope one day and decided, This is where Yogaphoria will be born. The studio has since become ranked as one of the best in the country—if not the world—by sources such as Vogue and Yoga Journal, with a growing client list numbering in the thousands, a 22-person staff and a spacious, beautifully designed facility. In addition to classes in various yoga forms, Yogaphoria also stands apart by providing teacher training and unequaled open-to-the-public workshops and speaking engagements featuring well-known spiritual guides/yoga masters such as Marianne Williamson, Sarina Jain and Seane Corn. (Go to the Yogaphoria website for an updated list of events.) But yoga had begun to alter Smith's perspective long before she ever considered opening a studio.
"You can become very overworked, very overtired [in acting], which seems ironic," she says. "It looks really easy in some ways, what we do as actors, but it's not. Those are long days. When I was on 'Deep Space Nine,' my call times were 3:30 in the morning and I wouldn't get out of there until 9 at night. … If you didn't know how to center yourself and meditate, you kind of wanted to go out of your skin a little bit.
"Having the ability to calm yourself and center yourself and recognize it's not really about what's going on out there, it's about whatever it is you're experiencing inside that you want to share, and it sort of makes it all manageable," she continues. "The practice of yoga and meditation, and also knowing there's something greater than you that you can surrender to, taught me that."
In some ways, she believes, her day job hasn't changed much since the days of sharing a stage with Jerry Seinfeld and Julia Louis-Dreyfus, among others: "I'm still telling stories. I never looked at myself as a performer; I looked at myself as a storyteller. It was always up to the story for me. I was a songwriter for years, and it was the story that was important to me. … I use my life experience to tell the story of what I've learned to help others."
Furthermore, yoga has helped Smith understand that listening to her inner voice—achieving "inner health," in Yogaphoria terms—was more important than her job.
"To be in the hands of something greater than ourselves on this Earth in this lifetime is what we ultimately want to get to," says Smith, who also specializes in grief recovery, life coaching, nutrition and holistic health. "So when we do leave this lifetime, it's like finishing up a delicious meal: It hits the spot, you don't want anything else, and you know you chose perfectly."