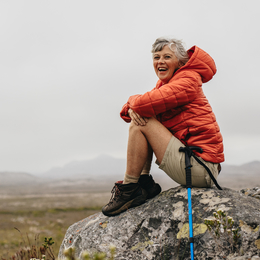 The Trip of a Lifetime
From travel and athletics to creative pursuits, older adults discover new and ambitious adventures to undertake.
Helen Dodson had already swum the English Channel—21 miles from Dover, England, to Calais, France—and back again. With that milestone crossed off, she set her sights on the span between Key West, Florida, and Havana, Cuba—slightly more than 100 miles from one coast to the other. As of mid-August, she was 12 miles from completing the return leg of her epic swim.
It's worth clarifying that Dodson, 80, did not swim the actual English Channel, nor did she swim the actual distance from Florida to Cuba and back. Rather, she completed these journeys in a 40-foot-long pool in Newtown Square. Still, she has swum more pool miles in the past few years than most people will swim in a lifetime.
"It's a little bit like meditating," says Dodson, a resident of Dunwoody Village in Delaware County. "Moving through the water becomes a spiritual experience after a while. I get the same experience when I'm skiing. Add the beautiful outdoors, looking at God's creation, and it's a world only skiers know."
Dodson swims three to four times a week. She prefers freestyle over other strokes, though she sometimes does backstroke and breaststroke for the sake of diversity.
"It's the best hour of the day," she says.
Although Dodson is older than she has ever been, she feels spry, engaged, and eager for each day. She's proof of the fact that just because people get older, they do not have to get old. In other words, adults can still find new adventures to pursue into their 80s, 90s, and beyond.
Just ask Deanne Burch, a resident of the Harrisburg area. She likes where she lives, but it's hardly the most memorable place she has called home. In the early 1960s, the former Toronto native was newly married, deeply in love, and open to whatever adventures life had in store.
Adventure soon came calling.
Sharing Memories
Burch's husband, a handsome man who had earned the nickname Tiger, was a would-be anthropologist finishing his Ph.D. He wanted to move to a small village in northwest Alaska called Kivalina for a two-year research trip, and he wanted her to accompany him. She agreed, though she could not have anticipated what she would find once she got there.
"I was young, and I thought love was going to conquer all," she says. "It didn't conquer loneliness. It didn't conquer being there without plumbing or electricity. The midnight sun was wonderful, but the all-day darkness became very depressing."
Burch details her experiences in an aptly titled memoir, Journey Through Fire and Ice: Shattered Dreams Above the Arctic Circle, published earlier this year. In the book, she describes the stark beauty and harsh climate of Kivalina, the polar bears and the "wild people" who lived away from civilization, and the things the native people had to do to survive in such an unforgiving place.
"I have friends who read the memoir, and they said, 'If I saw what you saw when I got there, I would have turned around and never gone back,'" she says. "On the other hand, I loved the scenery, the light in the village. We would have to go upriver to get water, and the way the light shimmered on the water, it was almost like being in a painting. I also loved being out on the sled with the dog team. It was one of my favorite parts of living in Alaska. It was a joyful feeling."
Burch also writes about tragedy. She and Tiger almost died in a camping trip that went horribly wrong. Then, seven months into their stay, the event that changed everything: a fire that consumed their home and nearly killed Tiger, leaving him disfigured and coping with injuries that would follow him the rest of his life.
After they left Kivalina, they moved around a bit, but ultimately settled in the Harrisburg area. The memories lingered—some good, others traumatic. They would return to northwest Alaska years later, this time with their children, which Burch remembers much more fondly. She started writing the memoir in 2012, after Tiger's death.
"My mother-in-law always encouraged me to write a memoir, but my husband was adamant that I not write one," she says. "He thought I would write about the dirt and filth and the things I was not happy with, tempered with the fact that I was from another culture. After he died, I took some writing classes. I wanted other people to know more about the native life."
Over the years, Burch developed an interest in photography; she even started a photography business and taught her craft to others in the United States, Canada, and elsewhere. She hopes to one day publish a coffee-table book containing the amazing photographs from her time in Kivalina. She's also working on another memoir about her second trip to Alaska, as well as a story about a transgender youth.
"Sometimes I have to remind myself that all those things actually happened," says Burch, who has family in the Media area. "It's one of those things you learn to live with."
For her, the act of putting the memories down on paper, both for herself and to share with others, has helped.
Near and Far
In preparation for an upcoming phone interview, Susan Knerr struggled to remember exactly how many countries she had visited. She started a list, which she sent to her children for review.
"My oldest son said, 'You forgot Laos, you forgot these others, and what about the Vatican?'" Knerr recalls. "He picked up six more countries I had forgotten."
The grand total of countries she has visited so far: 70. She's likely not done yet.
"I've been to all the continents," she says. "I'm going to step foot on Antarctica this November."
It all began with a trip to China in 1999. She and her second husband—"the most wonderful man in the world," she says—came to an agreement: He would agree to the trip if she agreed to let him design a house in which they would live.
"Guess what: I got to China, and he never designed the house," she says. "I got him going."
Together, they traveled the world. They also bought a motorhome, which logged approximately 50,000 miles across the United States and Canada. Some of her favorite places include Dubai and several islands in the South Pacific. She keeps a dish in her living room containing pieces of coral from the beaches on which she has walked. More importantly, she has memories. Swimming with sharks, for example, or enjoying drinks at a particular beachside bar in American Samoa, or striking up a friendship with a kindly woman in Darwin, Australia.
Knerr's husband passed away more than four years ago, but she continues to travel, often by herself. The pandemic may have put a damper on most people's interest in travel, but not Knerr, who now lives at Normandy Farms Estates in Blue Bell.
"I keep planning my trips," she says. "I'm 84 and in very good health. Everything is working and still mine—no new knee or anything like that. … I love people, I love adventure, and I love to see new things, or even old things. You meet interesting people when you travel. You never know who you're going to meet."
Her advice to others: "There's nothing to be afraid of. Just go for it."
Helen Dodson, the swimmer in Newtown Square, would likely agree. Dodson has other challenges in mind once she swims home from Cuba.
"Maybe the Suez Canal or the Panama Canal," she says. "I was considering doing the [Great] Chesapeake Bay Swim, the actual swim in the bay. The circumstances have never been right until now. It adds the element of the outdoors, and it's a new challenge, and that always excites me."
Where Adventures Begin
The area's many fine continuing care retirement communities serve as a launchpad for older adults looking for new adventures to undertake. From topnotch amenities to comprehensive health care, communities such as the ones listed here cater to active residents who are eager for enrichment, engagement, and wellness. In addition to finding new adventures, these communities also offer residents (and their families) peace of mind with the knowledge that they will be in caring, capable hands no matter what life brings.
Acts Retirement Life Communities
Brittany Pointe Estates in Lansdale, Fort Washington Estates, Granite Farm Estates and Lima Estates in Media, Gwynedd Estates in Ambler, Normandy Farms Estates in Blue Bell, Southampton Estates, and Spring House Estates in Lower Gwynedd
actsretirement.org
Arbour Square of Harleysville
Harleysville
arboursquare.com
Artis Senior Living
Huntingdon Valley, Yardley, and Princeton, New Jersey
artisseniorliving.com
Atria Senior Living
Atria Center City in Philadelphia and Atria Lafayette Hill
atriaseniorliving.com
The Attleboro Community
Langhorne
attleborocommunity.com
Brandywine Senior Living
Dresher Estates, Haverford Estates, Longwood in Kennett Square, Senior Suites in East Norriton, and Upper Providence in Phoenixville
brandycare.com
Bryn Mawr Terrace
Bryn Mawr
brynmawrterrace.org
Chandler Hall
Newtown
ch.kendal.org
Cornwall Manor
Cornwall (Lebanon County)
cornwallmanor.org
Dunwoody Village
Newtown Square
dunwoody.org
Five Star Senior Living
Devon Senior Living, Exton Senior Living, Glen Mills Senior Living, and NewSeasons at New Britain in Chalfont
fivestarseniorliving.com
Friends Home & Village
Newtown
fhvpa.org
Garden Spot Village
gardenspotvillage.org
New Holland
HarborChase of Wilmington
Wilmington, Delaware
harborchase.com/harborchase-wilmington
HarborChase of Princeton
Princeton, New Jersey
harborchase.com/harborchase-princeton
The Hearth at Drexel
Bala Cynwyd
thehearthatdrexel.org
Heartis
Warminster and Yardley
heartis.com
Hershey's Mill
West Chester
hersheysmill55plus.com
The Hickman
West Chester
thehickman.org
HumanGood
The Mansion at Rosemont, Rydal Park and Rydal Waters in Jenkintown, and Spring Mill Pointe in Lafayette Hill
humangood.org
Lancashire Terrance
Lancaster
lancashireterrace.com
The Manor at York Town
Jamison
themanoratyorktown.org
Masonic Village at Lafayette Hill
Lafayette Hill
masonicvillages.org
Meadowood Senior Living
Worcester
meadowood.net
Merrill Gardens
Arbour Square at West Chester, Eagleview Landing in Exton, Mercer Hill Doylestown, Merrill Gardens at Glen Mills, The Pinnacle in Plymouth Meeting, Truewood by Merrill in Glen Riddle
merrillgardens.com
Pickering Manor
Newtown
pickeringmanor.org
Pine Run Retirement Community
Doylestown
pinerun.org
Pleasant View Communities
Manheim
pleasantviewcommunities.org
Priority Life Care
Symphony Manor of Feasterville and Independence Court of Quakertown
prioritylc.com
SageLife
Echo Lake in Malvern, Daylesford Crossing in Paoli, and Plush Mills in Wallingford, and Ovation at Riverwalk in Plainsboro, New Jersey
sagelife.com
The Solana Doylestown
Warrington
thesolanadoylestown.com
Springton Lake Village
Media
springtonlakevillage.com
Sunrise of North Wales
North Wales
sunriseseniorliving.com
Symphony Square
Bala Cynwyd
symphonysq.com
Waverly Heights
Gladwyne
waverlyheightsltd.org
White Horse Village
Newtown Square
whitehorsevillage.org
Published (and copyrighted) in Suburban Life magazine, August 2021.