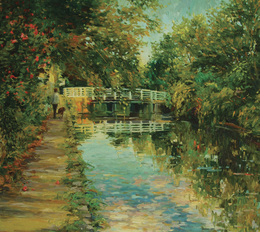 Art Restoration
A new gallery from a longtime arts supporter gives Bucks County artists—and their work—a prominent, permanent home
If Bucks County becomes the next mecca for Impressionist art, collectors and artists alike will have Herman Silverman to thank. Silverman—the county's most famous patron of the arts, and also among its most generous with his time, money and energy—simply refuses to let the local arts scene fade away.
The man largely responsible for the James A. Michener Art Museum in Doylestown and the Bucks County Artmobile, among many other comparable ventures, will officially launch his latest endeavor—the Silverman Gallery of Bucks County Impressionist Art—on March 21 in the Buckingham area. This elegant gallery will not only give a permanent home and a prominent voice to four Bucks County-area Impressionist artists but also provide a stable venue for art lovers to purchase affordable, investment-quality work.
"I want to do something that's never been done before," says an affable and energetic, Silverman, now 91 years old. "We want to be patrons of great Bucks County artists and stay with them forever. … Sometimes you'll go to an art show and three months later it's gone. But you can't become a collector if you can't find the artist. We want to stimulate the art economy and start a buzz where people are asking, 'Where did you get that painting?'
"This [gallery] is going to make people want to buy Bucks County art," he continues. "The beauty [of the paintings] speaks to you and makes you reminisce about where Bucks County has been. … When you walk into the gallery and see these beautiful paintings, it's going to be like sitting in the front row of the orchestra when Mozart plays."
The Silverman Gallery's staff began in November the task of vetting and whittling down a field of as many as 100 local artists to choose the so-called Core Four: Joseph Barrett, Myles Cavanaugh, Alan Fetterman and Jennifer Hansen Rolli. Each artist had to possess three distinct qualities to even be considered: tremendous artistic talent; significant achievement and distinction, such as past awards and gallery expositions; and the ability to effectively render the essence of Bucks County in their paintings. The Core Four artists will be represented exclusively by the gallery for at least one year, according to gallery director Joan Perkes.
"When you look at their work you see that it's truly an amazing group," she says. "All the artists really sparkle, and it's reflected in their work. They capture the spirit of the county."
Though not an artist himself, Silverman's lifelong love affair with art began in his childhood, when he lived within a few blocks of the Philadelphia Museum of Art and the Rodin Museum, both of which he visited often. His notable and well-documented career began as a farmer, rising early each day to milk cows, tend orchards and otherwise reap the benefits of a hard day's work. He then made his mark as a skilled entrepreneur and businessman.
In 2000, in fact, the Intelligencer named him one of Bucks County's Most Influential Power Brokers. Earlier in his career he revolutionized the pools industry with Sylvan Pools, a company he founded and served as its president and CEO. Today he remains active in the business community, mostly in real estate and as a board member for the Central Bucks Chamber of Commerce, among other designations.
He has since turned his full attention to immortalizing the arts. Through him, the Silverman Gallery is committed to promoting the next generation of fine artists following in the footsteps of late Impressionist masters such as Fern Coppedge, Daniel Garber and Edward Redfield. Better put, the gallery's mission is to honor and nourish the region's artistic legacy by offering original works from award-winning artists at affordable prices—say, $2,000 to $10,000 per painting—for collectors and investors alike, according to Perkes.
"Herman is going to lead the way," she says. "You have other galleries struggling or even closing, but Herman wants to start things going in the other direction."
The Silverman Gallery of Bucks County Impressionist Art is located in Buckingham Green at 4920 York Road (Route 202) in Buckingham/Holicong. Visitors can call 215-794-4300 or go to the Silverman Gallery website for more information.
Pictured: Detail of a painting from Jennifer Hansen Rolli