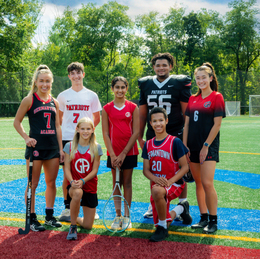 Athletics + Academics = Lessons for Life
At Germantown Academy, student athletes improve their athletic skills, gain leadership experience, and learn vital life lessons to help them navigate the future.
Casey Traina has learned a great deal since coming to Germantown Academy as a student in fifth grade. He has grown through his experiences in the classroom, particularly in his STEM classes, as well as through his participation in student government, of which he is president, and organizations such as the Black Student Alliance. Some of the most valuable lessons, however, have come through competition on the basketball court or otherwise spending time in the company of his teammates and coaches.
"Athletics teach you about things like leadership, perseverance, and mental toughness," says Traina, a senior at Germantown Academy (GA). "There are some days when you don't feel like playing or you're struggling out there, but you still have to put in the work. Athletics also teach you how to be more productive with your time, how to manage stress, and how to lead other people. All those things also help you in the classroom and other aspects of your life."
Traina, a shooting guard, has been playing on GA's varsity basketball team since freshman year. GA competes in the Inter-Academic Athletic League, along with some of the area's most prestigious private schools, and Traina says the level of play has "really picked up the last few years."
GA offers a full lineup of athletic programs for boys and girls—baseball and softball, basketball, crew, cross country, football, golf, lacrosse, ice hockey and field hockey, soccer, swimming, tennis, track and field, volleyball, water polo, and wrestling—as well as club sports. In other words, if a student has an interest, they will likely have an opportunity to play at GA.
"Student athletes come in all shapes and levels of experience," says Tim Ginter, who recently began his second year as GA's athletic director. "We have a no-cut policy, so we're always trying to find opportunities for every student who wants to play. It's a balance between providing those opportunities and putting the best possible team on the field in a very competitive league, and we've done a good job of managing that balance."
Student athletes benefit from the immaculate playing fields and elite training facilities spread across GA's 126-acre campus in Fort Washington. In addition, each team boasts a coaching staff committed to helping student athletes refine not only their athletic skills but also the soft skills needed to thrive long after their playing days have come to an end.
"Athletics is all about life lessons—things like collaboration, leadership, and managing relationships," Ginter says. "Sports emulate life; you don't always win, and a lot of times you will fall down. In life, your trajectory will be dictated by how you react to those challenges."
Ginter feels that playing more than one sport during the school year sharpens student athlete's mental toughness and allows them to train different muscles. GA sees many students play multiple sports during the school year, with some playing a sport each season. While Traina's focus is now basketball, he enjoyed playing basketball, football, and competing in track and field for GA's Middle School.
Traina is excited for all the experiences his final year at GA will bring, but he's also looking forward to college. He intends to pursue an engineering degree at a university with a strong academic program rooted in STEM. Regardless of where he goes to college, he expects to continue playing basketball, either as a walk-on or with a club team, building on the life-changing experiences he had at GA.
"Some of my fondest memories at GA happened either on the court or just being around my teammates," he says. "It all goes back to the community environment; few schools mimic the family feel of GA. I don't think I would have had the same experience anywhere else."
Germantown Academy
340 Morris Road
Fort Washington, PA 19034
(215) 646-3300
Photograph by Jody Robinson
Suggested callout: On Saturday, October 23, Germantown Academy will host a one-of-a-kind event known nationally as Girls in Sports Day, during which all of the school's female fall sports will play home contests. The school is promoting the event as "GH44," to honor Ginny Hofmann, retired coach, teacher, and administrator, in celebration of her 44-year athletic career at Germantown Academy.
---