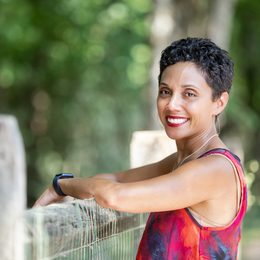 Heit of Success
With love and dedication, Tabitha Heit—Realtor, business owner, wife, mother—proves that anything is possible.
Described by clients with words such as "professional," "patient," and "transparent," Realtor Tabitha Heit has a simple mission: to provide the best possible experience for anyone looking to buy or sell a home.
"I work a lot with first-time homebuyers, leading them along the path to home equity," she shares. "I help them navigate the system, as well as all the joys that come with buying a first home."
Heit, a Montgomery County resident, grew up in Connecticut, and went to college at the University of Massachusetts in Boston. She then spent time in New York City, where she met her husband. After traveling throughout the northeastern United States, however, Heit says she is glad to now call the southeastern corner of Pennsylvania her home.
"What I love about this area outside of Philadelphia is that it offers the diversity of the city, plus the culture unique to here," Heit says. "I love the city aspect, and I love running in the parks. There is wilderness, but also city. There is so much beauty in this area."
The experience of living in different cities has offered Heit insight into the joys and tribulations of moving to a new place. She loved the experience of moving and "finding new spots," which is partly how she started a career in realty. As with the places she has lived before, Heit has come to know local neighborhoods like the back of her hand, appreciating each for its one-of-a-kind qualities.
"I work with a lot of customers moving here from other places," she says. "Based on conversations with them, I can help them target in on areas they would like. By listening to customers when we speak, and when they come here, I can find a really good spot for each buyer."
Heit prides herself on her ability to speak candidly with clients so that she can get the best possible picture of what each person wants most.
"I like to have fun with buyers," she says. "I'm all about living a happy, healthy, well-balanced life; then, everything else falls into place. For me, it's important for buyers to enjoy the process. For someone buying a new house, or relocating, a new chapter is beginning."
As someone who has traveled and lived elsewhere, Heit says she truly enjoys working with people from out of state and sharing the enthusiasm she has for all that this area offers.
"I think I'm a no-pressure type of Realtor," Heit shares. "Clients lead the way as far as budget. I listen, respect, hold their hand through the whole process, and know that at the end of the day, it's the client's call, because it's their money. I think people appreciate that straightforward, honest, no-pressure approach."
As a tech-savvy Realtor, Heit appreciates the top-notch tools available to her and her clients through Berkshire Hathaway. The company supports production of "video home tours," for example, which can transport prospective buyers right inside homes for tours.
"Berkshire Hathaway is such a well-rounded company," she says. "Along with great tools, Berkshire Hathaway is an affiliate of the Trident Group, a mortgage lender. Clients don't have to use this, but it can make the lending process easier for a buyer. Clients can look at mortgage options with them, and they can also get other quotes to see that they're getting the best rate. Plus, there are offices all over the area, so there is convenient access to those spaces for settlement services."
Additionally, Heit notes the incredible teamwork among members of the Berkshire Hathaway group.
"I am constantly checking MLS listings to see what comes up, and I am available for customers
when they need," she says. "The great thing with this firm is that in the times when I might not
be available, Berkshire Hathaway Spring House has a very strong network, a good team environment, and people who help each other out."
In addition to success in the real estate industry, which Heit says has been inspired by her mother's success with Fox & Roach, Heit has also owned a Philadelphia hair salon for 14 years. Having spent time as an entrepreneur, she knows the importance of developing rapport with clients, which has been a key to her success in real estate, too.
"I think my experience running a small business has really helped me in terms of building relationships," she says. "I know what people want. I've always worked with the general public, with all different types of personalities, using different types of management skills. I'm an independent worker, and I think this has helped me be more organized."
Heit, the mother of a special-needs son, actively supports the National Down Syndrome Society, an organization dedicated to enhancing the quality of life of, and opportunities available to, those with Down syndrome.
"Time management is key when you're working a lot," she shares. "My spouse is very supportive with the household stuff, and I have a really good team at the salon who help that business run smoothly."
One might wonder how Heit balances everything she does. She says it has a lot to do with attitude.
"I am a big believer that you set the tone for your day," she shares. "I am an early riser—5 a.m. I get my hours for myself, taking time to get healthy, then I start my day. I go to bed early. Time to restart and refresh is important to managing time efficiently."
Tabitha Heit
Berkshire Hathaway HomeServices
904 Moore Drive
Spring House, PA 19477
(215) 641-2474
Photograph by Nina Lea Photography
Published (and copyrighted) in Suburban Life magazine, September 2021.
---