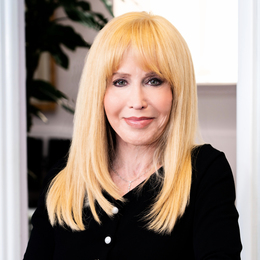 A Voice for the Voiceless
Known as a tireless advocate for those in need of her services, family law attorney Sheryl R. Rentz helps clients see past the dark clouds and envision a bright future.
As a seasoned family law attorney and the founder of her own Main Line law firm, Sheryl R. Rentz knows there are times when she needs to be tough and others when she needs to be tender. Balancing the equation is one of her many superpowers.
Although she's now known as a formidable attorney, the law represents a "second act" for Rentz. An MBA in economics served her well in a successful telecommunications career with Western Electric and AT&T/Bell Laboratories. She enjoyed many aspects of the work, but not the travel; she sometimes visited as many as eight or nine cities a week. After many years in the business world, she decided it was time for a change.
"I didn't mind the hours, but I wanted to have a home, a puppy, and much less travel," Rentz says. "I went to law school and started a second career and a new chapter in my life. It's been a much more secure and happier life without all of the travel."
Ironically, she had wanted to go to law school years earlier, but her family steered her toward economics. After graduating from Temple University Beasley School of Law in 1991, a career in family law found her. Today, in her thriving boutique practice in Ardmore, she helps clients resolve a range of domestic issues, including divorce, child custody and support, and related family matters. The work requires her to excel at tackling difficult emotional issues, as well as financial issues, such as the division of assets, alimony, and spousal support. She says the job is a perfect fit for someone who is community minded, ambitious, and possessed of an extremely kind heart.
"I really enjoy what I am doing," says Rentz. "I help people see their child, have an enhanced relationship with their child, and navigate the finances of a complicated divorce."
What makes Rentz a so-called "superwoman" is the gift of empathy; she truly cares about her clients and the outcomes of their cases. Naturally, she is a tireless advocate for clients, working diligently to achieve the most positive outcome while explaining every step of the process.
"This is not just a business," she says. "I work hard. I'm there for my clients and I am prepared; I know their case inside and out. I know the strengths and the weaknesses of the cases, and they understand that I am always there for them."
Although she's tough when needed, she insists kindness is the key to a successful family law practice. For example, she strongly believes that in a child custody case both parents should have access to their children. Also, while custody orders give people strong direction, she believes in staying flexible to accommodate the busyness of life.
Being able to help her clients, in good times and in tough times, reveals the strength of Rentz's character. The past year and a half of COVID-19 restrictions, when many people were postponing a divorce, and others were struggling with custody issues, may have been challenging, but she rose to the occasion. She helped whenever she could, in any way she could, even if it was just a kind word or helping clients visualize a bright future despite the dark clouds.
"We saw a national rise in domestic violence cases in light of people being scared, not knowing if they were going to have a job or a future, and being so close together," she says. "There is never an excuse for domestic violence, but people were having a hard time. Once I help them through those kinds of situations, I feel like I have given them a clean start. There is nothing like that; they can have a chance at happiness."
Embarking on a divorce is overwhelming for most people. She explains to prospective clients that divorce is a process, and she guides them through every step. What makes her law practice exceptionally unique is the personal attention she provides to her clients.
"Since it is not a large law firm, I return phone calls, even on weekends, and I answer emails in a timely manner," she says. "Some of my clients need somebody to say, 'It's OK, we will work through this.' I make myself available to get things done and to give my clients a sense of security. My paralegal, Linda Byrne, has been with me for 25 years, and she always knows where I am and how to reach me in a timely manner."
Combining her love for the law with her concern for children in need, she became a Montgomery Child Advocacy Project (MCAP) approximately seven years ago. Rentz is now one of 125 dedicated and trained attorneys who volunteer their time and resources to advocate for children who are victims of abuse and neglect. She is immensely proud of the fact that she has worked on more than 50 MCAP cases so far.
MCAP attorneys are trained to help children in all legal arenas throughout Montgomery County. Services include representing the child's best interests, investigating their cases, accompanying children to court dates, and, above all, making sure children's voices are heard.
"I take as many cases as my practice allows," she says. "I like to use my time to give children a voice and provide help for children in foster care, custody, or protection from abuse. It is my privilege to be able to positively affect these young people's lives, and help them on a path for a happier future."
The Law Offices of Sheryl R. Rentz P.C.
326 Lancaster Ave., Suite 100
Ardmore, PA 19003
(610) 645-0100
Photograph by Jody Robinson
Published (and copyrighted) in Suburban Life magazine, September 2021.
---