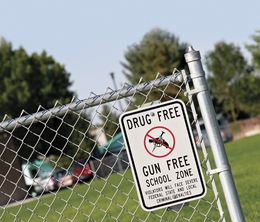 Protect and Educate
In a post-Columbine world, safety-conscious suburban schools face—and overcome—mounting obstacles
During the Cold War, students were taught to crouch beneath their desks and pull the shades to protect against bombs and other external threats. These days, the threat may just as readily come from within. Since the tragic eruption at Columbine High School in Columbine, Colo., more than a decade ago, school administrators, students and even the physical school buildings all have had to endure many changes for safety's sake.
"Columbine was certainly a watershed event," says Ken Trump, president of Cleveland-based National School Safety and Security Services, who has worked locally with Springfield Township, Colonial and West Chester schools, as well as the Montgomery County Intermediate Unit.
"Unfortunately," he continues, "what we're seeing in the past three to five years has been dramatic cuts in federal grants and local school budgets, cuts in funding police officers in schools and prevention programs across the country. On the surface, it looks like safety doesn't directly affect the classroom, but it does. If kids don't feel safe, they can't learn."
In other words, students in the 21st century today have to deal with security concerns that their parents and grandparents would probably never have imagined.
"Lockdown and safe-shelter drills are common in schools today, in addition to the fire/evacuation drills we all remember," says Nathan Scott, assistant principal for Council Rock High School North in Newtown. "Our students have responded well to these necessary changes, and we make efforts to explain to our students why we do these exercises."
Even so, investments in school security are increasingly "in competition with other priorities for time and funds," says Trump. When an incident does occur, safety becomes of paramount concern, and in its aftermath people tend to make wild propositions, such as arming teachers, bulletproofing backpacks and teaching kids how to fight back. Although tangible examples of security, such as more cameras, are easier to get funding for, nontangible ones such as working closely with law enforcement, creating crisis teams, training staff, offering mental health support and counseling, can offer longer-term benefits.
"We don't have to [stage] a mock kidnapping the first day of kindergarten," Trump says, "but schools should at least have plans they test and upgrade at least annually and tabletop exercises they do with crisis teams in the community."

Close to Home
Are schools near large urban centers, such as Philadelphia, in more danger than those in outlying areas?
"The closer you are to Philadelphia, the more you need to talk about physical violence," says Felicia McAllister, principal of Pennridge South Middle School since 2007, who in the past worked with the Upper Merion, Owen J. Roberts and Allentown school districts.
But school districts can have problems regardless of ZIP code, according to Trump: "The public often perceives that large urban districts are worse, but they serve larger communities and people with more societal ills and needs, so they tend to have more problems. Smart school administrators realize the importance of being out in front on safety."
The specter of Columbine has made all school districts re-evaluate—or, in some cases, re-create—their policies regarding weapons and drugs, according to McAllister, who says local school administrators strive to "create the safest place we can for students."
Pennridge continually shares its safety policies with involved parties in various ways: while registering students, offering tours, meeting guidance counselors, etc. The school also issues an agenda to each student, which kids and their parents must acknowledge and sign. Such policies came into play when one student brought a can of beer into the school, when another used a school computer against Pennridge's fair-use policy, and when another brought a weapon to school, according to McAllister.
"We have not had a need for a dog to come in [to search for drugs or explosives]," she says, "but we do review with the students that the lockers are our property so we have a right to search them. … Students are fearful when they know others have drugs or weapons in school."
Pennridge South Middle School has also implemented so-called citizen checks; once a month, students can enter into class computers anything that they are not comfortable with so that an adult can then investigate the issue.
"We don't have big problems that are visible like urban schools, but we are not naïve enough to think nothing goes on," McAllister says. Pennridge South follows the commonwealth's plan for developing a crisis manual, and holds at least a day and a half of in-service activities to train staff each year. "I'm always doing drills—lockdown drills, shelter-in-place drills—so [teachers] can follow protocols to make sure kids are safe," she says.

Preventing Problems
Council Rock relies heavily on staff training. In addition to anti-bullying programs and a student code of conduct, staff members also undergo training to identify and assist students who may be "at risk" in terms of academics or behavior, through a program known internally as CARES (Children at Risk in the Educational System).
"As a school system, we focus on making students aware of behavioral expectations, and our CARES program helps families recognize and access the community resources available to them," says Scott.
One recent example is the introduction of QPR (Question, Persuade, Refer) training protocols to help staff intervene with a student who may be "on the edge." Council Rock also uses "restorative practices" to help resolve interpersonal conflicts before they begin, and to rebuild relationships between parties who have been involved in conflict.
"The developing adolescent has a lot to keep up with and many times does not have the coping skills to deal with rejection," says Pennridge's McAllister, "so we do see a higher number of students who need some kind of [emotional] support. Our staff refers students who may need help, very confidentially. We try to prevent bigger problems."
Parents, she adds, need to support middle-school kids to make sure the system does not break down.
"Parents need to know who their kids' friends are," she says. "Students really want for parents to remain involved. … Since Columbine, the level of communication has increased between parents and me." And that, she believes, is a good thing.
Maria Martino Evans is a writer and PR professional in Pipersville.