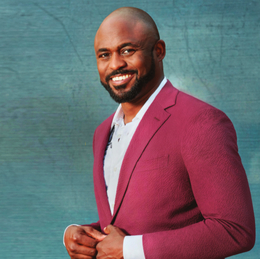 Wayne's Way
Even as his star continues to rise, Wayne Brady stays true to his roots.
From comedy to singing to hosting game shows, Wayne Brady has proven he can do it all. He has been entertaining audiences for more than three decades, with no plans of stopping anytime soon.
Earlier this year, the multi-Emmy winner and Grammy-nominated Brady garnered tremendous praise for a riveting spoken word piece he wrote entitled, "A Piece by the Angriest Black Man in America (or, How I Learned to Forgive Myself for Being a Black Man in America)." The composition, which appears on actor Glenn Close's spoken word jazz album, Transformation: Personal Stories of Change, Acceptance, and Evolution, offers a deeply poignant reflection on Brady's early struggles with colorism.
Currently residing in Los Angeles, Brady, the proud father of a teenage daughter who co-parents with his ex-wife and best friend Mandie Taketa, is looking forward to going back on tour this fall. On Sept. 25, he returned to Atlantic City, New Jersey, to take the stage at the Borgata.
We catch up with the charismatic showman as he reflects on his multifaceted career, his current projects, and the legacy he hopes to leave behind.
Q&A
Your recent contribution on Glenn Close's spoken word jazz album is intensely personal, and I understand it was a project you had been working on for some time but were never able to fully complete. Did you ever worry about the vulnerability that comes with allowing people behind the curtain, so to speak?
I was never worried about what people thought. I think I was most worried about making sure that I wrote it and got it out in a way that people would understand what I'm saying. In comedy, when I tell a story, even if it's something fantastical, I always want people to connect with it on some level, whether they see themselves in the story or they can respond to it. I knew when writing this that it is a very specific window into a Black person's life, but I was hoping that even though it is very personal, with me talking about my experience with colorism, self-love, and self-hate, that there would be things that people could latch onto and say, "Oh, I know what it's like to feel a certain way about myself because of an event that happened to me." … Finally, Glenn gave me the kick in the pants to finish it and share it. It's actually one of a bunch of pieces that are part of a show that I will be doing on Broadway soon called Young, Gifted and Wack about being a kid and growing up in Orlando in the '80s.
You have performed on Broadway many times. Will this be a different experience for you now that you will be sharing something so personal?
Oh, absolutely! I think sharing anything personal like this is different than playing a character. When I was doing Kinky Boots, Hamilton, and Chicago, I got to hide behind that character's skin. When you're you, it's the skin that you are in—that's it. That's why you have to feel damn comfortable in your own skin to be able to share something like this, and that's the place that I think I have finally reached in my life. I feel very comfortable in this skin to share personal stories and not just have things be about the very surface.
You have talked about growing up with a stutter and the angst it had caused you. How do you reflect on those struggles and what you have been able to accomplish?
Any struggle that any of us goes through forms who we become. I think that's what getting older is all about; it's about how to make those choices and [knowing] which are the healthy ones and which are going to lead you down the wrong path. … I think that any challenge I faced from dealing with the stuttering, bullying, colorism, or any challenge—each of those things, had they not happened, I wouldn't be having this conversation with you because I wouldn't be the person that had to develop strengths that put him onstage and have a certain place in this world. If you took out any of those struggles, then I'd be a completely different person.
Have you thought about your legacy and what you would want to be remembered for?
There are two things that I would like to think of as my legacy. One being that I would like to have been a small part of the bigger picture of race relations in our country. I want to be a small part to say that at some point I was able to help people cross that gap that can exist sometimes between cultures. … The other legacy that I would like to leave is of my daughter and how she lives her life. I don't mean that she has to be in show business, just carrying on the legacy of doing whatever jobs she chooses and is happy and wonderful at, and that she goes on to show her kids how to be good humans and then they show their kids and so on. That's a legacy that I want.
Photograph courtesy of Demetrius Fordham
Published (and copyrighted) in Suburban Life magazine, September 2021.