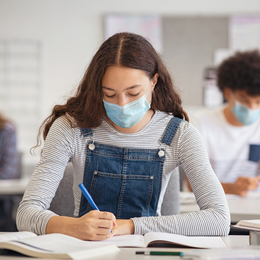 Extra Credit
Private high schools evolve to help students tackle any challenge that comes their way.
Summer has reached its inevitable conclusion, meaning classes are back in session in area high schools.
School administrators, as well as students and their families, expect the 2021-22 school year to resemble more closely those prior to the emergence of COVID-19. Aside from subtle changes such as masks in classrooms and social distancing measures, most school classrooms should more or less seem … well, pretty normal.
The Philadelphia area is home to some of the region's—if not the nation's—finest educational institutions, including many prestigious private high schools. Each is known for its rigorous academic curricula, intimate class sizes, and rich extracurricular opportunities, as well as committed teams of educators and administrators. All these factors combine to offer a well-rounded educational experience designed bring out the best in each student.
While many schools and their students have suffered over the past two years, the pandemic has also made students, teachers, and administrators more resilient. All of the schools listed herein deserve praise for the flexibility and innovation they have brought to the classroom. They are using new tools to broaden the minds and hearts of the student body, as well as tending to students' mental health in a time unlike any other.
The environment necessitated by COVID-19 has created unprecedented challenges. At the same time, it has helped schools become more adaptable to navigate the uncharted waters ahead. In turn, their students can enter a new year with optimism, undergirded by the knowledge that they can maneuver around any obstacle that stands in their way.
2021 Private High Schools
BUCKS COUNTY
Archbishop Wood High School
Warminster
archwood.org
Conwell-Egan Catholic High School
Fairless Hills
conwell-egan.org
Faith Christian Academy
Quakertown
my-fca.com
George School
Newtown
georgeschool.org
Holy Ghost Preparatory School
Bensalem
holyghostprep.org
Plumstead Christian School
Plumsteadville
plumsteadchristian.org
Solebury School
New Hope
solebury.org
Villa Joseph Marie High School
Holland
vjmhs.org
CHESTER COUNTY
Bishop Shanahan High School
Downingtown
shanahan.org
Church Farm School
Exton
gocfs.net
Delaware Valley Friends School
Paoli
dvfs.org
Devon Preparatory School
Devon
devonprep.com
Malvern Preparatory School
Malvern
malvernprep.org
The Phelps School
Malvern
thephelpsschool.org
Villa Maria Academy High School
Malvern
vmahs.org
Westtown School
West Chester
westtown.edu
DELAWARE COUNTY
Academy of Notre Dame de Namur
Villanova
ndapa.org
Archbishop John Carroll High School
Radnor
jcarroll.org
Delaware County Christian School
Newtown Square
dccs.org
Episcopal Academy
Newtown Square
episcopalacademy.org
Monsignor Bonner and Archbishop Prendergast Catholic High School
Drexel Hill
bonnerprendie.com
Sacred Heart Academy Bryn Mawr
Bryn Mawr
shabrynmawr.org
The Shipley School
Bryn Mawr
shipleyschool.org
Valley Forge Military Academy & College
Valley Forge
vfmac.edu
Woodlynde School
Strafford
woodlynde.org
MONTGOMERY COUNTY
Abington Friends School
Jenkintown
abingtonfriends.net
The Agnes Irwin School
Rosemont
agnesirwin.org
AIM Academy
Conshohocken
aimpa.org
The Baldwin School
Bryn Mawr
baldwinschool.org
Center School
Abington
centerschoolpa.org
Dock Mennonite Academy
Lansdale
dock.org
Friends' Central School
Wynnewood
friendscentral.org
Germantown Academy
Fort Washington
germantownacademy.net
Gwynedd Mercy Academy High School
Gwynedd Valley
gmahs.org
The Haverford School
Haverford
haverford.org
The Hill School
Pottstown
thehill.org
Jack M. Barrack Hebrew Academy
Bryn Mawr
jbha.org
La Salle College High School
Wyndmoor
lschs.org
Merion Mercy Academy
Merion Station
merion-mercy.com
Mount Saint Joseph Academy
Flourtown
msjacad.org
Perkiomen School
Pennsburg
perkiomen.org
West-Mont Christian Academy
Pottstown
west-mont.org
PHILADELPHIA
The Crefeld School
Chestnut Hill
crefeld.org
Friends Select School
Center City
friends-select.org
Germantown Friends School
Germantown
germantownfriends.org
Nazareth Academy High School
Northeast Philadelphia
nazarethacademyhs.org
Roman Catholic High School
Center City
romancatholichs.com
St. Joseph's Preparatory School
North Philadelphia
sjprep.org
West Catholic Preparatory High School
West Philadelphia
westcatholic.org
DELAWARE
Archmere Academy
Claymont
archmereacademy.com
Salesianum School
Wilmington
salesianum.org
The Tatnall School
Wilmington
tatnall.org
Ursuline Academy
Wilmington
ursuline.org
NEW JERSEY
The Hun School
Princeton
hunschool.org
The Lawrenceville School
Lawrenceville
lawrenceville.org
Notre Dame High School
Lawrenceville
ndnj.org
The Pennington School
pennington.org
Princeton Day School
Princeton
pds.org
Stuart Country Day School of the Sacred Heart
Princeton
stuartschool.org
The Wilberforce School
Princeton
wilberforceschool.org
Celebrating Differences
Advocacy and support help children with learning differences thrive in area schools.
By Mindy Toran
School can be challenging for any child, but it can feel downright overwhelming for a student with a learning difference or disability. According to statistics compiled by the National Center for Learning Disabilities, learning and attention issues are far more common than many people think, affecting one in five American children. With supportive programs and increased awareness among parents, educators, and communities, however, these students can thrive academically, socially, and emotionally.
Learning differences are brain-based difficulties in reading, writing, math, organization, focus, listening comprehension, social skills, and motor skills, or a combination of these. Examples include ADHD, dyslexia (difficulty reading), dysgraphia (difficulty writing), auditory processing disorder, dyscalculia (difficulty with math), dyspraxia (affects fine motor skills), executive function deficits (which affect planning and organization), and nonverbal learning disabilities.
Children with learning differences are just as smart as their neurotypical peers; they just learn differently. With the right support and interventions, they can succeed in school and achieve whatever they set out to do later in life.
"It's important to support students with learning difficulties and not let them continually fail at something they can't do at that particular moment," says David Calamaro, associate head/academic dean at Delaware Valley Friends School in Paoli, which supports children with learning differences in grades one through 12. "Students with executive functioning challenges or other learning differences developmentally may not be able to do certain tasks at the same rate as their typical peers, but they'll get there. By identifying their strengths and with the appropriate supports, we can assist these students in a way that lifts them up and focuses on their accomplishments so that they don't get demoralized."
If a child has a suspected learning difference, parents can ask the school administration to provide a comprehensive educational evaluation. If the results indicate that a child has a learning difference, he or she is eligible for special education services. A team of teachers and counselors, along with the parents, will then work together to develop an individualized education program, or IEP, for the child, which outlines the support he or she will receive in order to succeed in the classroom.
Whether students are in a public school or a school that caters to their specific needs, it's important to have an open relationship between students, teachers, and their parents or caregivers. Focusing on students' identities beyond their learning differences is critical for success.
"It's important to help students focus on their strengths and build upon them, while continuing to work through their difficulties," adds Calamaro. "We teach students how to capitalize on their strengths and how to compensate for their learning differences so they're able to advocate for themselves beyond the classroom."
By embracing their differences and learning how to navigate their courses in a way that works best for them, students can build up their own self-esteem and address their difficulties.
"Students need to know that they're not the sum of their challenges," says Mindy Wawrzyniak, head of school at Center School in Abington, which specializes in helping children in grades one through eight with language-based learning disorders and other learning differences. "We focus on self-advocacy and demystification to help students understand their learning style, and learn how to speak up for themselves and get the support they need."
Small changes in the classroom can also make a big difference in students' learning abilities.
"Kids with ADHD often have difficulty focusing or attending to tasks, which makes it difficult to access the curriculum," says Wawrzyniak. "One of the most basic strategies for these kids is to have them sit up front in the classroom, which helps them stay focused on and connect with the teacher." In addition, she says, "providing frequent breaks, allowing additional time to complete assignments, chunking down information into manageable pieces, use of visual aids, and teaching organizational skills can provide students with the tools they need to succeed."
Participating in extracurricular activities and arts programs can also help to boost students' self-confidence and sense of belonging at school, according to Calamaro. Likewise, an inclusive environment within the school itself can help students feel welcome and encourage participation in programs both in and out of the classroom.
"Our goal is to help all students feel supported and encouraged," Calamaro adds, "so they can thrive in an environment that celebrates differences and each person's inherent worth, work toward creating an inclusive community, and learn to recognize their own strengths while discovering new passions."
Schools that openly embrace students' learning differences can play a significant role in helping these kids to discover their true potential. Furthermore, providing a culture of support and advocacy can help all students thrive, regardless of how they learn.
Published (and copyrighted) in Suburban Life magazine, September 2021.