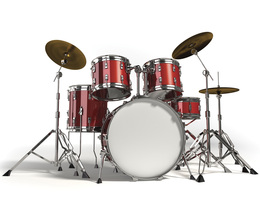 The Beat Goes On
Despite having attained elite day jobs, these local musicians prove that rock 'n' roll never dies
Jeff Chin* has gotten rather adept at living two different lives.
His 9-to-5 job as senior vice president and chief credit officer of a respected banking institution keeps him nestled in an office within a Center City high rise. When business hours draw to a close, however, he often dons a leather jacket and boots, shows off his multiple tattoos and, sometimes, raises hell on stage as guitar player for the Bucks County-based hardcore punk band, Earth A.D.*
"When I'm working at my day job, that's what I'm doing, and when I'm out with the band, that's what I'm focused on," says 36-year-old Chin, who was raised in Morrisville and now lives in Collingswood, N.J. "Everybody at work knows I play in a hardcore punk band, and I think a lot of them actually admire it, but I don't bring it into the office; they don't see me walking around hung-over or with a black eye.
"If you can maintain that balance," he adds, "everything works out better."
It's almost like living the life of a modern-day Clark Kent, wearing a suit and tie in daylight hours only to shed the uniform and assume a different identity—wearing strange clothes, among people most suburbanites would brand peculiar—by the light of the moon. In the Philadelphia suburbs, executives such as Chin have kept a firm grasp on life "in the band," mostly as an outlet for their creativity … or for the camaraderie … or because it makes them feel young … or, in some cases, for the money.
Since the early 1990s Chin's band has released more than a dozen EPs, compilations and studio albums, including last year's studio release on Creep Records, many of which have become required listening for fans of harder-edged music. In the band's more than two decades together, its members have toured nationally and internationally, and now perform just six to 10 local shows every year. (Last year the band also completed a small regional tour through California.) The band decided to cap its number of performances for two reasons, according to Chin: novelty and logistics.
"You don't want to play so [often] that people to get to a point where they say, 'Oh, we'll see them another time,'" he says. "You want people to remember the message, the fun and the power. … At the same time, we also have a drummer who lives in North Jersey, a guitar player who runs a restaurant in the New Hope area, another guy who helps run a family business in Bucks County, a bass player in Lancaster, and I'm in South Jersey."
Chin has been playing guitar for more than two decades, mostly with bands that ran in the same circles as Earth A.D., which he joined a few years ago. The experience of being on stage is different than it was when he was in his teens and twenties, he believes; he's more confident now, not that he was ever shy, but there is also at least one potential, however significant, drawback.
"I know I'm going to break a bone one day up there," he says. "I'm more active now [on stage] than I was when I was a kid. I'm not too far away from 40, and I'm about 50 pounds heavier than I was when we were doing this as kids."

'The Closest Thing'
Like Chin, Vince DeBlasis has gotten used to the stage. His muttonchops allude to his gig as lead singer of Vince DeBlasis and The TCE (Taking Care of Elvis) Band, a tribute band that has been paying homage to Elvis Presley for more than 30 years.
DeBlasis remembers listening to radio news reports announcing the death of the so-called King of Rock 'n' Roll. He had no connection to Elvis at the time, in the summer of 1977, but the event wound up forever changing the course of DeBlasis' life. Now 47, he has a highly regarded day job, working in the Philadelphia police department's criminal-intelligence unit, in addition to his equally interesting moonlighting career.
"It's the closest thing to a real Elvis concert you're ever going to see," says DeBlasis. "Elvis didn't talk a lot during his normal concerts; he just played song after song. Typically one of our shows is identical to an Elvis concert, so an average concert for us, with an encore, puts us at about 38 songs."
The nucleus of the band has been together since 1979, and continues to play a steady schedule of concerts locally, including at several notable suburban venues. (On June 17, for example, the band will play a "Memories of Elvis" show at Havana New Hope.) Even though the band does fine financially, according to DeBlasis, the camaraderie is what's kept them together for so long.
"Money's never been the issue," he says. "We're as close to brothers as brothers can be. … We were 15, 16 years old when we started, and while our other friends were sneaking off to the woods and drinking beer, here we were playing in bars. When our friends turned 21, we already knew what the bar atmosphere was like.
"Not that we were child stars, but I can be sympathetic to what some of the child stars went through," he continues. "We couldn't do normal things [back then] like play organized sports because every weekend we were gone, playing in a club somewhere just about every Friday, Saturday and Sunday night."
Like Chin, DeBlasis has had to work to keep his two lives separate. On stage, he wears a rhinestone-speckled jumpsuit, among other Elvis-inspired outfits—a stark contrast to the clothes he wears from 9 to 5. There has been the occasional "conflict," however. Someone who's doing his best to look like the King of Rock 'n' Roll is bound to stick out, especially when that someone carries a badge for a living.
"In patrol, there's a certain way you have to look, and that doesn't include 1970s lamb-chop sideburns," he says. "My hair right now is in a ponytail, and the muttonchops are in full bloom. Years ago I used to be embarrassed; I used to get ribbed all the time from the other cops. … The good thing is that right now anything goes [in terms of one's appearance]."
Besides, as soon as a fellow cop hears him belt out one of Elvis' finest, the ribbing tends to come to an abrupt halt … and the members of Vince DeBlasis and The TCE Band find themselves with yet another devoted fan.
* Names changed to protect privacy