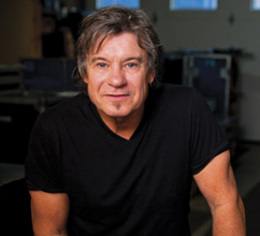 Tribute Band
Hooters drummer pays homage to Philly music's forgotten roots
Most people, when pressed to compile a list of "essential" Philadelphia songs—either about the city or performed by its resident musicians—would think of "Streets of Philadelphia" by Bruce Springsteen … or "Philadelphia Freedom" by Elton John … or even "Punk Rock Girl" by The Dead Milkmen. If you're David Uosikkinen, you would also include "All My Mondays," first recorded in 1983 by a little-known, long-defunct band known as Youth Camp.
Uosikkinen, a Levittown native now living near Radnor after 20 years in Southern California, is doing his part to nudge Philly's music scene back into the limelight—as if he hasn't done enough already. His name might not have the same immediate recognition as his longtime band mates in The Hooters—namely, Eric Bazilian and Rob Hyman—but Uosikkinen had just as much of a hand in crafting some of the most venerated rock songs ever spawned in the southeastern corner of Pennsylvania.
"I wanted to do a project of my own," says Uosikkinen, The Hooters' versatile drummer. "One day I was mulling over some concepts with my girlfriend and we were talking about all the great music that's been made here, and she said, 'Why don't you record some of those songs?'"
Out of that conversation arose In the Pocket (ITP for short), a locally flavored "super group" with a rotating lineup of prominent homegrown musicians, including Uosikkinen. His aim: to re-record seminal songs created by some of the Philadelphia area's most talented yet, in some cases, unheralded musicians. Two ITP songs—"All My Mondays" and "Open My Eyes"—are now available for download through the ITP website and iTunes.
For ITP's rendering of Youth Camp's "All My Mondays," Uosikkinen collaborated with fellow Hooters Bazilian and Hyman, as well as Richard Bush of the Peace Creeps, Greg Davis of Beru Revue and William Wittman of Cyndi Lauper fame. Also, Harrisburg-born singer-songwriter Jeffery Gaines lent his vocals to ITP's version of "Open My Eyes," a song first recorded in the late 1960s by Todd Rundgren's band, Nazz.
Although he hasn't ruled out releasing a collection of ITP songs on CD, Uosikkinen intends to use his website as the primary distribution vehicle. A portion of ITP's proceeds benefit Philadelphia's Settlement Music School, the largest community school of the arts in the United States, with six branches in Pennsylvania and New Jersey serving 15,000 students each year.
In addition to raising money for a worthwhile cause, Uosikkinen hopes his project serves another purpose: giving new life to music that otherwise would have been forgotten.
"If we can introduce some new ears to old songs that were inspirational and essential to us, and do a good job with it, that would be great," he says. "There are bands out there that never got their due commercially, and this [project] would get people to pay attention to the greatness of some of these bands.
"Philadelphia has a rich history of some truly great musicians, and we're paying them tribute," he continues. "The Hooters wouldn't have been The Hooters without them."