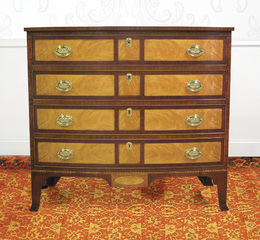 Best of Both Worlds
Patrons discover a vast collection of the finest interior home furnishings at Perkasie's Stenella Antiques
The word "antiques" may be part of its name and its heritage, but Stenella Antiques bears little resemblance to those typical roadside antiques stores which peddle keepsakes such as old sewing machines and apothecary bottles.
To tell the story right, Stenella Antiques offers one of the East Coast's largest selections of new, pre-owned and heirloom furniture. In fact, some customers come from hours away—Connecticut, Maryland, New Jersey, New York, etc.—to peruse the store's vast selection.
"I would say we are an interior home furnishings mega-store," says Jim Stenella, owner of Perkasie-based Stenella Antiques, which has a 26,000-square-foot showroom stocked with the finest furniture from manufacturers such as Baker, Henkel Harris and Kittinger. "I've had so many people tell me there's no place else you can go with this kind of quantity of quality. We've become the place to come to for dealers, store owners and homeowners who are looking to buy or sell."
Stenella and his team also work with estate attorneys, leading furniture manufacturers and other suppliers, thereby creating a business model that is more of a one-stop-shop destination than a traditional antiques shop. Yet, despite its size and considerable capabilities, Stenella Antiques still provides the hands-on service of a small, specialty house.
"We treat people fair and right and honest, whether it's buying or selling, and that kind of reputation stays with you," he says. "We don't have high-pressure sales, even though sometimes that works against us. … I might talk people out of things sometimes, because I want people to buy something I think is right for them. … Let's face it: Not everyone is looking for a $10,000 dining room table and the next guy doesn't want to buy a $300 table."

Working on Volume
Stenella, 36, has a rich background in antiques and furniture, having learned the business ropes from his father. ("By now I know everyone in the business," he says, "and everybody knows me.") After working in the furniture industry throughout college and having run Stenella Antiques for most of his professional life, he believes he has perfected a formula that resonates with customers of all tastes and budgets.
Although the prolonged U.S. recession has hurt many American businesses, including those in the furniture industry, Stenella Antiques has endured. And even though many customers remain somewhat price sensitive, the recession has actually helped the store's business, according to Stenella.
"People are shopping around more, but once they come to us they don't have to look any further because we offer more discounts," he says. "I was on the phone with a manufacturer today, ordering brand new mirrors [for a customer]. He asked me how much I was selling them for, and when I told him he said, 'Wow, I didn't you know you worked on that close of a margin.' We work on volume, and we push quality and service, and that makes us able to offer better pricing than most people."
Stenella Antiques also offers a wide array of "investment grade" furniture—meaning it becomes more valuable over time—built lovingly by the hands of the industry's most talented craftsmen. Such collectible pieces will be worth as much or more five years, 10 years, even 20 years into the future, according to Stenella.
"There's value in what you're buying—not like buying a $1,000 sofa from [a chain furniture retailer]," he says. "With a lot of items, it's a matter of buying the right thing at the right time. We have a lot of items that can appreciate in value. I've bought pieces back from customers for more than what I sold it to them. In fact, we're always willing to buy back something we sold to someone. If I sell it once, I have no problem selling it again.
"I have one customer who literally redoes their house every two to three years," he continues, "and they're always upgrading and coming back here with something that I sold them before."
Stenella Antiques has kept expanding to accommodate growth, and now has as many as 12 full-time people working in the warehouse, combined with a widening network of dealers and suppliers spread throughout the country. The store's size and expanded capabilities have enabled it to become known for much more than simply being the area's premier outlet for fine new or pre-owned furniture.
"We try to never tell a customer no," he says. "If, for example, a customer wants pull-out slides installed in a desk, we'll talk to the manufacturers and find a way to get it done. Whether someone wants something reupholstered, have the hardware [on a piece] replaced or have something refinished, we find the right resources to make it happen."

Stenella Antiques
104 South Second Street, Perkasie
215-453-8490
StenellaAntiques.com
Hours: Tues. through Fri., 9 a.m. to 3 p.m.; Sat., by appointment