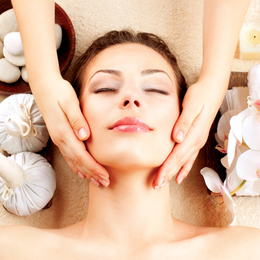 Beautiful Soul
Prioritizing self-care through time spent at spas, salons, and other service providers has the potential to make us look and feel better, both inside and out.
Perhaps the greatest good that has come to light since America entered the COVID-19 era in March 2020 has been the emerging importance—and the broad acceptance—of self-care.
Prior to the pandemic, some of us might have felt pangs of guilt when going for a massage or a pedicure, investing in a self-improvement procedure, or simply taking a day to ourselves to walk in the woods and breathe. Now, we're OK with heading to the spa, taking a little extra time (and maybe spending a few more dollars) in the chair at the salon, or going to a favorite shop and buying something sexy or comfortable (why not both?) to add to the wardrobe.
Struggling for places to invest in self-care? We have some suggestions.
* There's nothing quite like the feeling of relaxation that overtakes the mind and body after an expertly performed massage. It's an unfurling or an unwinding, as if the stresses of the world have begun to melt away. As part of its comprehensive menu of self-care services, Manayunk's 1859 Wellness Salon and Spa offers an abundance of massage styles, packages, and add-ons. By the end of a massage here, folks are likely to rise from the table feeling balanced, relaxed, and better connected to the earth.
1859wellness.com
* Steven L. Davis, D.O., a board-certified plastic surgeon, has become well known in the Philadelphia area and beyond for his media appearances and his weekly podcast, The Plastic Surgery Revolution. He's perhaps best known for the efforts he has made to help others embrace self-care and self-improvement through his practice, Davis Cosmetic Plastic Surgery, which has offices in Philadelphia and across the river in New Jersey. Options include everything from plastic surgery to minimally invasive and noninvasive aesthetic procedures, as well as an able antidote to hair loss for men and women. Utilizing a technique called follicular unit extraction, Dr. Davis and his team can produce an elegant, natural-looking hair restoration, with results that include no evidence of scarring.
daviscps.com
* A lovely Doylestown hotspot called Dermagrafix Permanent Cosmetic Studio excels at permanent facial cosmetics and tattooing, with options for the eyebrows, lips, and eyeliner. Led by Valerie Weber, Dermagrafix also does scalp micropigmentation, skin rejuvenation, and tattoo removal, among other services. One particular area of specialty involves restorative tattooing and scar camouflage to restore an individual's confidence postoperatively for survivors of breast cancer. For example, an in-house specialist can recreate an individual's areola through three-dimensional cosmetic tattooing.
dermagrafix.net
* Based in Montgomery County, Dermatology Associates of Plymouth Meeting combines top-notch clinical talent with state-of-the art technology to provide the full scope of dermatology services—medical, surgical, and cosmetic. On the technology front, the practice uses various fractional lasers to treat patients based on the degree of skincare need—from light touchups for uneven pigmentation, tone and texture issues, and minimal sun damage, to fine lines and wrinkles, acne scarring, and significant sun damage or more visible signs of aging. Other benefits of the treatment: little to no post-procedure downtime.
* The duo of Jayne Bird, M.D., and Nianda Reid, M.D., believe that living one's best life begins with a foundation of healthy and beautiful skin. As the founding physicians of Embrace Dermatology & Aesthetics, which has locations in Philadelphia and Spring House, Drs. Bird and Reid treat a full range of dermatologic conditions, and also provide services to refresh and rejuvenate patients' skin—dermal fillers, neurotoxin injections, dermaplaning, microdermabrasion, microneedling, and more. They also offer an array of effective, affordable skincare products to slow, if not reverse, signs of aging.
embracederm.com
* Since 2000, Blue Bell's Jolie Salon & Spa has been helping clients practice beauty and self-care in a serene, luxurious environment. The 6,000-square-foot full-service hair salon and spa includes a blow-dry bar and a nail salon with numerous manicure/pedicure stations, with full LED lighting, as well as three massage rooms, three aesthetic rooms, and a wax room. Owner Peter Lee has created an experience designed to soothe, pamper, and impress, from the elegant design to the marketplace of premium haircare lines, pharmaceutical-grade skin care and makeup, and nail care and polishes, to a fully stocked amenities cart (snacks, wine, chocolate, etc.) that circles the salon every hour.
joliespa.com
* On its face, Jude Plum Co. might look like any other luxury hair salon. Yes, the Bryn Mawr-based salon does offer the full gamut of salon services—cutting, styling, coloring, etc.—but it is perhaps best known for a specific aspect of its business: natural wigs and hair pieces to help women and men cope with transitional hair loss resulting from cancer treatment.
judeplumsalon.com
* Most women never receive a proper bra fitting. Karen Thompson set out to change that when she opened Lace Silhouettes Lingerie in Lahaska's Peddler's Village. Lace Silhouettes offers one-hour complimentary bra fittings, after which women tend to say it's the first time in their lives they have found comfort and a proper fit in a bra. Besides bra fittings, Lace Silhouettes is well known for its collections of cozy pajamas, robes, and other sleepwear. Thompson has since opened two more Lace Silhouettes locations (among other retail stores under the LSL Brands umbrella)—in Princeton and Cape May, New Jersey—to keep the flagship store company.
lslbrands.com
* Anyone whose skin needs some TLC or wants help in the ongoing battle against Father Time finds an ally in Victoria Rappaport, the founder of La Maison House of Aesthetics in Newtown. She spent years honing her artistic skills and gaining operations experience before opening La Maison, whose anti-aging and skincare services include luxury facials, chemical peels, and laser treatments, among others. She also recently introduced a specialty skincare line from Switzerland that has become renowned around the world for its effectiveness. Rather than trying to peddle products and services, La Maison takes a consultative and personalized approach to helping clients understand what their skin needs so it looks and feels its best.
lamaisonnewtown.com
* Pooja Malik, M.D., a board-certified physician with Malik Medical Aesthetics, believes cosmetic injectables require a blend of art and science. Through her practice, which has three area locations—two in the New Jersey towns of Mullica Hill and Vineland, and one on this side of the Delaware River, in Springfield—Dr. Malik performs various treatments to help patients look and feel like their best selves. She has expertise in treatments such as dermal fillers and neuromodulators, laser hair and vein removal, and laser resurfacing, among others. She also corrects the results of injectable procedures that have been performed by less experienced providers.
malikmedicalaesthetics.com
* Anyone who steps into Newtown's Sublime Salon & Spa will feel the warmth, friendliness, and a sense of relaxation. Clients come to the full-service salon for hairstyling, nail services and cosmetics, massage, facials, eyelash extensions, and more. Led by owner Maria "Kiki" Calasso, Sublime employs a team of skilled practitioners who share a common goal: to offer a soothing, enjoyable experience each time clients come through the door, the kind of place people will want to come back to month after month, and year after year.
sublimesalonspa.com
Published (and copyrighted) in Suburban Life magazine, October 2021.