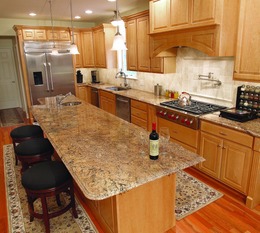 Precious Stone
Homeowners fall in love with what they find at King of Prussia's Colonial Marble & Granite
If homeowners looking to undertake a kitchen, bath or other home-remodeling project can't find what they're looking for in Colonial Marble & Granite's showroom, they won't find it anywhere. The 15,000-square-foot showroom, which is located in the heart of King of Prussia, has a nearly unlimited stock of marble, granite, onyx, travertine and other precious stones to enhance homeowners' kitchens, bathrooms and other areas.
"We have a selection of more than 4,500 slabs in over 450 colors, compared to other fabricators, which have maybe 150 to 200 slabs—if that," says James Freeman, vice president of sales and marketing for Colonial Marble & Granite. "Here at our showroom we have all these products indoors 12 months a year, so you can come in and see various options. It's simple: Come in, find the stone you fall in love with, put your name on it and it's yours."
In fact, Colonial Marble & Granite's home base has more in common with a comprehensive design center than a typical home-remodeling showroom, according to Freeman, with true-to-life lighting and ancillary design components to provide a "one-stop shopping" experience. Put another way, the showroom's atmosphere enables customers to get a better sense of how the stone will look once they take it home.
"We have full kitchen displays on view to touch and feel, so they can get a feel of what it would look like," Freeman says. "You can come in here and see floors, kitchens, countertops, etc., and it allows them to see it all together and make some educated decisions as to what they want their home to look like."
Although Colonial Marble & Granite can fabricate countertops and tiles of any style, Freeman has noticed customers returning to "more natural products" in the home—those with more of a softer, more timeless feel compared with the flashier tones. "More and more people," he says, "are going with the classics now."
One of a Kind
Nikos Papadopoulos and Angelo Bekas founded Colonial Marble & Granite in 2006, using variety, quality and service as their store's defining distinctions. In addition, the company has revolutionized the industry with the use of its fabrication technology. Once a customer selects the world-class stone of his or her choice, skilled technicians machine-cut the slab using CNC (computer numerically controlled) technology for a precision cut. Because of this, homeowners have as much control and creativity as they wish in making each piece one of a kind.
"With the traditional hand fabrications, there's going to be some variance," Freeman says. "Sure, we'll have some sealing and polishing that are done by hand, but because we have CNC and use only top-level industry products, you're guaranteed to have precision cuts and consistency throughout, and as the customer you get exactly what you want."
Beyond quality and cut consistency, there's also the central issue of price. Previously, many homeowners got used to being unsure as to what they were paying with other fabricators, according to Freeman, but Colonial Marble & Granite changed the nature of the business locally by moving to an all-inclusive pricing structure. For example, the company has been running a special promotion that includes up to 50 square feet of granite—more than enough for most kitchens—a new stainless-steel sink and faucet, with labor, edging and sink installation included, for one low cost.
"We have actually gotten busier in the recession, and a lot of that comes back to a lot of people who wanted to move but couldn't or decided not to," he says. "We started to see even before the recession that people were experiencing difficult times, so we had a 'moving special,' where they could put in new granite countertops for $2,000.
"A lot of people had saved up their money to move and were unable to sell their home, so they used that money to improve their existing homes by coming to us," he continues. "We've seen tremen­dous growth in our business in just the past couple of years."
In addition to stone slabs, the com­pany also has an increasingly sophisticated selection of tiles, most commonly used for kitchens and baths but also for outdoor flooring and fireplaces. Again, Colonial Marble & Granite has enough options to suit every customer's taste and style, from the uncomplicated to the extravagant.
"We have thousands of different options for tile—as low as $1 per square foot to as high as $100 per square feet—for anything a person might be looking for," Freeman says. "And we're probably going to have it in a fantastic price that's going to be much less than they might see somewhere else.
"Whatever customers are looking for," he concludes, "we can make it happen for them."
Colonial Marble & Granite Inc.
201 West Church Road (entrance off of Henderson Road), King of Prussia
610-994-2222
ColonialMarble.net