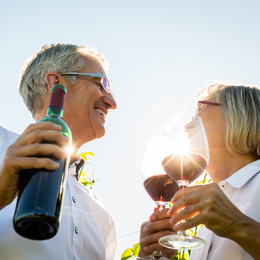 Uncompromised
For older adults who move into one of the area's many five-star retirement communities, downsizing does not mean compromising.
The Philadelphia area has a lot of pluses in its favor, especially this time of year. The weather becomes cooler, more comfortable; cider-spiked outdoor festivals, farmers markets, and celebratory events abound; and the oranges, reds, and golds of the area's autumn foliage are a close second to those of New England's premier leaf-peeping destinations.
No wonder so many retirees choose to stay in the Philadelphia area. Sure, some people abscond to parts of the world with warmer year-round temperatures—Arizona, Florida, North Carolina, etc.—but people from this neck of the woods tend to stay here for good reason.
Wendy Friedman and her husband, David, lived happily in a townhouse in the Philadelphia suburbs for more than 40 years. Slowly, the pull to move elsewhere grew stronger and stronger.
"Little by little, we saw friends selling their homes and downsizing," she says. "A couple of them planted a seed, and we thought: We can do it now, versus when we need to do it when it won't be so easy."
The Friedmans moved into Rydal Waters in Jenkintown earlier this year, and they have been thrilled with the change of scenery. She has been happy to become part of a close-knit community, sharing her love of international dance and Romance languages with fellow residents, and making new friends through the various opportunities to socialize on campus.
It likely helps that parts of the area rank among the most tax-friendly places for retirees, according to SmartAsset, an online destination for consumer-focused financial information and advice. A recent SmartAsset study analyzed how the tax policies of each city in Pennsylvania would impact a theoretical retiree with an annual income of $50,000. The top 10 most tax-friendly locations in the state include three in the immediate area—namely, Blue Bell, Paoli, and Philadelphia.
The Philadelphia area offers an abundance of retirement options from which to choose. The city and its suburbs abound with communities that offer a high quality of life, including the continuum of health care, such as skilled nursing and memory care, if and when needed. This essentially means residents can continue leading lives of enrichment and engagement, with the confidence of knowing they will be in caring, capable hands if their health changes.
Each of the "Five-star Retirement" communities listed here has earned a reputation for providing exceptional care, as well as opportunities to grow and connect with others. From A-plus amenities to comprehensive health care, communities such as the ones listed here cater to active residents who are eager for adventure, socialization, and wellness of the mind, body, and spirit. These communities also offer residents—and their loved ones—a precious gift: peace of mind, knowing residents will be taken care of no matter the future holds.
2021 Five-star Retirement
Acts Retirement Life Communities
Brittany Pointe Estates in Lansdale, Fort Washington Estates, Granite Farm Estates and Lima Estates in Media, Gwynedd Estates in Ambler, Normandy Farms Estates in Blue Bell, Southampton Estates, and Spring House Estates in Lower Gwynedd
actsretirement.org
Arbour Square of Harleysville
Harleysville
arboursquare.com
Artis Senior Living
Huntingdon Valley, Yardley, and Princeton, New Jersey
artisseniorliving.com
Atria Senior Living
Atria Center City in Philadelphia and Atria Lafayette Hill
atriaseniorliving.com
The Attleboro Community
Langhorne
attleborocommunity.com
Brandywine Senior Living
Dresher Estates, Haverford Estates, Longwood in Kennett Square, Senior Suites in East Norriton, and Upper Providence in Phoenixville
brandycare.com
Chandler Hall
Newtown
ch.kendal.org
Cornwall Manor
Cornwall (Lebanon County)
cornwallmanor.org
Dunwoody Village
Newtown Square
dunwoody.org
Five Star Senior Living
The Devon Senior Living, NewSeasons at New Britain in Chalfont, and Forwood Manor, Foulk Manor, Shipley Manor in Wilmington, Delaware
fivestarseniorliving.com
Friends Home & Village
Newtown
fhvpa.org
Garden Spot Village
New Holland
gardenspotvillage.org
HarborChase of Wilmington
Wilmington, Delaware
harborchase.com/harborchase-wilmington
HarborChase of Princeton
Princeton, New Jersey
harborchase.com/harborchase-princeton
The Hearth at Drexel
Bala Cynwyd
thehearthatdrexel.org
Heartis
Warminster and Yardley
heartis.com
Hershey's Mill
West Chester
hersheysmill55plus.com
The Hickman
West Chester
thehickman.org
HumanGood
The Mansion at Rosemont, Rydal Park and Rydal Waters in Jenkintown, and Spring Mill Pointe in Lafayette Hill
humangood.org
Lancashire Terrance
Lancaster
lancashireterrace.com
The Manor at York Town
Jamison
themanoratyorktown.org
Masonic Villages
Lafayette Hill and Warminster
masonicvillages.org
Meadowood Senior Living
Worcester
meadowood.net
Merrill Gardens
Arbour Square at West Chester, Eagleview Landing in Exton, Mercer Hill at Doylestown, Merrill Gardens at Glen Mills, The Pinnacle in Plymouth Meeting, Truewood by Merrill in Glen Riddle
merrillgardens.com
Pickering Manor
Newtown
pickeringmanor.org
Pine Run Retirement Community
Doylestown
pinerun.org
Pleasant View Communities
Manheim
pleasantviewcommunities.org
Priority Life Care
Symphony Manor of Feasterville and Independence Court of Quakertown
prioritylc.com
SageLife
The 501 at Mattison Estate in Ambler, Chestnut Ridge and Plush Mills in Wallingford, Daylesford Crossing in Paoli, Echo Lake in Malvern, and Ovation at Riverwalk in Princeton, New Jersey
sagelife.com
The Solana Doylestown
Warrington
thesolanadoylestown.com
Springton Lake Village
Media
springtonlakevillage.com
Sunrise of North Wales
North Wales
sunriseseniorliving.com
Symphony Square
Bala Cynwyd
symphonysq.com
Waverly Heights
Gladwyne
waverlyheightsltd.org
White Horse Village
Newtown Square
whitehorsevillage.org
Published (and copyrighted) in Suburban Life magazine, October 2021.