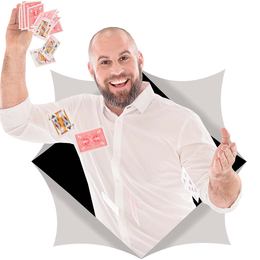 Charmed Life
Magician and former Eagle Jon Dorenbos continues to awe and inspire.
Some folks might know Jon Dorenbos best for his 10 years in an Eagles uniform, as the team's two-time Pro Bowl long snapper. Others might be more familiar with his work on America's Got Talent, winning over judges and audiences with his jaw-dropping magic.

Although he now lives "a block off the beach" in Southern California, Dorenbos returns to the Philadelphia whenever he can. Earlier this month, for example, he performed at Live! Casino & Hotel in South Philly for a night of "telling stories, making people laugh, and showing them kickass magic along the way." Considering the tumultuous start of his life and some of the hardships he would face later on, Dorenbos specializes in making audiences laugh one minute, cry the next, and then exclaim, "What the hell did I just see?"

We spoke with Dorenbos about his love of magic, the condition that brought an abrupt end to his NFL career, and the reinvention that followed.
Q&A
Let's start with your football career. Did you ever consider anything but playing football?
I wanted to be a rock star. I can't sing, and I can't dance, so football was the closest I was going to get. … When I got to the NFL, I remember playing a game in Dallas, which had just rebuilt their new stadium, and I got to run out of the tunnel to 105,000 screaming people. In my head I was being cheered, but in reality I was being booed. It was awesome. That kind of energy, that kind of emotion, it's similar to how I feel when I'm able to tell stories and get reactions through my magic. I get to give people an avenue to escape and reflect on what they've just seen.
Anyone can go to YouTube and watch your America's Got Talent performances, which are astounding. What can people expect from one of your live shows?
I try to structure the show as close what I think it would be if I was a rock star. I take the audience on a journey of every emotion. George Carlin said this, but I think he was quoting someone else: "People won't remember what you said or what you did, but they will remember how you made them feel." Making people feel something—that's why them will come back and see you. … Being able to combine my life story with what I've learned along the way is what makes me different.
What was it about magic that appealed to you?
At the beginning, it was not about doing a trick to perform; it was more of an escape. I lost both my parents when I was 12, and I lived in a temporary foster home for eight months before moving to Southern California. In the interim, I saw a 16-year-old kid named Michael Groves doing a magic show, and it had a profound effect on me. I was dealing with a lot of change and loss at the time. When I would shuffle cards, it would occupy my mind, and that was time I was not thinking about my dad murdering my mom and going to prison; I was just a kid, and I got lost in that.
How did the guys in the NFL like your magic?
It's all about style, all about having fun, and all about creating an experience than it is about me making you think I can do magic. The guys loved it. No matter where I was—Buffalo, Tennessee, Philly, New Orleans—magic was a great way to meet teammates, and a great way to bring rookies and veterans together. It helped me find a niche on every team I was on.
Your playing career came to an end, rather famously, with emergency open-heart surgery.
How are you feeling today?
I feel great. All my checkups have been good. I had a bit of a hurdle the first year and a half after the surgery. … The heart is a muscle, and when it works too much it grows. I had a bad valve, and my heart got so big, it was like a pair of sweatpants that loses its elasticity. It was a matter of will my heart shrink? There's nothing you can do for that; either the body reacts or it doesn't. The strength came back enough that I did not need a heart transplant.
After you realized your athletic career had ended, how did you respond?
Garth Brooks has a great song called "Unanswered Prayers," and what it says is that sometimes not getting what you want ends up being what's best for you. Simon Cowell was pushing me to do America's Got Talent [as host]. I was in my 13th year [in the NFL] and I was at a point in my life where I had to think about what's next. Do I love playing football? Absolutely. Do I want to continue to play? Absolutely. The America's Got Talent gig would have been a dream job at the time, but NBC went with Tyra Banks. When I didn't get it, I went back to football, and because I went back to football, I got traded, and because I got traded, they found out about my condition, and because they found out about my condition, I got surgery. Not getting that job [on America's Got Talent] saved my life.
Published (and copyrighted) in Suburban Life magazine, November 2021.