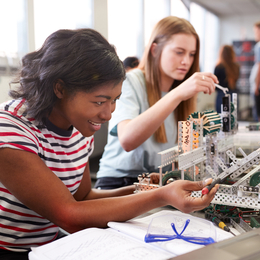 Going the Extra Mile
By going "all in" on extracurricular activities, local schools do much more than simply help students explore their interests outside the classroom.
High school extracurricular activities have evolved in response to students' expanding needs and interests. Gone are the days where kids stayed after school for a short list of athletics and clubs such as band, the school newspaper, the school play, honor society, or student government. Today's choices include everything from art and science, to business and investments, to outdoor adventures and social equity, to engineering and robotics.

This should come as no surprise, as extracurricular activities do much more than just provide students with an outlet to explore their interests outside the classroom; these clubs and activities also help cultivate leadership skills, foster community involvement, develop a sense of responsibility, service, and cooperation among students, build self-esteem, and help students form lasting friendships.

"Clubs and activities provide opportunities for students to focus on things they're passionate about, talk about things they're concerned about, and focus on their social and emotional health," says Katie Eissler-Thiel, principal at
Archmere Academy
, a private, Roman Catholic, coeducational school in Claymont, Delaware. "In addition, participation in extracurricular activities equips students with real-world skills and experiences they can put to use beyond the classroom."
A growing number of schools allow students to create clubs based on their own interests and find like-minded individuals to participate in and help develop their activities. Simi Edeki, a senior at Archmere, has been involved in extracurricular activities focusing on STEM (science, technology, engineering, and mathematics) since her freshman year.

"I got involved in Science Olympiad in ninth grade, and quickly made friends and found my place within the school community," says Edeki, who also serves as a TEAMS (Tests of Engineering Aptitude, Mathematics, and Science) leader, co-editor of the school yearbook and newspaper, a senior representative on student council, vice president of the National Honor Society, and a member of the track team.

"By participating in extracurricular activities," she adds, "I've definitely learned time management, having to figure out how to balance all of my activities and academics, and I've been able to apply what I learned in the classroom in a different way. I also believe these clubs and activities have prepared me for leadership roles later on in life, and engaging in different activities with people from different schools and with different perspectives has helped to broaden my horizons."

With so many students taking part in a variety of activities, schools are finding ways to provide additional time for extracurricular activities within the school day itself. At
La Salle College High School
, a private, all-boys Catholic high school in Wyndmoor, students can participate in clubs and activities during community time. Now, once a week during the school day, students who participate in athletics or music and theater have time to take part in extracurricular activities as well.
"We found that many of our underclassmen who take the bus home or kids who participate in competitive sports had limited time to participate in these programs," says Marie Stott, assistant dean of student life at La Salle. "We added community time to help more students get involved in clubs and activities, help build community, and allow students to explore different interests and make the best use of the campus. So, now a student involved in the band can also play an intramural sport and also compete on the varsity team, in addition to taking advantage of the numerous clubs and activities we offer."

Extracurricular activities give "richness and meaning" to the core academic programs, according to Molly MacKean, head of school at
Germantown Academy
, a nonsectarian, independent, and coeducational school in Fort Washington. She says it's important to build time into the school schedule for activities outside of the classroom.
"These activities provide connections for students to focus on the world around them," she says, "and demonstrate that what they're learning is relevant and applicable in everyday life."

At Germantown Academy, cocurricular programing is built into the school day to support the broader curricular aims of a college-preparatory education. In addition, upper-school students benefit from "flex time," a block of time after lunch every day that remains deliberately unscheduled. Students may use this time to work on projects, meet with teachers, connect with friends or a club, or simply go outside to decompress.

"High school encompasses the formative years that help kids find out who they are and what they enjoy," says MacKean. "The more kids are able to explore and dig into areas of personal interest, the more they'll grow. Kids who are happy are successful, and success comes from being happy and well-rounded.

"Through these activities," she continues, "we're giving students opportunities to speak to what they love and determine what they want to do with their lives, as well as providing them with the best chance to land at the college that will be the best fit for them."

Published (and copyrighted) in Suburban Life magazine, November 2021