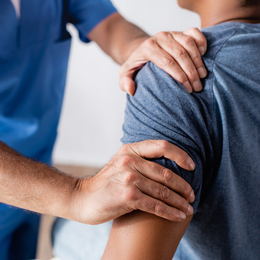 Suffer No More
When pain or injury disrupts daily life, it may be time to seek out a professional.
Injuries happen even to the strongest among us. It could occur during a vigorous workout, or strenuous yard work, or even stepping off a curb awkwardly. Some people injure themselves simply by twisting or bending the wrong way for a movement they have done a thousand times previously without incident.

Given the magic of the human body, injuries often heal with sufficient rest. When those injuries persist or worsen, then it may be time to seek the help of a qualified medical professional. We spoke with David W. Nadler, D.C., a sports chiropractor based in Newtown Square, who offers a host of therapies to help patients heal; this includes Extracorporeal Shockwave Therapy (ESWT), a noninvasive treatment that delivers shockwaves to injured soft tissue to reduce pain and promote healing. He shared his perspective on innovative chiropractic therapies, the satisfaction he gets from helping patients heal, and the role overall wellness plays in an individual's recovery from injury.
Q&A
Pain is a part of life for a lot of people. At what point should people consider going to a chiropractor or other medical professional for care?
Pain is defined by an unpleasant sensory and emotional experience associated with actual or potential tissue damage. It is a perceptual phenomenon which can be influenced by biological or psychological factors. It has been my philosophy to treat patients in the most conservative and least invasive way. Chiropractic is the most efficacious way to treat musculoskeletal pain, in addition overall wellness. If one does not want to just mask the pain with drugs, then chiropractic might be your answer.
You talk frequently about the effectiveness of treatments such as ESWT. Are there other technologies or therapies you use regularly that show a lot of promise in terms of helping to ease people's pain or getting them back to doing things they haven't been able to enjoy?
In my practice, we utilize a multimodality approach which includes [electrical stimulation], ultrasound, spinal decompression, Graston, cupping, and, one of the most important therapies, a good rehab program in the office and for home use.
Other than surgery, most remedies seem to require an ongoing course of treatment. What can people expect in terms of the duration of a chiropractic treatment plan?
There are a lot of factors that contribute to a course of treatment: the nature and extent of the injury, preexisting conditions or comorbidities, age, work environment, and fitness level. Because this is a conservative approach, treatment plans range anywhere between 10 to 12 weeks, and in some cases longer. Ongoing supportive care generally leads to better outcomes. The goal is getting them to modify their lifestyle and set them up independently with an at-home program, though compliance can be a bit challenging.
You must get a lot of satisfaction out of helping people mend. Are there certain kinds of patients that you enjoy working with most—i.e., professional athletes, amateur athletes, normal folks who are experiencing pain?
There is nothing more satisfying than getting someone out of pain and on the road to recovery. I love the diversity of patient populations. With that being said, my background is in sports medicine. I am passionate about inspiring and pushing amateur athletes to their limit. When it comes to working with professional athletes, I'm always impressed with the dedication and motivation to get better, so it makes my job a bit easier to get them back on the field, but at times it can be stressful.
Are there other points we have not addressed that you think would be important to know for someone who is dealing with chiropractic or orthopedic pain/injury?
Chiropractic care is a conservative noninvasive approach. This can be frustrating for patients, and I'm empathetic, but we must understand the human body has an amazing ability to repair itself from an injury or illness. "It's a marathon, not a sprint." We can't rush the healing process.
Well Adjusted
The Philadelphia area abounds with exceptional medical professionals in virtually every area of practice. For anyone who experiences chronic pain or suffers an injury that disrupts his or her life, the following individuals may be able to help. These professionals, many of whom were featured in our 2021 Top Physicians report, have backgrounds in areas such as chiropractic care, sports medicine, and physical medicine and rehabilitation.
Dr. Todd A. Bromberg
Dr. Vincent Ferrara
Dr. Steven Rosen
Delaware Valley Pain and Spine Institute
Multiple locations
dvpainandspine.com
Dr. Scott J. Davidoff
Dr. Marc S. Effron
Dr. Roy M. Lerman
Dr. Denis P. Rogers
Dr. Jeffery J. Rowe
Dr. L. Matthew Schwartz
Main Line Spine
Multiple locations
mainlinespine.com
Dr. Alberto Esquenazi
Dr. Michael Marino
Dr. Nathaniel Hyman Mayer
Dr. Jeffrey Michael North
Dr. Christopher T. Plastaras
Dr. Michael Francis Saulino
Dr. Miriam Segal
Dr. Channarayapatna R. Sridhara
Dr. Thomas Ken Watanabe
MossRehab
Multiple locations
mossrehab.com
Dr. Jeffrey A. Gehret
Dr. Saloni Sharma
Dr. Jeremy I. Simon
Dr. David S. Stolzenberg
Rothman Orthopaedics
Multiple locations
rothmanortho.com
Published (and copyrighted) in Suburban Life magazine, November 2021