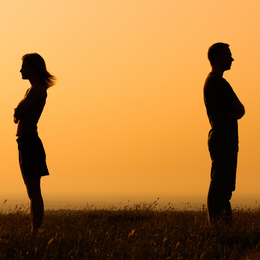 Beginnings and Ends
An adept attorney may prove invaluable in matters of divorce, adoption, and other delicate domestic matters.
In 1979, author John Updike published Too Far to Go, an aptly named collection of stories about the birth, death, and afterlife of one couple's marriage. The book, in addition to being expertly written, proves that life goes on after a marriage's dissolution.

No one goes into marriage expecting to one day initiate or agree to a divorce. Even so, it happens every day, and when it does, soon-to-be-former spouses will require help to get them from beginning to end—and later, as the Updike book suggests, toward the path to a new life. While most couples who decide to decouple still choose the traditional route (i.e., litigation), more people are turning to options such as collaborative divorce and mediation because they believe opting out of litigation will lead to lower costs, less animosity, and a speedier resolution.

Regardless of which direction a divorcing couple decides to go, the Philadelphia area has an abundance of attorneys who devote their practices to divorce, child custody and support, and adoption, among other areas of family law. Earlier this year, we asked our readers to cast their votes for the professionals they dial up when legal matters arise. Their selections in the realm of family law are outlined here, along with some "votes" of our own, based on stories we have done over the past year about trusted attorneys. While we salute these legal eagles, we also acknowledge that the Philadelphia area has many exceptional attorneys, not all of whom are listed in these pages.

We present out Top Family Law Attorneys, Class of 2021.
TOP FAMILY LAW ATTORNEYS
Robert E. Angst
Valerie Rosenbluth Angst
ANGST & ANGST P.C.
Doylestown and Harleysville
angstlaw.com

Michael E. Bertin
Tara Burns
Julie R. Colton
Samantha J. Evian
Jennifer L. Iseman
W. Frank Johnson Jr.
David L. Ladov
Hillary J. Moonay
Michelle L. Ringel
Lanique A. Roberts
Leslie B. Spoltore
Adam Tanker
Shari B. Veisblatt
Robert I Whitelaw
Stephanie H. Winegrad
OBERMAYER REBMANN MAXWELL & HIPPEL LLP
Multiple offices
obermayerfamilylaw.com

Phyllis T. Bookspan
BOOKSPAN FAMILY LAW
Media
bookspanlaw.com

Melissa M. Boyd
Mary Cushing Doherty
HIGH SWARTZ
Multiple offices
highswartz.com
Jennifer A. Brandt
COZEN O'CONNOR
Philadelphia and Cherry Hill, N.J.
cozen.com

Catherine M. Cardozo
PETRELLI PREVITERA
Multiple offices
petrellilaw.com

Lee A. Ciccarelli
CICCARELLI LAW OFFICES
West Chester
ciccarelli.com

Patricia H. Cooley
Kevin J. Handy
COOLEY & HANDY ATTORNEYS AT LAW
Doylestown and Bala Cynwyd
cooleyhandy.com

Jennifer Courtney
THE LAW OFFICES OF JENNIFER COURTNEY
Yardley
courtneylaw.net

Christina M. DeMatteo
LAW OFFICE OF CHRISTINA M. DEMATTEO LLC
Blue Bell
dematteolawoffice.com
Amy P. De Shong
WISLER PEARLSTINE LLP
Blue Bell
wislerpearlstine.com

Anthony D. DiFiore
DIFIORE LEVIN
Conshohocken
difiorelevin.com
Peter J. Dolan
DOLAN RAY LAW LLC
Pottstown
1876law.com

Susan Levy Eisenberg
SUSAN LEVY EISENBERG ATTORNEY AT LAW P.C.
Langhorne
susaneisenberglaw.com
Ellen S. Fischer
BLOOM PETERS LLC
Horsham
bloompeters.com
Ann M. Funge
FUNGE FAMILY LAW LLC
Philadelphia and Radnor
fungefamilylaw.com
Kevin L. Hand
Marisa M. Perini
Joseph M. Ramagli
Marc I. Rickles
Abigail F. Tuttle
KARDOS, RICKLES & HAND
Newtown
krhlaw.com

David N. Hofstein
Charles J. Meyer
HOFSTEIN WEINER & MEYER P.C.
Philadelphia
hwmfamilylaw.com

Melissa A. Iacobucci
David S. Kaplan
O'DONNELL, WEISS & MATTEI P.C.
Phoenixville and Pottstown
owmlaw.com
Sarah A. Jones
LAW OFFICES OF GREGORY J. PAGANO P.C.
Philadelphia and Media
paganolaw.net
Shannon Kanavy
Robert T. Repko
Megan Weiler
REPKO LAW LLC
Doylestown
repkolaw.com
Katherine E. LaDow
Carla Marino
LAMB MCERLANE PC
Multiple area offices
lambmcerlane.com

Lydia Fabbro Keephart
PELLETTIERI, RABSTEIN & ALTMAN ATTORNEYS AT LAW
Newtown and Princeton, N.J.
pralaw.com

Kimberly J. Krzyzaniak
KJK LAW
Wayne
lawkjk.com

Christin Kubacke
Kim Denise Morton
MORTON & KUBACKE FAMILY LAW LLC
West Chester
mortonfamilylaw.com

Michael Kuldiner
THE LAW OFFICES OF MICHAEL KULDINER P.C.
Feasterville and Doylestown
phillyesquire.com

Helen Haney Lafferty
Randi L. Rubin
David J. Steerman
KLEHR HARRISON HARVEY BRANZBURG LLP
Multiple offices
klehr.com

Gregory P. LaMonaca
LAMONACA LAW
Media
lamonacalaw.com

Erin C. Lentz-McMahon
MCMAHON, MCMAHON & LENTZ
Multiple offices
mcmahon4law.com

Jeffrey A. Liebmann
Mindy J. Snyder
David J. Sowerbutts
LIEBMANN FAMILY LAW
Newtown
liebmannfamilylaw.com

Scott A. Lisgar
KELLER, LISGAR & WILLIAMS LLP
Havertown
klwllp.com

Russell J. Manning
April M. Townsend
Karen Ann Ulmer
KAREN ANN ULMER P.C.
Langhorne
ulmerlaw.com

Tina Mazaheri
MAZAHERI LAW LLC
Doylestown
mazaherilawllc.com
Clare L. Milliner
BRUTSCHER, FOLEY, MILLINER, LAND & KELLY LLP
Kennett Square
bfmlk.com

Lou Mincarelli
MCCULLOUGH, MCLAUGHLIN, MINCARELLI & MCCLOSKEY ATTORNEYS AT LAW
Philadelphia
mcmclawoffice.com

Carolyn R. Mirabile
Lawrence J. Persick
John Zurzola
WEBER GALLAGHER SIMPSON STAPLETON FIRES & NEWBY LLP
Norristown
webergallagherfamilylaw.com

Robyn E. Musi
Michael A. Raffaele
RAFFAELE PUPPIO
Media
raffaelepuppio.com
Colleen M. Neary
SWEENEY & NEARY LLP
Media
sweeneynearylaw.com
Suzann Ordile
ORDILE LAW AND MEDIATION
New Hope
ordilelaw.com
Andrea B. Pettine
PETTINE LAW OFFICES
West Chester
pettinefamilylaw.com

Sheryl R. Rentz
LAW OFFICES OF SHERYL R. RENTZ
Ardmore
srrentzlaw.com

Jennifer J. Riley
LAW OFFICES OF JENNIFER J. RILEY
Blue Bell and Wayne
jjrlawfirm.com
Carla V. Risoldi
RISOLDI LAW OFFICES LLC
Langhorne
risoldilawoffices.com

Susan J. Sacchetta
PLATT, DIGIORGIO & DIFABIO
Paoli
pddlaw.net

Jacqueline G. Segal
FOX ROTHSCHILD LLP
Exton
foxrothschild.com
Lori K. Shemtob
SHEMTOB DRAGANOSKY TAYLOR P.C.
Blue Bell
shemtoblaw.com

Jill E. Trayer
TRAYER LAW
Doylestown
trayerlaw.com

Joseph D. Visco
LAW OFFICES OF JOSEPH D. VISCO
Doylestown
viscolawoffice.com

Randi J. Vladimer
RANDI J. VLADIMER P.C.
Radnor
vladimerlaw.com
David Woosley
Woosley Naragon LLC
Doylestown
woosleynaragon.com
Published (and copyrighted) in Suburban Life magazine, November 2021