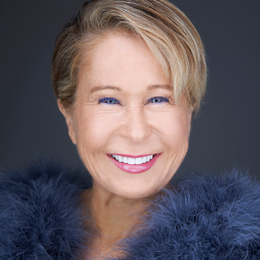 Animated Conversation
"Lisa Simpson is who I want to be when I grow up," says Yeardley Smith, the voice behind one of television's most iconic characters.
Yeardley Smith knew early on that her distinctive voice—some might say "high pitched"—could stand in her way as an actor of stage and screen. Although she got this reminder all too often throughout her formative years, she stayed her course.

"Who cares what the naysayers think," says Smith, the French-born, Emmy-winning actor best known as the voice of Lisa Simpson from the long-running animated show, The Simpsons. "They don't know you in the way that you know yourself. Take every opportunity, because you don't know where it's going to lead and how it's going to connect with the next one. … If you had said to me at the start of my acting career that my greatest success is going to come from voiceover work, I would have doubted it. But without question, Lisa Simpson is one of the greatest gifts in my life."

In addition, Smith has become known for her comedic timing on TV's Herman's Head and Dharma & Greg, as well as in films such as City Slickers and As Good as It Gets. She has also found richness in her true-crime podcast Small Town Dicks, a quirky YouTube cooking show called Oil & Water, and her new production company, Paperclip LTD.

We spoke with the 57-year-old actor about what she has learned from Lisa Simpson, her fascination with true crime, and her best advice.

Q&A
Thinking back, could you have imagined The Simpsons running for more than three decades?
Absolutely not. Nowadays you're lucky if you get a whole season to let your sitcom get its feet wet. Back in the day, when The Simpsons went to a half hour, in December 1989, everybody said, "This will be a bomb, you can't put animation on in prime time, it hasn't been done since The Flintstones." … All of the predictors were wrong, considering that we're in the midst of recording Season 33.
What have you learned from Lisa Simpson?
I've learned a great deal from her resilience. I always joke that on The Simpsons, they give Lisa Simpson something at the top of an episode and 22 minutes later they've taken it away, whether it's an achievement, an award, or a friend. But that little girl just picks herself back up, pulls up her socks, and gets on with it. And she does it with a smile. So, I'm lucky. I feel hopeful and happy that she's a good, sweet, brilliant, shiny, multifaceted, funny, complicated little girl, and not some dark, morose, horrible serial killer.

Why do we love The Simpsons?
It's lightning in a bottle. Animation back in the day when I was growing up, like Tom & Jerry, Pepé Le Pew, Mighty Mouse, and other stuff, was very visual, a lot of physical comedy, not a lot of heart. They didn't take on any issues, per se. The Simpsons is written like they're real-life, flesh-and-blood people, and they have never stopped writing from the heart.

Talk about Lisa Simpson as a role model.
I think even when Lisa Simpson gets her comeuppance, she realizes where she went wrong. … Lisa is also incredibly funny and takes no prisoners. I love that she stands her ground, and even if she has a momentary crisis of confidence at some point in the episode, she will usually recover from that and say, "You can't treat me like that." I would say Lisa Simpson is who I want to be when I grow up. She's all the best parts of a human being.

Tell me about your podcast, Small Town Dicks.
After I met Detective Dan at a Simpsons event, I started hearing stories from him and his twin brother, Detective Dave, about all the people they interviewed. It was this extraordinary deep dive into the granular details of what it means to be in law enforcement. So, when the podcast idea came about, it was obvious that Detectives Dan and Dave, and/or the detective who investigated each of the cases we deliver, should be the one to tell the story. As one of the co-hosts, I would be the one who had the privilege to sit across the table from these detectives and ask questions. I've always really loved true crime. I always want to know that the good guys are out there, willing to right the wrongs. … I think it's also why all the Marvel movies are so successful. People want to know that goodness will prevail.
What advice do you have for someone who wants to follow in your footsteps?
A lot of people will tell you that you can't do what you want. There will always be people who say no. … It's hard to get a yes in this business. So, if I had listened to all of those people—family, friends, teachers, producers, and actors who said this wasn't going to work out for me—think what I would have missed out on. So, my advice is to stay open and nimble. … You never have any idea where each opportunity is going to lead and how it's going to connect you to the next one.
Photography by Peter Hurley
Published (and copyrighted) in Suburban Life magazine, December 2021.