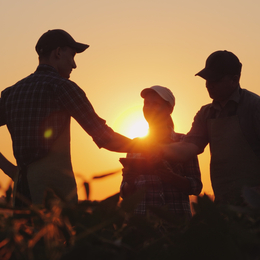 Through Thick and Thin
Among family-run businesses that span generations, common threads include respect for forebears, a strong work ethic, and deep community ties. 
Every family consists of generations, links in a chain that connect what has been with what is yet to come. The same can be said of a family-run business, where young children often spend sizeable portions of their childhood laughing and playing in their parents' workplaces, and where the details of the day's business extend beyond the office and onto the dinner table.

On the following pages we celebrate five local family businesses. Some have been serving the public for more than 100 years, while others are helmed by ambitious entrepreneurs who have just started to build their legacy. All five illustrate a common truth: A durable business must be curated with care, and particular attention paid to its team members, its clientele, and the community it serves.

'It Takes Respect'
Will and Catherine Cordero started C&C Heating & Air Conditioning in 1972 as a literal mom-and-pop shop. It has since become a thriving enterprise that employs more than 70 people and provides HVAC services to homes and businesses throughout Bucks and Montgomery counties.
The Cordero family remains at the helm of the Souderton-based business, which will celebrate its 50th anniversary in 2022. Through the years, the family has retained its focus on the philosophies that brought it so much success—namely, a genuine commitment to developing honest, caring relationships with customers and staff alike.

Doug Cordero, who now serves C&C as vice president, started helping his parents at the shop around the age of 13. Working with his father wasn't always easy, he says, but the experience proved valuable and rewarding in some very special ways.

"My dad was my brother, my father, my friend, and my boss," Doug shares. "Sometimes we banged heads, but at the end of the day, I respected my father. … I was blessed to grow up having that close relationship with him, working together, vacationing together, being able to see each other at every birthday and holiday.

"I think it takes respect for one another," he continues. "You've got to know when to give, when to take, and have that respect in order to spend that much time with one another. It's not easy, but life isn't easy. You've got to find that balance."

His father now spends much of his time in Florida or at the Jersey Shore, but the company remains in the care of familiar hands.

"I love what I do every day," Doug says. "It feels good at the end of the day to do the right job, charge a fair price, and be able to help a customer out with what they really need."
'Leave Something Behind'
Sean Grevy, founder and CEO of media buying and planning agency 43 OAK, grew up in what he describes as "a tight-knit Irish/Italian family" in Philadelphia. He credits much of his current success to the values instilled in him then.
"Ours was a big family, and I learned that in life, you can't always do everything on your own," he shares. "You need help from your family and the people around you. I've been fortunate enough to have that."

A passionate and experienced ice hockey player, Grevy says his teammates were family, too.

"We used to have to fight for each other and stick up for each other," he says. "I take that same spirit now into what I do. I treat my clients like family, and when I'm negotiating a media deal, I negotiate like I'm negotiating for a family member."

Grevy, now a husband and father of a 2-year-old daughter, says supporting his family remains his central goal in life.

"My mother and father were both extremely important parts of my life in terms of guiding me and teaching me how to do things while I was growing up," he says. "Now I have a family myself, and every day when I wake up, my only goal is to provide for my daughter and leave something behind she can be proud of."

Grevy splits his time between his home in Bucks County and his corporate office on Wall Street in New York City. He runs not only his business, but also the 43 OAK Foundation, a nonprofit he founded to help minorities and underprivileged youth through hockey and education. He describes himself as "a bit of a workaholic," but says the silver lining to the chaos and shutdowns of the last nearly two years has been getting to spend more time at home.

"We had our daughter on January 25, 2020," Grevy shares. "Her entire first year and a half was a pandemic. What that did for me, really, honestly, is that it taught me the value of being home. There are moments in her life that I've been a part of that I don't know how I'd have felt if I missed them.

"Now that the workforce is back up and running, I'm in my office in the city half the week, and my priorities are very different at home," he continues. "I spend every second I'm at home with my daughter. If I'm on a conference call, and she comes and bangs on the door, talking gibberish and trying to find her way in, whether I'm on a call with clients or a media outlet, I just say 'I gotta bring my kid on this call.'"

He shares a story about a day not long ago, when his daughter clung to his leg as he was about to leave the house to go to the office.

"She grabbed a book off the shelf, so I took off my coat and sat down and read it to her," he says. "That stuff makes a difference in a kid's life. It has a great impact on them, and me as a father. … Family is pretty much everything, every minute, every hour."
'Spark the Mind'
Growing up, Shaykh Anwar Muhammad turned to the written word so that he might be transported.

"Literature, growing up, was my escape—how I traveled to get away from things and see things I thought I'd never get to see," he shares, noting his childhood favorites included writers such as Richard Wright, Paul Laurence Dunbar, and Langston Hughes. "I was drawn to their experience and male perspective."

Today, as the proprietor of The Black Reserve Bookstore in Lansdale, he aspires to inspire readers of all ages to explore the vastness of Black culture through art and literature.
"When forming a relationship, if you want it to bloom, blossom, and be amazing, it takes a mutual exchange of information," Muhammad shares. "For so long, American history, and world history, period, have shared a one-sided story. I don't think many people have a connection to Black literature as a whole. People come through this door with all kinds of questions, and when they look into it, get involved with it, they fall in love.

"When I first told people I was going to open a bookstore focusing on Black literature, people thought I was out of my mind," he continues. "But I said, 'I'm crazy like a fox,' because this literature is for everyone. The shop lends [itself] to exposure, and wouldn't that help relationships get better?"

Since opening the shop in 2017, Muhammad, himself a published author, says many of his customers visit regularly. He considers many of them extended family.

"Parents come in and say, 'My teenage son doesn't want to read,' and I say, 'If you expose him to different things, he will leave here with a book that is something he wants to read.' When that light comes on, that's magical."

Muhammad has a background in counseling and roughly 15 years of experience working with adjudicated youth. He still aims to uplift and empower young people, both in his shop as well as with his eight children.

"I have a rule in my store, and that is: There's no such thing as a stupid question," he says. "I used to work with children when I was younger and was very careful about the things I would say to them. I'd rather have someone ask a question than do something out of ignorance.

"What people need to understand is that Black people have been taught about white culture their entire existence," he continues. "Not only is there another side, [but] the other side is very cool. You have to step outside of your comfort zone—if not for ourselves, we have to for our children."

Today, The Black Reserve hosts a variety of programming geared toward facilitating discussion. Muhammad refers to the store as "a safe place."

"Teens come in and talk to me about everything," he says. "I've become a hub of information. Due to my background, I get to help a lot and help people process their feelings and thoughts on things."

Paraphrasing the words of another poet who profoundly impacted his life, Tupac Shakur, Muhammad says, "I may not change the world, but I guarantee that I'm going to spark the mind of the person that will."
'Fight the Good Fight'
Founded by William J. Brown, V.M.D., in the 1950s, then taken over by his daughter, Nancy O. Brown, V.M.D., in 1983, Hickory Veterinary Hospital is under its third generation of family ownership. Nancy's son, William J. Kay Jr., V.M.D., DACVIM—known as Dr. Will—and his wife, Tiffany Kay, V.M.D.—known as Dr. Tiffany—took over the practice in 2020.
"I grew up on the property," Dr. Will says of the Plymouth Meeting-based enterprise. "I felt like this was what I was supposed to be doing."

The duo met in veterinary school and married shortly after their graduation. Just as Dr. Will had the opportunity to grow up in the business, his children will, too.

"As soon as our kids are able to come into the clinic and help, I would love for this to inspire them," says Dr. Tiffany, who shares that she's wanted to be a veterinarian from the age of 10. "I would love for us to continue this with them if they end up loving it as well."

In a world where many independent veterinary practices are being bought by corporate entities, Dr. Will seeks to "fight the good fight" as a family-owned alternative for those looking for more personalized attention for their animal. The practice's well-established reputation certainly helps.

"We still have clients from Will's grandfather that come in, and people who went to his mom for years," Dr. Tiffany says. "I have no relation to those previous practitioners, but when clients appreciate that I'm 'the daughter-in-law,' it makes them feel more connected to the practice."

"We're able to build relationships with clients and staff because we're approachable," Dr. Will adds. "We want to foster a supportive environment because we want to be a place where people are happy to work and who care for staff and clients like family."
'You Control Your Own Destiny'
Jace Kieffer "grew up in the business," referring to Kieffer's Appliances in Lansdale. As a kid, he played video games in the back of the store during summers. He moved on to cleaning appliances, and then worked with the delivery trucks, filing, and more. Today, he is vice president and the fourth generation of Kieffers to lead the 104-year-old business.
"It was pretty cool to work side by side with my father every day," he shares. "We have differing personalities, and we both love a good fight, but I learned so much from him. Every day I learned something new."

One of the most important lessons centered on the value of hard work.

"The No. 1 thing I gained from my parents involving me in the business growing up was work ethic," he says. "You control your own destiny when you own a business, and the amount of work you put in determines what you're gonna get out of it."

Treating customers and employees like family has been a key to the store's enduring success, Jace says. A father himself, Jace hopes his children will embrace those same values—hard work and integrity—that have meant so much to the Kieffer family over the years.

"Growing up, I didn't see what it meant to be able to continue a family business that's been around for 100 years," he says. "Looking back, I hope I can instill that in my kids. If my kids inherit my work ethic, I'm a happy dad."

Published (and copyrighted) in Suburban Life magazine, December 2021.