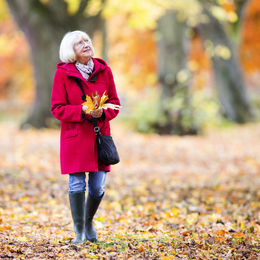 Fierce and Free
Whether they choose to age in place or make a change of address, older adults strive to maintain their independence with dignity and grace.
"Independence is happiness," according to Susan B. Anthony, the American social reformer and women's rights activist.

Every American strives for a life of independence. The loss of independence tends to spark fear in us all, especially as we approach retirement. Some studies suggest older Americans fear the loss of independence more than they fear death.

Many people associate independent living with the ability to stay in their home as they age. Approximately 65 percent of Americans say aging in place is a goal of theirs, according to a February 2020 "Aging in Place in America" survey from Frenesius Medical Care, though only 33 percent say they believe they will be able to do so because of finances, their home's functionality, and loneliness.

Traditionally, older Americans have turned to family members for care and support, but many are turning to other options—external caretakers—either out of increased need, dispersal of the family unit, or the desire to unburden family members, out of fear of having loved ones see them in a vulnerable state.

Whole industries have sprouted up to help older Americans maintain their independence with dignity and grace. Organizations such as Visiting Angels (visitingangels.com) and Home Instead Senior Care (homeinstead.com) provide in-home care and personal services so older adults can age in place, while organizations such as Caring Transitions (caringtransitionschestercounty.com) help older adults and their families with downsizing, relocation, and other potentially stressful life transitions.

Of course, many of those with sufficient means make a different decision: relocating to a nearby continuing care retirement community, which can facilitate independence in terms of living accommodations, lifestyle amenities, and health care, if and when their health changes.

The Philadelphia suburbs and surrounding areas has an abundance of CCRCs whose leadership teams devoted to helping residents lead lives of independence and engagement for as long as possible, including those listed on the following page.
Live Freely
CCRCs throughout the Philadelphia area offer residents the ability to live independently, with amenities galore, well-tended facilities to cater to their health and wellness, and opportunities to grow and explore. They also provide the continuum of healthcare services, from short-term care to skilled nursing and memory care. In other words, residents (and their loved ones) can sleep well at night, knowing they will be in caring, capable, and compassionate hands for the rest of their lives.
Acts Retirement Life Communities
Brittany Pointe Estates in Lansdale, Fort Washington Estates, Granite Farm Estates and Lima Estates in Media, Gwynedd Estates in Ambler, Normandy Farms Estates in Blue Bell, Southampton Estates, and Spring House Estates in Lower Gwynedd
actsretirement.org
Arbour Square of Harleysville
Harleysville
arboursquare.com
Artis Senior Living
Huntingdon Valley, Yardley, and Princeton, New Jersey
artisseniorliving.com
Atria Senior Living
Atria Center City in Philadelphia and Atria Lafayette Hill
atriaseniorliving.com
The Attleboro Community
Langhorne
attleborocommunity.com
Brandywine Senior Living
Dresher Estates, Haverford Estates, Longwood in Kennett Square, Senior Suites in East Norriton, and Upper Providence in Phoenixville
brandycare.com
Chandler Hall
Newtown
ch.kendal.org
Cornwall Manor
Cornwall (Lebanon County)
cornwallmanor.org
Dunwoody Village
Newtown Square
dunwoody.org
Five Star Senior Living
The Devon Senior Living, NewSeasons at New Britain in Chalfont, and Forwood Manor, Foulk Manor, Shipley Manor in Wilmington, Delaware
fivestarseniorliving.com
Friends Home & Village
Newtown
fhvpa.org
Garden Spot Village
New Holland
gardenspotvillage.org
HarborChase of Wilmington
Wilmington, Delaware
harborchase.com/harborchase-wilmington
HarborChase of Princeton
Princeton, New Jersey
harborchase.com/harborchase-princeton
The Hearth at Drexel
Bala Cynwyd
thehearthatdrexel.org
Heartis
Warminster and Yardley
heartis.com
Hershey's Mill
West Chester
hersheysmill55plus.com
The Hickman
West Chester
thehickman.org
HumanGood
The Mansion at Rosemont, Rydal Park and Rydal Waters in Jenkintown, and Spring Mill Pointe in Lafayette Hill
humangood.org
Lancashire Terrance
Lancaster
lancashireterrace.com
The Manor at York Town
Jamison
themanoratyorktown.org
Masonic Villages
Lafayette Hill and Warminster
masonicvillages.org
Meadowood Senior Living
Worcester
meadowood.net
Merrill Gardens
Arbour Square at West Chester, Eagleview Landing in Exton, Mercer Hill at Doylestown, Merrill Gardens at Glen Mills, The Pinnacle in Plymouth Meeting, Truewood by Merrill in Glen Riddle
merrillgardens.com
Pennswood Village
Newtown
pennswood.org
Pickering Manor
Newtown
pickeringmanor.org
Pine Run Retirement Community
Doylestown
pinerun.org
Pleasant View Communities
Manheim
pleasantviewcommunities.org
Priority Life Care
Symphony Manor of Feasterville and Independence Court of Quakertown
prioritylc.com
SageLife
The 501 at Mattison Estate in Ambler, Chestnut Ridge and Plush Mills in Wallingford, Daylesford Crossing in Paoli, Echo Lake in Malvern, and Ovation at Riverwalk in Princeton, New Jersey
sagelife.com
The Solana Doylestown
Warrington
thesolanadoylestown.com
Springton Lake Village
Media
springtonlakevillage.com
Sunrise of North Wales
North Wales
sunriseseniorliving.com
Symphony Square
Bala Cynwyd
symphonysq.com
The Watermark at Bellingham
West Chester
bellingham.watermarkcommunities.com
Waverly Heights
Gladwyne
waverlyheightsltd.org
White Horse Village
Newtown Square
whitehorsevillage.org
Published (and copyrighted) in Suburban Life magazine, December 2021.