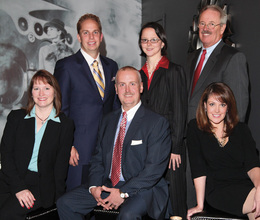 A Woman's Perspective
The Barlow Group at Morgan Stanley Smith Barney in Doylestown helps women achieve financial security
The Barlow Group at Morgan Stanley Smith Barney in Doylestown knows how to help handle its clients' futures. Its sterling reputation has been built on time and tradition, and the six-person team is rich in experience and defined by accountability.
Though The Barlow Group's approach to client service is rooted in classic courtesy and thoroughness, its members realize that they must adapt to the times—especially when it comes to dealing with women. As a result, the firm has been working with Kristan Wojnar, a senior vice president at Guggenheim Funds, to better understand and serve the female investor.
Investing used to be the man's household responsibility, and in some cases that still holds true. Wojnar cautions against this outdated arrangement. She cites statistics as to why women should take an active interest: Divorce is still an unfortunate possibility, and women typically live longer than men. At some point in their lives, Wojnar says, most women will be in charge of the finances. The numbers bear that out: According to research conducted by the Guggenheim Academy, women currently control an estimated $14 trillion worth of assets, a figure that will only increase with time.
Also, women and men frequently have different goals for investment strategy.
"Typically when you ask a man what he wants to do with wealth, it's a goal-based answer—pay down debt, buy a second home," says Wojnar, who is based at Guggenheim Funds' headquarters in Chicago. "If you ask a woman the same thing, you'll typically get a value-based answer, like having security, freedom or independence."
Those three qualities can mean different things to women of all ages, which is why it's important to have a financial advisor who can articulate those issues while reaching an agreement between spouses. "Women want to feel educated and understood," Wojnar explains. And if they don't, there's no reason for them to stick around. According to Wojnar, a significant percentage of widows leave their original financial advisor within a year after their husbands' deaths.
According to Wojnar, financial services companies that do not take action to understand and address the unique aspects of the female economy risk missing out on a vast and growing marketplace.
The Barlow Group is determined not to make that mistake. Drew Barlow and Brian McKeon, the group's two senior vice presidents, financial advisors and portfolio managers, are committed to understanding their clients and creating the foundations for strong relationships.
"When we meet new clients and prospective clients, we spend 50 percent of our focus on each spouse," Barlow says. "We don't make the mistake of focusing on the spouse who takes control, which many times is the male. I can't tell you how many times during our first meeting with a prospective or new client I hear the phrase, 'That's his department.'
"I tell them, 'I don't accept that as a good answer,'" Barlow adds. "'I need to know as much about your dreams and goals as your husband's.' Because all clients are different, it is an integral part of our process to systematically discover issues important to clients at each stage of their lives."
Regardless of gender, financial investing can involve a lot of material that may confuse clients. The Barlow Group offers clarity and empowerment to its clients and prospective clients, including a series of educational seminars on relevant financial topics at various local venues. "It's a great opportunity to meet with our group, and to learn about topics that can be intimidating, in a low-key environment," McKeon says.
The group also sponsors events that focus exclusively on supporting activities that appeal to women, such as a "Mom's Night Out" at the James A. Michener Art Museum in Doylestown. The "Mom's Night Out" event is hosted by art teacher Robin Lane and Ruth Anderson, the museum's assistant curator. The next upcoming event, "Passionate Pastels," is scheduled for April at the Michener Museum. Information about the event can be obtained by contacting The Barlow Group.
Of course, the involvement takes on a more personal touch. The Barlow Group offers its clients pre-established and agreed-upon communications, such as monthly phone calls or in-office meetings to discuss the various aspects of their investment progress. After all, we're talking about clients' financial destiny, and their desire to build a strong foundation for retirement and a legacy for their loved ones to enjoy.
With a longstanding presence in the community, a commitment to understanding its clients' particular needs, and a constant desire to improve its business model, The Barlow Group is addressing the financial concerns of the female investor with professionalism and compassion.
The Barlow Group can be reached at 4529 West Swamp Road, Suite 400, Doylestown, PA 18902, or 215-230-2910.
Pete Croatto is a freelance writer/editor based in Newtown.
Kim Billingsley is a freelance photographer based in Doylestown.
Felicia Perretti is a freelance photographer based in Philadelphia.
Kristan Wojnar is neither an employee of nor affiliated with Morgan Stanley Smith Barney LLC, Member SIPC. Opinions expressed by Ms. Wojnar are solely her own and do not necessarily reflect those of Morgan Stanley Smith Barney.
Views expressed are those of the authors, not necessarily Morgan Stanley Smith Barney, and are not a solicitation to buy or sell any security. Opinions may change without notice, and past performance is no guarantee of future results.