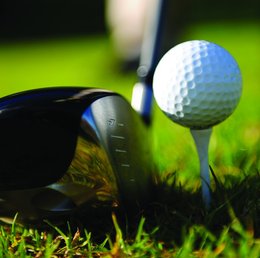 Above Par
Horsham's Commonwealth National Golf Club offers members an uncommon experience
Since it opened for play in 1990, Commonwealth National Golf Club in Horsham has been making its members—from the casual golfer to the scratch player—rise to the challenge laid out by the course's designer, golf legend Arnold Palmer. Although it continues to live up to its reputation of never ceasing to challenge, members now come for much more than just the joys of an immaculately manicured par-71 course.
"There is a perception of Commonwealth as an ideal place for the highly skilled golfer, and it certainly does appeal to them," says Terry Tumolo, general manager of Commonwealth National Golf Club. "It's true that it is a player's course, but members join for the casual golf, social interaction, dining and everything else we have to offer. … I always think of the 'Cheers' theme song, because everyone knows your name here. The staff knows everything you want us to know to make your experience here that much more personal and pleasurable."
One such amenity is The Restaurant at Commonwealth National Golf Club, which seats 175 and is celebrated for its well-planned menu, holiday brunches and special member events. The restaurant benefited recently from significant renovations, with an expanded patio that will enable members to enjoy year-round dining overlooking the course. It's a "one-of-a-kind atmosphere," according to Tumolo, made even better and more serene by the recent cessation of flights out of the nearby Willow Grove airbase.
"We have one of the best restaurant options in the eastern Montgomery/southern Bucks area," he says. "We possess a wide variety of menu options and great wine list, for casual dining, corporate dining, fine dining, etc.," he says. "One of the beauties of the private club is that you can go out to a very nice place; share a meal with your family or a business associate at the time that is convenient for the member."
In addition to the restaurant, the non-equity club also features a dynamic catering facility in The Manor House at Commonwealth, capable of accommodating as few as 15 or as many as 250. The Manor House has undergone two renovations in the past 15 years, including the most recent in 2002-03 that shaped the venue into one of the region's most sought-after destinations for hosting events. Located at 300 Tournament Drive, between the second and eighth holes at the site of the original clubhouse, The Manor House hosts business meetings, bridal showers and other special events, including as many as 100 weddings per year, according to Jennifer Davies, Commonwealth's director of membership and catering.
"It's a venue you will remember, with the amazing original fieldstone farmhouse exterior," she says. "It's a quaint untraditional meeting space, great for brainstorming; many marketing meetings happen here because it is such a unique venue. The hospitality is great, with the same excellent food quality found at our restaurant, and it's nice for people to have such a quiet place to accomplish their work."
'The Area's Finest'
Speaking of, the club's membership is vibrant and diverse—singles and families alike, from those in their late 20s on up. Some join for the exceptional golf, including a state-of-the-art driving range, short-game facilities and indoor teaching facility. Others come for the club atmosphere, social interaction and what has grown into one of the area's foremost junior golf programs, ideal for improving any young golfer's game.
"Some people are hesitant to join a club because they're concerned about whether they will blend in and make friends," Tumolo says. "During your first visit here as a new member, you might sit at the bar and have a drink, and another member will introduce himself; welcome you to the club. There are no impenetrable cliques. The majority of the membership is newer to the club, and they're just as excited to meet new friends and share a round of golf, a meal or a drink with other members. There's also a strong family component here."
In addition to standard membership, Commonwealth offers entry-level membership for families and individuals who wish to play on an occasional or limited basis. This entitles entry-level members to play six times per year in season and unlimited play out of season, with the ability to bring guests each time they hit the course.
"We're one of the area's finest golf clubs for the golfer who wants to be able to have full access to a private club, with no assessment membership," Tumolo says. "For years we were known for being a predominantly corporate club. That perception has begun to change as it now includes more individual and family memberships. Although, we still possess the largest collection of corporate memberships of the most distinguished companies in the Philadelphia market.
"As opposed to public courses and even some private clubs, we're not trying to have as many members as possible, or trying to churn out as many rounds as daylight will allow," he adds. "It's about a quality experience, with valet parking, locker-room attendants who know your name, and a caddie program if you want to be able to walk the course and have some help on shot selection."
Among the Best
In designing the course, Arnold Palmer's goal and challenge with Commonwealth was to build a championship course unlike any other in the region. He certainly delivered, thanks in part to the property's gently rolling terrain with ponds and streams, wetlands and tall stands of oak.
The course measures 6,336 yards from the white tees and 7,073 yards from the championship tees. (Golfers can choose from five tee boxes per hole, making the course playable regardless of skill level.) The course features 11 par-4's, three par-5's and four par-3's, though it is best known for its challenging par-4 holes. The front nine has more of a traditional "links" style with sculpted landing areas framed by bumps and mounds, while the back nine features more of a "low country" style with copious wetlands and water hazards, similar to courses found in the Southeast.
"The par-4's here are special in their own right," says Tumolo. "I don't think any golfer in the area would argue that our collection of par-4's here is among the best in the Philadelphia area."
Frequently ranked among the area's elite courses and host to several past PGA events, Commonwealth has been called "a serious course" and "a shot-maker's course." Even so, golfers don't have to have a single-digit handicap to enjoy it. In fact, some members have a handicap of 20 or higher. Regardless of handicap, Commonwealth members benefit from the insight of three of the area's most gifted golf professionals: director of golf Patrick Shine, head golf professional Travis Deibert, and assistant golf professional Mike Bell.
In addition to its famously immaculate greens, golfers can expect top-notch conditions no matter where they are on the course, according to Shine: "Some golfers might have the perception that the course is difficult, but it's not unfair if you can be accurate with your shots. … But no matter who you are, the course makes it easy to come out here and have a good time."
Commonwealth National Golf Club
250 Babylon Road, Horsham | 215-672-4141
CommonwealthGolfClub.com
To learn more about membership at Commonwealth, contact Jennifer Davies at 215-672-4141 or jdavies@commonwealthgolf.com
Jennifer Updike is a professional writer based in New Hope.