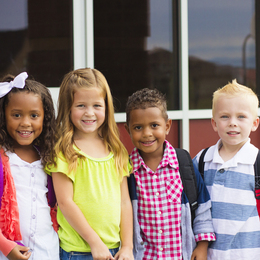 Belonging
Schools' efforts to promote diversity, equity, and inclusion help prepare students for life in an increasingly connected world.
With so much disharmony in the world, students—all students—should have the freedom to feel safe and comfortable to be themselves, both at school and once they put their alma maters behind them. That's the underlying idea behind DEI, short for diversity, equity, and inclusion, which is being brought to the forefront at schools across the country. A number of schools in the tri-state area have administrators dealing directly with DEI work, while others foster a sense of inclusion and belonging within their curriculums.

In the classroom environment, diversity refers to acknowledging the range of differences in race, religion, ethnicity, sexual orientation, and social identity; equity refers to the promotion of fairness and justice among all members of the school community; and inclusion refers to embracing differences and creating a welcoming environment where all students feel as though they belong.

Friends' Central School in Wynnewood is a prime example. Providing an inclusive, multicultural education has always been part of Friends' Central's Quaker values.

"Making sure an education is available to people, no matter their religion, race, gender, sexual orientation, or any other aspects of identity has always been important at Friends' Central," says Erica Snowden, the school's director of equity, belonging, and inclusion. "We've had a diversity administrator since 1995. As time went on, we realized, as many schools did, that you do need a department with an administrator who is doing this work with a broad lens to share information, not only with colleagues and students, but also with families and caregivers, as well as community members involved with the school."

As part of her role, Snowden looks at how problems can be addressed, as well as how students and faculty can work together to find solutions in situations involving DEI. This includes efforts both inside and outside the classroom.

"In the classroom," she adds, "this means being able to think more about curriculum and making sure there are windows and mirrors for all of our students."

The concept of mirrors and windows comes from the work of an educator named Rudine Sims Bishop, Ph.D. Mirrors allow students to see themselves represented in their learning environment, curriculum, texts, and extracurricular activities, Snowden suggests. Windows, on the other hand, allow students to see into the lives of others and learn about people who are different from them in ways that allow them to dismantle biases and make decisions that foster "a community of belonging."

"We're beginning to hear more from students who say they've begun thinking more about equity or they're using the vocabulary we're teaching to talk about trends or events," Snowden says. "Students are saying that they now have the ability to speak up about issues they're concerned about and have a renewed sense of self-advocacy as well as advocacy for others, whether on campus or in our world in general."

Gwynedd Mercy Academy High School in Gwynedd Valley sought to emphasize diversity among members of the school community and preparing culturally competent students to engage in the world around them. As a result, in 2019, Anita Roberson was hired as the leader of diversity, equity, inclusion, and justice.

"I'm here," she says, "to make sure that everybody within our space, regardless of what group they belong to—students, faculty, staff, board members, parents—feels a strong sense of connection, acceptance, and support within our community, regardless of what their social identities might be."

Roberson suggest the concept of DEIJ isn't new, especially at Gwynedd.

"From the legacy of the Sisters of Mercy," she adds, "we've built upon a strong foundation centered around the principles of equity and justice, fairness and inclusion, which in practice is guided by our moral and spiritual compass and a deep commitment to doing what is right."

As part of its strategic approach, Gwynedd recently conducted a survey developed by the National Association of Independent Schools' Assessment of Inclusivity and Multiculturalism. The survey gathered feedback from parents, students, faculty, staff, administrators, alumnae, and board members to address how the community felt about the school's efforts thus far and what changes needed to be made.

"As a result of the survey, we are able to really get a sense of how people feel around these issues and what our direction should be," says Roberson. "We have developed a series of initiatives that we'll be introducing over the next three to five years. We're creating an environment in which we're building awareness and opening people's minds and expanding understanding."

For example, Roberson has noticed students having more organic conversations about issues that shape the world around them.

"Students are saying now that 'I'm more aware of this and want to do more to educate myself or have more conversations within the community so we can take some ownership, play a leadership role, and create a culture of belonging,'" she says.

Administrators suggest exposing students to these concepts early on can have far-reaching effects. Students feel supported, learn about others, feel safe to express their ideas, and engage in conversations about how to accept their differences.

"At heart, we are teaching our children to be healthy stewards of our shared world," says Zoe Brookes, school administrator at the Waldorf School of Princeton, which educates children from pre-kindergarten through eighth grade. "We have to teach them about the world around them, and that means teaching from multiple perspectives, not just the one that we're raised with or that any individual teacher is raised with.

"We need to make sure the materials that we use to teach our children and the stories we tell reflect a broad diversity of identities—cultural, racial, gender-based, etc., in addition to making sure that our teaching staff represents the full diversity of the children who encounter our school," she continues. "When a child comes to our school, they should see their own identity, their own culture, mirrored in the curriculum and the community. Our dedication to diversity, equity, and inclusion is a collaborative work that affects every part of our school."
Published (and copyrighted) in Suburban Life magazine, February 2022.