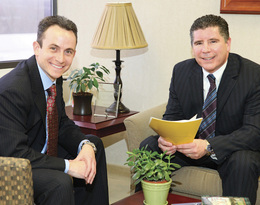 The Future Is Yours
Langhorne's Marshall, Murray & Associates, a financial advisory practice of Ameriprise Financial Services, Inc., can help make lifelong dreams a reality
Financial planning is personal because it profoundly affects one's most valuable assets and private matters. It involves family, business and the prospect of attaining one's lifelong dreams. As such, selecting the right financial advisor is nothing short of critical.
"Having a vision for the future and planning for that vision are just as important as money when seeking to achieve financial goals. We strive to put these dreams more within reach," says Ryan Murray, CFS®, CRPC®, Financial Advisor with Marshall, Murray & Associates. "A client can have greater peace of mind knowing there is a plan in place and having an advisor ready to revise these strategies to help meet evolving needs."
Located in Langhorne, Marshall, Murray & Associates celebrates a practice of 15 years—longevity based upon a shared mission, complementary skills and great friendship. Marshall, Murray & Associates specializes in estate, retirement and tax-planning strategies along with asset management and charitable giving. The firm's proactive and collaborative approach combines a strong grasp of the economic trends with the long-term discipline of managing assets—all with an undeniable attention to personal detail.
Building Lifelong Relationships
At Marshall, Murray & Associates, the vision is clear: to establish relationships that last through life's ups and downs. This can include changes in one's personal life as well as the marketplace shifts that affect one's short- and long-term plans.
A first visit to Marshall, Murray & Associates is filled with conversation, and not simply about numbers or retirement. It's about what is more important to clients. According to William P. ("Bill") Marshall, ChFC®, CLU®, CRPC®, Financial Advisor at Marshall, Murray & Associates, "We ask questions such as 'where do you dream of going' and 'what brings you happiness' to better understand our clients. We want to know what they like, enjoy and dream of in their future."
Ryan adds, "Yes, we clearly discuss financial goals but more importantly, aspirations as a whole. We talk about families—theirs and ours—and create a bond that is far more than business in nature."
The discussion also addresses expectations to further the relationship that will grow over time. Clients are encouraged to ask questions and, together, the team will review one's existing financial situation, potential opportunities and any financial goals and priorities. Both Ryan and Bill want clients to leave feeling more knowledgeable than when they arrived, and secure in the team's ability. Most importantly, from that very first meeting, clients know they are welcome to stop by the office at any time—even to simply say hello.
"Our approach is unique in a number of ways but it begins with a commitment to providing each client with 100 percent of personalized attention," Bill says. "We listen and follow up. It's as simple as that."
In Agreement
But these aren't just words on paper, as clients can attest. For 2010, Ryan received a 94 percent Client Satisfaction Score while Bill received a 91 percent. In the survey, Ameriprise advisors are rated on overall satisfaction, financial knowledge and other criteria. The scores are based upon responses from the preceding two years, reflecting that the unique approach to service at Marshall, Murray & Associates really works, even in the difficult times.
"In 2008, the market changed and not for the better," says Ryan. "Yet, when many financial advisors chose to hide or run for cover, we took the completely opposite approach. We were everywhere, meeting with clients in both group and individual settings."
He continues, "Bill and I felt it was best to calm the crisis and the only way to do this was to show clients that we were there to help them through the difficult time. It was not about the solution but about understanding—reaching out to answer questions, explore clients' needs and welcome calls at any time of day or night. Our commitment to all aspects of financial planning must have worked in that our client satisfaction scores increased at a time when the markets were shaky."
Bill and Ryan coordinate social gatherings often, regardless of the financial climate. The interaction between the clients, advisors and other staff members reinforces a comfort level and the relationship. It also proves to be a great way of introducing others to the services offered by Marshall, Murray & Associates.
"We are proud that just about 80 percent of our clients are through another referral," says Ryan.
In addition to referrals, clients played an integral role in Ryan receiving the 2010 FIVE STAR Wealth Manager Award as featured in the November 2010 issue of Philadelphia magazine. This recognition acknowledges his high level of customer service, integrity, knowledge and six other key areas of satisfaction based upon clients' personal experience. Advisors are also reviewed in terms of regulatory and judicial actions as well as by a panel of others in the financial industry. This award is given to less than 2 percent of the wealth managers in the Philadelphia area.
Like other advisors within the Ameriprise family, Marshall, Murray & Associates fosters the firm's unique Dream> Plan> Track>® approach—one founded on the principle that financial planning starts with one's dreams, not simply the numbers.
"Just as the market changes, clients' dreams change throughout life," says Bill. "Our client relationships are developed to be ongoing, one in which plans, priorities and life changes require a reevaluation of the products and services when seeking to achieve dreams."
Glori Gayster is a freelance writer based in South Jersey.
Kim Billingsley is a freelance photographer based in Doylestown.
Marshall, Murray & Associates, a financial advisory practice of Ameriprise Financial Services Inc., is located at 2300 East Lincoln Highway in Langhorne. For more information or to schedule an appointment, call 215-757-7600 ext. 402 or visit ameripriseadvisors.com/ryan.d.murray.
Ameriprise Financial cannot guarantee future financial results. Ameriprise Financial does not provide tax or legal advice. Consult your tax advisor or attorney. Brokerage, investment and financial advisory services are made available through Ameriprise Financial Services Inc. Member FINRA and SIPC. Some products and services may not be available in all jurisdictions or to all clients
The Client Satisfaction survey score is based on responses gathered within the preceding two years. The survey rates Ameriprise advisors on overall satisfaction, financial knowledge and other criteria. A score averages all responses and may not represent a particular client experience. A minimum number of responses are not required for a score. Working with the advisor is not a guarantee of future financial results. Investors should include their own evaluation of a financial advisor.
The FIVE STAR Wealth Manager ("Program") research was conducted from March 2010 through May 2010. Surveys were administered to at least 20 percent of high-net-worth households in the area, along with financial service professionals. Fewer than seven percent of wealth managers in the area receive the recognition. Wealth managers were evaluated based on customer service, knowledge, overall satisfaction and other criteria. A score averages all responses and may not represent a particular client experience. Not all wealth managers use discretionary control to manage clients' assets. Crescendo Business Services, LLC, manages the Program, but does not endorse listed wealth managers. Working with this wealth manager is not a guarantee of future financial success. Investors should conduct their own evaluation of a financial professional. For details go to http://www.fivestarprofessional.com/wmresearchspecs.html.