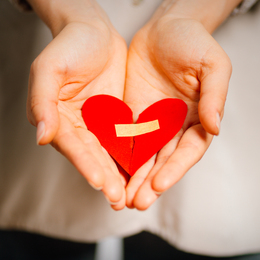 'My Wakeup Call'
Having overlooked the red-flag symptoms that preceded a heart attack, a writer and mother reorders her life to focus on health, family, and self-care.
One out of every four American deaths every year is from a heart attack, nearly 300,000 of them women. I came dangerously close to joining them.

For a few weeks leading up to the December 2021 holidays, I had what I thought were flu-like symptoms—namely, heartburn, nausea, cold sweats, fatigue, and overall malaise. Basically, I ignored those symptoms and went about my work and home routine.

Both sides of my family have a history of heart disease; in fact, my father died of a second heart attack at age 57. Even so, I did not think to make an appointment with a cardiologist … until I started having massive chest pains during a night out with a friend and I had to make a beeline for the nearest hospital emergency room.

My electrocardiogram revealed that one of my arteries was 99 percent blocked. In all, I had three stents put in my heart at Pennsylvania Hospital in Philadelphia. During my procedures, a single nagging thought worried my mind: Please let me live to continue to care for Adam, my son who has autism. Ironically, Adam turned 16 the day after my heart attack.

As I continue to recover, I see this as my wakeup call. It is easy to look back on how I could have improved my heart health and lowered my stress level. Each day, I am adapting to a new mindset, a new diet, a new stress level, a new exercise routine, and everything else. As my friends, family, and dedicated nurses keep reminding me, "Take each day as a gift, and use it wisely."

I now see life through a new lens, one based on second chances. I am grateful that I did not become one of the 659,000 American adults who die of heart disease each year, according to estimates from the U.S. Centers for Disease Control and Prevention.

The other day, when a friend told me her blood pressure was 190 over 120 and she was reluctant to go to the ER, I advised her not to take any chances. With February being Heart Health Month, I see this as an ideal time to share my story and, in the process, help others become more vigilant about their heart health.

Kevin Steinberg, M.D., a cardiologist with Penn Medicine who specializes in interventional cardiology and vascular medicine, says a good number of his patients adopt meaningful changes in their lives after a heart attack. Even so, he suggests many people experience ups and downs after the initial wakeup call.

"After a mild or severe heart attack, my patients often go through a lot of introspection," Dr. Steinberg explains. "They experience sadness or depression, and need to get through the initial incident and diagnosis. The next step is to decide that you are ready to live a healthy lifestyle, including regular exercise. We encourage everyone to start making those changes very quickly."

As I make major changes to my life—meal planning, cooking techniques, exercise routine, and stress management, among others—I am making an investment in myself. I know I am worth it. My priorities of traveling, making more money, starting a podcast, writing a children's book, and de-cluttering my house are rooted in the basics: Get well, get my legal and financial records in order, and make more time for my son and other loved ones.

At the end of the day, the most important question is this: If you knew you had a limited time left on this earth, how would you spend it? Working overtime and obsessing over little problems? Or celebrating with the people you love and making more happy memories? I'm choosing to spend my time with my son and enjoy my new heart-healthy lifestyle to the fullest.

7 Heart-Healthy Tips from Dr. Steinberg
* Listen to your body. Only you know when something does not feel right. Don't ignore even mild symptoms. Talk to your healthcare provider.
* Make exercise a regular part of your life. Participate in moderate-intensity cardiovascular exercise with a goal of five days per week and weight-bearing exercise twice weekly.
* Practice healthy eating habits. The Mediterranean diet is ideal. The foundation of the diet includes plant-based foods, such as whole grains, vegetables, legumes, fruits, nuts, and seeds, according to the Mayo Clinic. Olive oil is the main source of added fat in a Mediterranean diet, while fish, seafood, dairy, and poultry are included in moderation.
* Visit healthcare providers regularly to monitor blood pressure, cholesterol, diabetes, etc.
* Maintain a healthy weight.
* Manage stress and get enough sleep (approximately seven to eight hours per night).
* Drink alcohol in moderation.
Never Missing a Beat
The Philadelphia area's hospitals and medical centers have prioritized cardiac care for current and future patients. From preventive care to emergency services, these highly regarded institutions have invested in teams of cardiac and vascular specialists, as well as next-generation technology, to ensure that patients' heart health never misses a beat.
Chester County Hospital
West Chester
chestercountyhospital.org
Doylestown Hospital
Doylestown
doylestownhealth.org
Einstein Heart and Vascular Care
Multiple locations
einstein.edu/heart-and-vascular
Jefferson Health
Multiple locations
jeffersonhealth.org
Lankenau Heart Institute
Multiple locations
mainlinehealth.org
Lower Bucks Hospital
Bristol
lowerbuckshosp.com
Penn Heart and Vascular Center
Multiple locations
pennmedicine.org
Roxborough Memorial Hospital
Philadelphia
roxboroughmemorial.com
St. Mary Medical Center
Langhorne
trinityhealthma.org
Suburban Community Hospital
East Norriton
suburbanhosp.org
Temple Heart and Vascular Institute
Philadelphia
templehealth.org
Published (and copyrighted) in Suburban Life magazine, February 2022.