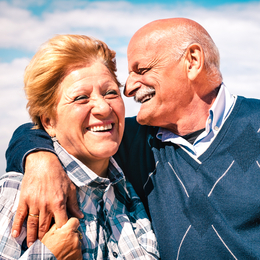 Brave New World
The second half of life presents a clean slate for reinvention and reinvigoration.
"Suddenly you find, at the age of 50, that a whole new life has opened before you."

Agatha Christie's words underscore a truism about turning the Big Five-Oh: First, age is just a number; and second, once we hit the half-century mark, we tend to start thinking more intently about the second half of life.

Inquiries of self-reflection likely include the following: What do I want to do with the wealth and happiness I have accumulated? Where do I want to live, and with whom do I want to share my life? What else do I want to do with my time left on the planet?

For some, entering the second half of life heralds a return to greatness, of sorts, in that it presents an opportunity to return to hobbies and pastimes that may have fallen by the wayside due to work, family, and other commitments. Travel, the creative arts, and the simple joys of woodworking come to mind. One local gentleman, as he entered retirement, returned to participating in competitive pole vaulting—yes, pole vaulting—an activity he had not done since his college days.

Where we want to live later in life tends to be a big question. Some of us dream of retiring to a beach in Costa Rica or some other exotic locale, though far fewer make that dream a reality. Regardless of whether we stay close to our roots or venture far afield, many Americans choose to downsize as they get older, in part so they cast off the responsibilities that are part and parcel of living in a larger home with property to maintain. Naturally, scaling down also presents opportunities to spend more time on the things that matter most—family, our passions, and finding ways to leave the world a better place than the one we came into.

The Philadelphia area has a number of respected continuing-care retirement communities that cater to older adults who wish to remain as active as possible. More so, as Agatha Christie once put it, such communities enable their residents to reach out and grasp the "whole new life" that has opened up before them.
It's a Wonderful Life
Older adults choose to live in a CCRC to partake in countless amenities, socialize, and prioritize their health and wellness. More so, the CCRC life enables residents to maintain their independence. Such communities offer healthcare services, from short-term care to skilled nursing and memory care. The bottom line: Residents can pursue the lifestyle they choose, and have the peace of mind that comes from knowing they will be well cared for no matter where life takes them.
Acts Retirement Life Communities
Brittany Pointe Estates in Lansdale, Fort Washington Estates, Granite Farm Estates and Lima Estates in Media, Gwynedd Estates in Ambler, Normandy Farms Estates in Blue Bell, Southampton Estates, and Spring House Estates in Lower Gwynedd
actsretirement.org

Arbour Square of Harleysville
Harleysville
arboursquare.com

Artis Senior Living
Huntingdon Valley, Yardley, and Princeton, New Jersey
artisseniorliving.com

Atria Senior Living
Atria Center City in Philadelphia and Atria Lafayette Hill
atriaseniorliving.com

The Attleboro Community
Langhorne
attleborocommunity.com

Brandywine Senior Living
Dresher Estates, Haverford Estates, Longwood in Kennett Square, Senior Suites in East Norriton, and Upper Providence in Phoenixville
brandycare.com

Chandler Hall
Newtown
ch.kendal.org

Cornwall Manor
Cornwall (Lebanon County)
cornwallmanor.org

Dunwoody Village
Newtown Square
dunwoody.org

Five Star Senior Living
The Devon Senior Living, NewSeasons at New Britain in Chalfont, and Forwood Manor in Wilmington, Delaware
fivestarseniorliving.com

Friends Home & Village
Newtown
fhvpa.org

Garden Spot Village
New Holland
gardenspotvillage.org

HarborChase of Wilmington
Wilmington, Delaware
harborchase.com/harborchase-wilmington

HarborChase of Princeton
Princeton, New Jersey
harborchase.com/harborchase-princeton

The Hearth at Drexel
Bala Cynwyd
thehearthatdrexel.org

Heartis
Warminster and Yardley
heartis.com

Hershey's Mill Villages & Golf Club
West Chester
hersheysmill55plus.com

The Hickman
West Chester
thehickman.org

HumanGood
The Mansion at Rosemont, Rydal Park and Rydal Waters in Jenkintown, and Spring Mill Pointe in Lafayette Hill
humangood.org

The Manor at York Town
Jamison
themanoratyorktown.org

Masonic Villages
Lafayette Hill and Warminster
masonicvillages.org

Meadowood Senior Living
Worcester
meadowood.net

Merrill Gardens
Arbour Square in West Chester, Eagleview Landing in Exton, Mercer Hill at Doylestown, Merrill Gardens at Glen Mills, The Pinnacle in Plymouth Meeting, Truewood by Merrill in Glen Riddle
merrillgardens.com

Oxford Enhanced Senior Living
Langhorne
oxfordenhancedseniorliving.com
Pennswood Village
Newtown
pennswood.org

Pickering Manor
Newtown
pickeringmanor.org

Pine Run Retirement Community
Doylestown
pinerun.org

Pleasant View Communities
Manheim
pleasantviewcommunities.org

Priority Life Care
Symphony Manor of Feasterville and Independence Court of Quakertown
prioritylc.com

SageLife
The 501 at Mattison Estate in Ambler, Chestnut Ridge and Plush Mills in Wallingford, Daylesford Crossing in Paoli, Echo Lake in Malvern, and Ovation at Riverwalk in Princeton, New Jersey
sagelife.com

The Solana Doylestown
Warrington
thesolanadoylestown.com

Springton Lake Village
Media
springtonlakevillage.com

Sunrise of North Wales
North Wales
sunriseseniorliving.com

Symphony Square
Bala Cynwyd
symphonysq.com

The Watermark at Bellingham
West Chester
bellingham.watermarkcommunities.com

Waverly Heights
Gladwyne
waverlyheightsltd.org

White Horse Village
Newtown Square
whitehorsevillage.org
Published (and copyrighted) in Suburban Life magazine, February 2022.