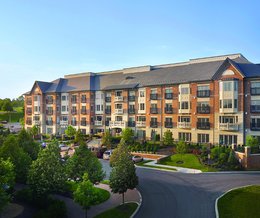 Welcome Home
Elegance, comfort and vibrant community await residents of Wellington at Eagleview
Some people might call them delectable slices of heaven. Others might say they're "to die for." But there's no need to be whisked off to the Great Beyond to find them.
When home buyers set off in search of the finest luxury condominiums, they need look no further than the heart of Chester County. It's there where the crème de la crème of upscale condominium living can be found and described in one word: Wellington.
Built, owned and operated by The Hankin Group, a leading, family-owned real estate company headquartered in the Eagleview community in Exton, Wellington is a modern-day residential masterpiece.
"What makes Wellington condominiums special is that there aren't many like them to any extent in Chester County," says Jim Fuller, vice president for planning and design for The Hankin Group. "We modeled ours with the affluent residents of Chester County in mind who aren't ready to move into the city of Philadelphia to live in a luxury condominium."
Wellington luxury condominiums are set in a four-floor, 48-unit building that is unrivaled in terms of livability and grandeur. Prices range from $399,000 to $700,000, with unit sizes ranging from 1,800 to 2,300 square feet; home buyers can choose from among eight two-bedroom floor plans. Each floor of the building consists of 12 units, with one of the floors being a penthouse level. Units include bed­rooms with window walls for natural light, a spacious kitchen, living room, study, den and bathroom.
Lavish Life
The term "luxury condominium" aptly applies to Wellington, given the highest quality of materials and appliances in each unit. Among the amenities are a gas fireplace surrounded by stone, high-grade carpeting, hardwood flooring, roomy walk-in closets, and large windows through which sunlight can stream in.
Other features include premium Sub-Zero refrigerators, WOLF ranges and micro­waves; and granite countertops, ceramic or porcelain floors; and large Whirlpool tubs, frameless shower doors and Kohler fixtures in the bathroom. The Wellington includes parking beneath the building with access to an elevator that whisks residents directly to their unit, trash and recycling service, and controlled access.
The magnificent property is surrounded by a manicured town square, gazebo, koi pond, preserved woodlands, retail boutiques, restaurants, café, book shop, pharmacy, hair salon, footpaths, fitness center and a YMCA—features which underscore the benefits of living in the five-year-old luxury development.
"Residents who live in the back of the building can stand on their balcony and look at a preserved wooded area," says Becky Reeves, director of marketing for The Hankin Group. "Sometimes there are deer walking along back there, which makes for a wonderful view.
"People who live in the front of the Wellington look out over the town square park," she adds. "It's a nice view either way."
Eagleview is an 800-acre, mixed-use commercial, residential and retail center on Route 100 near the Pennsylvania Turnpike. It sits nestled among the bucolic farms and woodlands of Chester County, making it the ideal venue for Wellington.
The Hankin Group has plans for additional residential development at Eagleview, including additional affordable housing for seniors. The existing Potter Building, whose name is derived from the maiden name of the Hankin matriarch, will be joined by a second building slated to be finished next summer. Is there a need? The current waiting list is more than 200.
The Tenant Comes First
So the question immediately springs to mind: How has The Hankin Group not only survived but also prospered during the worst real estate market in decades?
"We operate differently," Fuller says. "When the housing market was really good years ago, we were more conservative. We didn't stick our neck out as far as others did. We didn't overbuild at the height of the market.
"We've also diversified," he continues. "We deal with other aspects of real estate, financing, research and development."
Another area into which The Hankin Group has moved is using its vast cache of engineers, accountants, property managers and sales staff to assist banks in dealing with properties they assumed from companies unable to complete their projects. Interestingly, The Hankin Group is also venturing into the solar-power business.
"We're in the process of building a [ground-mounted six-megawatt] solar farm," at the Morgantown Industrial Park, Fuller says. "We've also put solar panels on our office buildings, and we provide solar consulting and installation. Our thinking is that if one segment of the company is suffering or down, the others can help pick it up."
But perhaps the most telling companywide philosophy employed by The Hankin Group is not how well it builds luxury condominiums, but how its treats its residents.
"We retain our tenants by treating them all very well," Fuller says. "In this bad economic time, it's important to remember that our tenants are what are most important to us."
Phil Gianficaro is an award-winning writer based in Doylestown.
The Hankin Group
707 Eagleview Blvd., Exton
Phone: 610-458-1900
Fax: 610-458-0764
EagleviewLiving.com