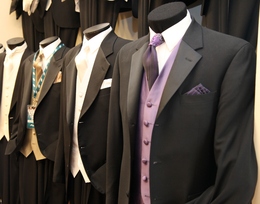 Best Dressed
Doylestown's Ventresca Ltd. has helped generations of men from the Delaware Valley look their finest
Women have the "little black dress" as their go-to fashion safety net. Men have Ventresca Ltd.
Currently in its 30th year, Ventresca Ltd. is the area's premier men's store for formal wear, now located in the heart of Doylestown after 25 years in Jenkintown. Under the stewardship of Frank Ventresca, Ventresca Ltd. helps men of all ages dress for proms, weddings or any other formal event. The store's unique on-site rental inventory, along with expert tailoring and impeccable customer service, sets the bar incredibly high.
"We are known for our diversity in selection and pricing, and don't rely on catalogs to piece together important ensembles," says Ventresca. "If you want to see what a white jacket would look like with black pants and a pink tie, we can accomplish that immediately. We understand that you can't appreciate what something will actually look and feel like unless you can see it in the mirror."
Ventresca Ltd.'s seasoned personnel have more than 150 years of combined customer-service experience. Having an on-site staff to help a customer choose an outfit, complete with accessories, results in less room for error and more assurance that a customer is getting exactly what he wants … or, in some cases, what a girlfriend, wife or future wife is telling him to get.
It's no overstatement to suggest that generations of local men have relied on Ventresca Ltd. for the most important days of their lives. Furthermore, the astounding number of repeat customers proves that Ventresca and his staff are doing something very right.
No Drama
Ventresca Ltd. is currently offering $20 off all tuxedo rentals for prom, ensuring that dapper young men get started off on the right foot. The store provides sizes Boys 3 to 70 long, including extra-long sizes in stock, so men of all shapes and sizes are covered, from head to toe, for rental. In addition, Ventresca Ltd. quite literally has every color tie (63 to be exact), pocket square, cummerbund and vest to match a dream date's dress, flowers and, most importantly, her expectations.
Customers are welcome to bring dates or brides-to-be along with a swatch of her gown, or simply take a photo with a camera phone, and a store representative will assist them in finding the perfect tuxedo. Something else to keep in mind is that all fashion accessories are included in the price of the tux. Chain stores may charge an extra $30 or more for a vest or pocket square, but Ventresca feels strongly that clients deserve everything in one easy-to-use package at a price of just $79.
Weddings, of course, can be full of harried, hectic moments, but Ventresca Ltd. does everything possible to make at least one aspect of this special day as simple and drama-free as possible. It all begins with a word that isn't often associated with weddings: free. If a customer rents five tuxedos (including fathers of the bride and groom, ushers and groomsmen) then there is no charge for the groom's tux.
Ventresca Ltd. would also like to put to rest the myth that out-of-town wedding party members need a local chain to take their measurements and order their suits. In fact, it is ideal to select the formal wear for all males involved from a shop that is located close to the wedding site. If they prefer, men can visit a local tailor, dry cleaner or department store to receive their measurements, and then call them in to Ventresca Ltd. at no additional charge. Measurements can also be entered online at Ventresca.com. With so many options, Ventresca Ltd. has made the process a no-brainer.
In addition, the store helps wedding parties avoid any last-minute crises. To avoid drama such as discovering that someone is missing a shoe or has jacket sleeves that are too short (a detail that would not escape the glowing bride), Ventresca Ltd. has each member of the entire wedding party come in and try on the actual suit he will be wearing.
Made to Order
Brides and grooms will also love the selection and ease with which they can mix and match. Clients can choose their favorite collar type and then color—white, black, ivory—as well as the combination of bow tie/cummerbund or straight tie/vest, so on and so on. A client can also select a one-, two- or three-button jacket with a variety of lapels and, of course, preference of pants and shoes.
If one's lifestyle includes fancy fundraisers, charity galas, formal weddings or annual corporate events, he should consider purchasing a tuxedo of his own. Ventresca Ltd. offers looks that range from classic and conservative to trendy and outrageous. Starting around $695 for tuxedos and $495 for suits, with alterations included in the price, all custom clothing is made in the United States.
Each tuxedo is also created especially for the man who will wear it. From fabric selection and pattern to styling and accessories, Ventresca Ltd.'s staff of European-trained master tailors assures the perfect fit. Clients can choose from more than 150 tuxedos and 300 dress shirts, along with attire from exclusive and global brands such as BCBG, Hugo Boss, Brioni, Corneliani, Ermenegildo Zegna, Daniel & Company, d'Avenza, Studio Milan, L.A. Attitude, Elie Tahari, Halston and Domenico Vacca, to name just a few.
Ventresca Ltd. is among historic Bucks County's foremost destinations for formal wear, yet it also provides a full range of men's attire and footwear, complete with a wide selection of belts, fragrances, ties, cuff links, pocket squares, suspenders, etc. This en­ables any client to leave the store with a look guaranteed to enhance his style.
Although Ventresca and his staff believe that a man makes the suit—or the tuxedo, for that matter—and not the other way around, this doesn't stop them from making the attire as stylish and sophisticated as possible.
Danielle Wallace is a freelance writer in Montgomery County.
Kim Billingsley is a freelance photographer from Doylestown.
145 West State Street, Doylestown
215-348-3139 | Ventresca.com