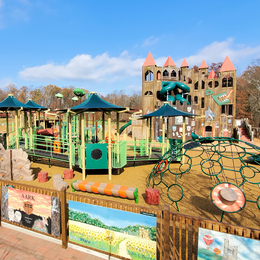 Kids Castle
Novelist Chris Bauer and his grandkids prepare to return to a favorite local haunt. 
Doylestown resident Chris Bauer rises at 4 a.m. each day and sits down at his computer with a singular goal: to finetune his latest web of lies. To clarify, Bauer is a novelist, meaning he specializes in creating fictional worlds. His books, many of which are set in Philadelphia, abound with grit, suspense, and the occasional act of barbarism.

"Philly is my hometown; it's what I know," says Bauer, who also spent time in Connecticut and Michigan for his prior career. "I grew up in the Northeast, and my wife grew up in South Philly. The city is full of down-to-earth people who wear their heart on their sleeve. I like the idea of Philly itself being a character in my novels. The people who are close to me really get a kick out of it."

Bauer usually finishes his early-morning writing sessions around 8:30. He returns to his work for a few more hours in the afternoon, often revising passages he wrote earlier in the day.
He follows this formula six days a week. One might suspect the seventh day would be reserved for rest. Rather, his "off day" is devoted to two of his three grandchildren, Teddy and Bea, who live nearby. Bauer and his wife, Terry, often take the grandkids to local parks and other open spaces where they can run, play, and tire themselves out.

One of their favorite destinations is Kids Castle, a sprawling playground tucked within Doylestown's 155-acre Central Park. Inspired by the castles of Bucks County archaeologist Henry Chapman Mercer, Kids Castle is most famous for its climbable spire-like structures. Bauer first came to know Kids Castle through his grandson Evan, now 13, who played there years earlier.
Kids Castle has been undergoing a reinvention of sorts over the past decade. The playground had been closed for extensive renovations, to include the additions of new equipment and inclusive play areas where children of all abilities can play together. Kids Castle has since reopened, and Bauer, with his grandkids in tow, intends to work it back into the rotation as the weather warms.

"They just love it," he says. "You get such a good feeling watching the kids enjoy themselves on the swings and slides. You see and hear how much fun they're having; they're going absolutely crazy. It's a place where kids can just be kids; you can't get them to leave sometimes."

Bauer and his wife—"Opa and Oma," as Evan, Teddy, and Bea call them—went so far as to purchase a commemorative brick at the castle, dedicated to their three grandchildren. The donation will help fund future renovations at Kids Castle so others may enjoy it as much as they have.
Thrilling Time
Bauer's published works include the thrillers Jane's Baby, Scars on the Face of God, and Binge Killer, as well as three novels in the Blessed Trauma Crime Scene Cleaners series: Hiding Among the Dead, Zero Island, and 2 Street, the last of which will be published later this year. His novels are either set in Philadelphia or feature characters who were born and bred in the city. Another forthcoming novel, Air Race, takes place "nowhere near Philly—Europe and the Middle East," Bauer says. Air Race, which Bauer co-wrote with Andrew Watts, is about a lavish transcontinental air race that turns deadly. For more about Bauer and his novels, visit his website, chrisbauerauthor.com.
Photograph by Joe Salvati
Published (and copyrighted) in Suburban Life magazine, March 2022.