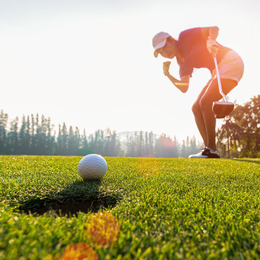 Courses of Action
With spring's return, the area's many fine golf clubs get in the swing of things.
It has arrived: Spring—when the robins sing more loudly, the flowers poke through the soil, and the area's golf courses return to life. Golfers have been eager for their game's return, not only for the chance to hone their skills and build relationships both on and off the course, but also for the reprieve from the world's many ills.

Golfers of every skill level have plenty of local courses at which to enjoy the thrills of open space, camaraderie, and competition. Dozens of exceptional golf courses are within an hour's drive of Philadelphia—Havertown's Llanerch Country Club in Havertown, Springfield's Rolling Green Golf Club, Gladwyne's Philadelphia Country Club, etc. Likewise, each of the 10 highlighted here aims to test every golfer, regardless of his or her age, style, or handicap.
Aronimink Golf Club
Aronimink's roots stretch back to 1896, when it was founded as a cricket club. This Newtown Square club has become one of the region's—if not the nation's—premier golf destinations. Designed by the inimitable Donald Ross, Aronimink's course abounds with generous fairways, mischievously placed bunkers, and perfectly tended greens for the final approach to the hole. Forbes recently ranked Aronimink No. 9 spot in top 50 golf clubs in the nation. aronimink.org
Bala Golf Club
This picturesque course sits right on the edge between Philadelphia and its suburbs. Bala Golf Club was designed by William Flynn, who architected several of the finest clubs in the region and across the nation. Although considered diminutive by some standards, Bala Golf Club is known for its rolling conditions and well-placed hazards, requiring golfers to choose their shots carefully. The club recently underwent a $2 million in clubhouse renovations. balagolfclub.com
Cherry Valley Country Club
Considered a jewel of Princeton, New Jersey, Cherry Valley's 18-hole championship golf course stands out with its undulating greens and contoured fairways, all hewn from the mind of architect Rees Jones. Cherry Valley also has one of the area's most established juniors programs for bringing up the next generation, as well as a state-of-the-art practice facility to help golfers finetune their short game. cherryvalleycc.com
Fiddler's Elbow Country Club
Although it's closer to New York than Philadelphia, Fiddler's Elbow is well worth the drive. The 54-hole club, which is located in Bedminster Township, New Jersey, features three professionally designed and maintained golf courses—one designed by Rees Jones, two designed by Hal Purdy. Each course is wholly unique in terms of course design and scenery; a day at Fiddler's Elbow will not only test golfers' determination, but it will also leave a lasting impression. fiddlerselbowcc.com
Huntingdon Valley Country Club
Another William Flynn stunner, HVCC offers 27 holes of championship golf—the Toomey Nine, the Flynn Nine, and the Centennial Nine. Flynn used the area's distinctive property (a bowl-shaped layout surrounded by woods, sloping toward a stream) to his advantage, much to the delight of golfers who can appreciate a challenge. Philadelphia-area golf authority Phil Sokol described HVCC, simply, as "a masterpiece." hvccpa.org
Gulph Mills Golf Club
In describing this private King of Prussia club, members use superlatives such as "ideal," "understated," and "timeless." There's a good reason why its name often turns up on lists of the area's finest courses. Originally designed by Donald Ross, the course at Gulph Mills offers a gentle reprieve from the outside world, even in a densely populated area such as KOP. Like many Ross courses, the course has a two-sided personality: playable enough for beginners, yet challenging enough to entertain even the most seasoned golfer. gulphmillsgc.com
Jericho National Golf Club
Bucks County is known for its dramatic scenery, and the area surrounding Jericho National Golf Club is no exception. Designed by the team of Dana Fry and Michael Hurdzan, in the shadow of the mountain that gave the club its name, New Hope-based Jericho National has become one of the best in Bucks. Those who know the course best appreciate its challenging bunkers, well-groomed fairways, and fast greens. jerichonational.com
Lookaway Golf Club
Buckingham-based Lookaway recently brought back original designer Rees Jones to suggest enhancements that would engage players of all skill levels. This includes some thoughtful adjustments to the green on one of its signature holes, No. 18. Known for its idyllic locale and pristine course conditions, Lookaway has become a regular stop on the contest circuit. Players who have come to Lookaway to compete in contests from the Golf Association of Philadelphia and the Pennsylvania Golf Association now know what Lookaway's members, or "Partners," have long known: Lookaway is a special place. lookawaygolf.com
Merion Golf Club
Few places compare, as noted by Merion's No. 6 spot on Forbes' ranking of the nation's finest golf clubs. Awe-inspiring history from some of professional golf's most pivotal events combine with beautifully sculpted greens and fairways to place Ardmore-based Merion in rarified air; it holds an almost mythic place in the minds of many golfers. The club's legend will only continue to grow; the East Course will host the 42nd Curtis Cup for three days in June. meriongolfclub.com
TPC Jasna Polana
Gary Player is considered not only one of the greatest golfers of all time; he also joined the world's most acclaimed golf course architects. Among his jewels: TPC Jasna Polana in Princeton, New Jersey. Player crafted the course with balance in mind; it's playable yet challenging, with holes that require thoughtful decisions and scenery that inspires. As proof, consider the signature finishing hole—a 515-yard par-5 rife with risk, reward, and more than a few "devilish spots" to challenge even a player of Player's caliber. tpc.com/jasnapolana
Take It Inside
Golf has long been a year-round game in Florida, Arizona, and other warm-weather states. Thanks to next-level technology and the ambitions of golf-loving entrepreneurs, players can take swings all year long in the Philadelphia area, too. Fairways & Dreams Indoor Golf, created by Ardmore residents Tim and Catherine Levy, will soon open its doors in Conshohocken. The 6,500-square-foot indoor golf center aims to deliver a best-in-class experience to golfers of every skill level, whether they are ready to embark on the PGA tour or picking up a driver for the first time. Using TrackMan technology, Fairways & Dreams gives golfers the ability to practice or play the world's finest golf courses, virtually speaking. Teaching professionals will be available for 30- and 60-minute private lessons using TrackMan simulators. Fairways & Dreams will also offer a program geared toward young golfers, as well as supplemental offerings such as private/semiprivate "golf yoga" sessions to increase flexibility, stability, and mental focus. Memberships are encouraged, but walk-ins are welcome. fdindoorgolf.com
Published (and copyrighted) in Suburban Life magazine, March 2022.