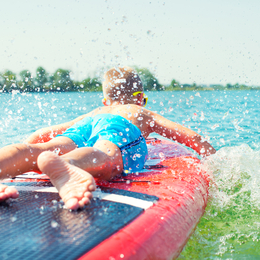 Good Times Ahead
Summer camps instill kids of all ages with valuable lessons in camaraderie, independence, and old-fashioned fun.
To Gene Delle Donne, few things measure up to the exhilaration of time spent on the field of play. Building bonds with teammates, developing new skills, overcoming adversity—all three experiences are applicable not only in sports, but also in every other aspect of life.

That's in part why he's so excited about this summer. His alma mater, Wilmington, Delaware-based Salesianum School, will host a series of summer camps for kids of all ages, from kindergarten through their senior year of high school.

Delle Donne knows a few things about the dividends of pursuing excellence in athletics. Having played football and basketball for Salesianum, he was named Delaware's Gatorade Player of the Year in 2004. He then went on to play football for Duke University and Middle Tennessee State University.

"Everyone knows what we're coming out of, so we're looking forward to getting back to some normalcy," says Delle Donne, now the director of Salesianum's summer sports camps. "Kids get so much out of meeting each other face to face and being able to communicate with a coach and say, 'My name is Jim Smith, and I want to be a quarterback.'"

He believes all summer camps—even those that focus primarily on athletics—teach children much more than how to enhance their skills on the field.

"Kids learn how to respect each other, how to follow the lead of a mentor, and how to develop their interpersonal skills," he adds. "Summer camps teach kids how to be independent young adults, and that's a much more valuable gift than learning how to catch or throw a ball."

Delle Donne has participated in a few football and basketball clinics, and he appreciates the fact that Salesianum offers drills and instruction geared toward each student's age and skill level. His daughter, who will be a rising third grader this summer, has already signed up for a basketball summer camp.

"Having a kid myself, signing a child up for camp is the best thing a parent can do," he says. "You're getting that child out of the house, away from technology. Instead of focusing on being the next YouTube star, they're meeting friends they never met before. They're exercising, breathing fresh air, and improving their fitness level. Learning those valuable life skills is so important in today's real world."

The Philadelphia area abounds with schools, camps, and other organizations devoted to helping local families have a great summer, including those listed on the following pages. Their websites will provide more detail about camp dates, availability, and registration, as well as information regarding safety protocols for COVID-19. Competition for available spots will likely intensify with each passing week, so we recommend getting in touch as soon as possible.
SOMETHING FOR EVERYONE
Briarwood Day Camp
Furlong
briarwooddaycamp.com
June 20 to August 12
Camp America
Chalfont
camp-america.com
June 20 to August 12
Camp Curiosity
Doylestown
campcuriosity.com
June 13 to August 19
Camp Kweebec
Schwenksville
kweebec.com
June 26 to August 14
Camp Sequoia
Pennsburg
camp-sequoia.com
June 26 to August 6
Future Stars Day Camps
Multiple locations
futurestarscamps.com
Flexible scheduling
Habonim Dror Camp Galil
Ottsville
campgalil.org
June 22 to August 14
Hideaway Day Camp
Collegeville
hideawaydaycamp.com
June 20 to August 12
Liberty Lake Day Camp
Mansfield Township, New Jersey
libertylakedaycamp.com
June 27 to August 19
Malvern Day Camp
Glen Mills
malverndaycamp.com
June 13 to August 19
Perkiomen Pines Day Camp
Schwenksville
perkiomenpines.com
June 27 to August 19
School's Out Day Camps
Hatfield
xlhatfield.com/camps
June 20 to August 26

ACADEMICS +
Academy of Notre Dame de Namur Summer Enrichment and Sports Camps
Villanova
ndapa.org
Contact school for details
Friends' Central Summer Camps
Wynnewood
fcsprograms.org
Contact school for details
Germantown Academy Summer Camps
Fort Washington
germantownacademy.net/summer
Contact school for details
The Hun School of Princeton Summer Programs
Princeton, New Jersey
hunschool.org/summer
Contact school for details
The Meadowbrook School Summer Camps
Meadowbrook
themeadowbrookschool.org
Contact school for details
Notre Dame High School – Summer at Notre Dame
Lawrenceville, New Jersey
ndnj.org/summer-experience
Contact school for details
Perkiomen School
Pennsburg
perkiomen.org
Contact school for details
Sacred Heart Academy Bryn Mawr Summer Programs
Bryn Mawr
shabrynmawr.org
Contact school for details
Salesianum School
Wilmington, Delaware
salesianum.org
Contact school for details
St. Joseph's Preparatory School Summer Programs
Philadelphia
sjprep.org
Contact school for details
Tatnall School Summer Camps
Wilmington, Delaware
atatnallsummer.org
Contact school for details
Ursuline Academy
Wilmington, Delaware
ursuline.org/discovery-cove
Contact school for details
Villa Joseph Marie High School Summer @ Villa
Holland
vjmhs.org/summer
Contact school for details

LEARNING DIFFERENCES
Benchmark School 2022 Summer Camp
Media
benchmarkschool.org
June 27 to July 29
Center School In-person Summer Learning and Enrichment Program
Abington
centerschoolpa.org/summer-enrichment-program
July 5 to July 29
Summer at Delaware Valley Friends School
Paoli
dvfs.org
Contact school for details

ATHLETICS
CAL Sports Academy Summer Camps 2022
Hatfield
calsportsacademy.com
Contact for details
High Performance Tennis Academy Summer Camp 2022
Haverford College and the Cynwyd Club
hpta-riverside.com
June 13 to September 2
Phillies Baseball Academy
Multiple dates and locations
philliesacademy.com
Contact for details
Youth Football Camps of the Philadelphia NFL Alumni
Multiple dates and locations
prosportsexperience.com
Contact for details

CREATIVE AND PERFORMING ARTS
Burn Brae Day Camp of Creative Arts
Dresher
burnbraedaycamp.com
Contact camp for details
HomeCooked 2022 Kids Cooking & Baking Camp
Paoli
homecooked.net
Contact camp for details
Main Line Art Center 2022 Summer Art Camp
Haverford
mainlineart.org
June 20 to August 26
Michener Art Museum Summer Camps
Doylestown
michenerartmuseum.org
June 27 to August 12
Pennsylvania Academy of the Fine Arts – Summer Art Camp 2022
Philadelphia
pafa.org
June 27 to August 12
Rockdale Music 2022 Summer Camps
Aston
rockdalemusic.com
Contact for details
School of Rock Doylestown
Doylestown
schoolofrock.com/locations/Doylestown
Contact for details on various summer camps (Beatles, Green Day, '80s Rock, Classic Rock, Modern Rock, and more)

DISCOVERY, SCIENCE, AND TECH
Awbury Adventures at Awbury Arboretum
Philadelphia
awbury.org/summer-camp
Contact for details
Bucks County Audubon Society Summer Adventure Camp
New Hope
bcas.org/education/camps/summer-camp
June 13 to August 26
Bucks County Community College – Kids on Campus and Teens on Campus Summer Camps
Newtown
bucks.edu
Contact school for details
Delaware Valley University Kids U! and Inspire U! Summer Programs
Doylestown
delval.edu/programs
Contact for details
Elmwood Park Zoo 2022 Summer Camp
Norristown
elmwoodparkzoo.org
Contact for details
The Franklin Institute's GSK Science in the Summer
Philadelphia
fi.edu
Contact for details
Morris Arboretum of the University of Pennsylvania 2022 Summer Camp
Chestnut Hill
morrisarboretum.org
July 5 to August 12
Riverbend Environmental Education Center Summer Camp 2022
Gladwyne
riverbendeec.org
June 13 to September 2
Science Explorers STEM Summer Camps
Multiple area locations
scienceexplorers.com
Contact for details
WHYY Summer Camps
Philadelphia
whyy.org/education
Contact for details
Published (and copyrighted) in Suburban Life magazine, March 2022.