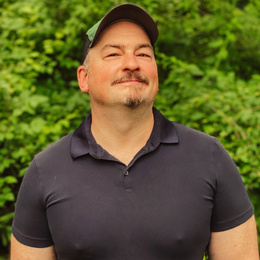 Heart to Heart
Bucks County romance novelist Philip William Stover talks passion and prose.
Romance writer Philip William Stover started his love affair with Bucks County at a young age. "I was in a production of The Wizard of Oz at the Bucks County Playhouse," he says, playing a munchkin. In the hour between the matinee and the evening show, Stover would explore New Hope. "Even as a young kid, I thought this is such an interesting, special place."

Despite this meet-cute, Stover's romance with Bucks County would be a slow burn. After graduating from Rutgers University, he attended NYU for a master's in performance studies, paying for grad school by appearing in commercials. Later, he added another degree in interactive telecommunications. Why? "The elevator door kept opening on that floor, and everyone was always having a good time," says Stover. "It was a like a Saturday Night Live sketch!"

After ghostwriting for Olivia Goldsmith, he wrote a series of books about girls auditioning for commercials based on his own experiences. "You open the door to audition, and there'd be 20 people who look just like you," he recalls. "That was always very strange. But then you get to know them and what's different about them. You actually learn about how the world sees you as an adult."

Stover had always been a romance reader, but he had not realized there was such a thing as gay romance. When he heard that Harlequin was starting Carina Adores, a LGBTQ+ contemporary romance line, he thought he'd give it a try. For his first series, "Seasons of New Hope," he turned to the town he loved as a kid. In The Hideaway Inn, the main character Vince attends a thinly veiled Tinicum Arts Festival, held every summer at Tinicum Park in Upper Black Eddy. "Feel free to note the art festival does not allow dogs," says Stover, a proud dog owner. "In my book, dogs are allowed."
Stover, originally from Bridgewater, New Jersey, eventually made it official with Bucks County, having found a country home in Pipersville for him, his husband, and their furry companion. He now splits his time between teaching in NYC and Pennsylvania, while his husband oversees Lehigh University Art Galleries. "We have moved our life to Pennsylvania," says Stover. "We purchased more land and a barn, so we are real Bucks Countians."

We spoke with Stover about the fuzzy line separating truth from fiction, the importance of travel, and why more people should be reading romance.
Q&A
What do you like best about your books?
I like that I write books that I don't see elsewhere in the bookstore. That makes me happy. And I like that I get to write books about the places that are both familiar and important to me.
Your "Seasons of New Hope" series is set in New Hope. What about the town inspired you to set the series there?
I wanted to really lean into the inclusivity of the area. Believe it or not, I constantly get emails from people who say, "Oh, wouldn't it be really great if New Hope was a real place?"
Really?
I realized I write about it as a fictional place, though most of the places and landmarks are real. People always say, "I can't wait to go there," or "I want to move there." And that always makes me feel really, really good.
In your other series, "Love Beyond Boundaries," you feature exotic locations, like the Galapagos Islands. What do you think the link is between romance and travel?
I grew up picking books based on where they were located. The books were how I learned about other places. The nice part about being a writer is that you get to visit places twice: You go there, and then you get to write about them and visit them again. The "Love Beyond Boundaries" series is based on the trips I've taken with my husband. He worked at the Metropolitan Museum of Art for 20 years, and we did the Travel with the Met programs. He lectured aboard those cruises. The first one we ever went on was to the Galapagos, and he taught a watercolors class. [There Galapagos My Heart] takes place on a high-end trip to the Galapagos, where the character teaches a watercolor class. I wish I had more imagination! And travel is always important. Who doesn't imagine a mysterious stranger and meeting someone and having those experiences? It's a very romantic part of my relationship.
It's like stepping out of the self, right? Maybe you're open to different experiences in those situations.
Absolutely! I always say if I'm ever in a coma, I want [my husband] to get our travel diaries and read them to me. He won't remember, and he'll never be able to find them.
Well, I'll put it in the interview, and then he'll have it.
Yeah, exactly!
If you were trying to convince someone who's never read a romance novel to read one, what would you tell them?
I would say that all novels are about becoming, how characters become and transform. Romance novels are about how people become and overcome through a romantic relationship. In romance, we move towards tropes. Tropes are something good. I think, for non-romance readers, that's often something that's off-putting. But the fact is, tropes are only the doorway into more complex relationships. I would say romance is for people who are interested in books about how people transform. If that's what interests you, you'll definitely find lots of transformation in romance.
Photograph courtesy of Philip William Stover
Published (and copyrighted) in Suburban Life magazine, April 2022.