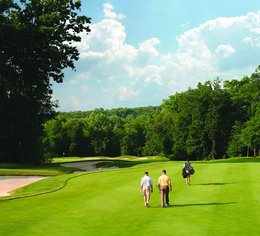 Greens with Envy
The area's above-par golf courses offer 18 holes you won't soon forget
Among the Philadelphia suburbs' array of truly magnificent golf courses, both public and private, every golfer has his or her favorite. Suburban Life spoke with some of the area's top golf enthusiasts, not to mention many of the clubs' general managers and PGA professionals, to scope out the most memorable holes in the region—from the par-3's with the narrowest fairways or best-bunkered greens, to the par-5's with enough yardage and undulation to confound even the most talented shot-maker. To see which holes make these public and private courses above par, read on.
PRIVATE CLUBS

Llanerch Country Club
950 West Chester Pike, Havertown
610-446-2232, LlanerchCC.org
Hole No. 7: Llanerch Country Club has a partic­ularly tough back nine, and on the front nine the signa­ture hole has to be No. 7. "The challenge here is not necessarily the length," says Greg Carver, assistant golf professional. "It's an older club, so it often happens that once you get on the greens, you have small greens that are guarded by challenging bunkers." Such is the case with No. 7, which has a small creek winding in front of the green, thereby providing a daunting second shot for this par-4. The hole, which runs 393 yards from the back tees, also features some of the most severe undulation on the course. On the back nine, Nos. 17 (par-3) and 18 (par-3) provide a fitting end to a round at this Alexander Findlay-designed course. "For 18, with the location of the clubhouse [so close to the green], there's an outside patio where area members enjoy their weekend after­noons," says Carver. "I always enjoy the atmosphere and camaraderie of finishing a round on that hole."
3600 Saint Davids Road, Newtown Square

610-356-8000, Aronimink.org
Hole No. 10: A 411-yard hole from the member tees, the 10th hole is a challenging par-4 that is day in and day out Aronimink's toughest hole, according to head golf professional Jeff Kiddie. "It's probably our most narrow driving area, and the fairway really pinches down; a lot of balls bounce down into the rough," he says. "There's also a fairway bunker that catches a lot of balls. A pond short left of the green has a steep bank, and it's far and away one of our most severe putting greens. … Overall we're known for being a challenging course, but there's nothing tricky about it. It's all straight in front of you." Host of the AT&T National Championship last year and again this summer, Aronimink is characterized by general manager Richard Naumann as a "long, hard, difficult golf course" with plenty of payoff. "Some championship courses are so hard that they're difficult for the average golfer to play," he says. "Here, anyone of any level can play and enjoy it." In addition to No. 10, other standout holes include No. 17, which is a tricky par-3. "There's a pond in front of the green, and if that catches a drive, a 5 is very easy to get to," Naumann says. "If it's a close match, 17 can be a crusher."

Lookaway Golf Club
4219 Upper Mountain Road, Buckingham
215-794-5727, LookawayGC.com
Hole No. 18: Rees Jones-designed Lookaway is a "pure" private-equity golf club, according to general manager Bob Johns; there are no tee times, so club partners play when they want to play, and 60 percent of partners take caddies as opposed to golf carts. Furthermore, the club has no tennis court or pool for swimming, so you know it takes its greens and fairways very seriously—including those on No. 18, which is a par-4 and also the club's signature hole. "From the back tees it's 434 yards long … over two wetland areas, with a very well-bunkered green that's elevated 20 to 30 feet upward," says Chuck Rininger, the club's head PGA golf professional. "Visually, it's stunning, especially with the clubhouse in back. Everything sits in front of you, but it's very intimidating." No. 14, which is a 447-yard par-4 hole based on the tees from which most members hit, traverses the same wetlands, requiring a demanding drive to avoid bunkering on the left, and fescue and mounds on the right.
Spring Mill Country Club
80 Jacksonville Road, Ivyland
215-675-6000, SpringMillCountryClub.com
Hole No. 16: Par-72 Spring Mill is well known for its intimidating length from the back tees—7,320 yards—on 18 holes of fine fairways and well-groomed greens. As for No. 16, it's the first of three potentially daunting finishing holes, and requires an on-target tee shot to avoid a large pond that collects shots hooked or sliced to the right. If and when golfers do find the fairway, making this par-4 is achievable. From there, it's on to the final two holes—both par-4's—including a heavily sloped and tough-to-read green on No. 18.
Radnor Valley Country Club
555 Sproul Road, Villanova
610-688-9450, RadnorValleyCC.com
Hole No. 9: Billed as a "shot-maker's course" by head golf professional George Forster, Radnor Valley Country Club is a par-70 course, measuring more than 6,500 yards from the back tees. On No. 9, a 409-yard par-4 hole from the white tees, just getting to the green doesn't guarantee par. "You have to have control of your ball because the rough is not forgiving here," says Forster. "We have a lot of willow trees, and the greens are so challenging with the slope that you've got to control your ball on the green." Other particularly challenging holes include Nos. 3 (par-4) and 16 (par-3), which many golfers—local or otherwise—rank among the toughest in the greater Philadelphia region. Last June, for example, the club hosted a U.S. Senior Open Qualifier, and only two of 80 players broke par, while one made par.
Philadelphia Country Club (Spring Mill Course)
1601 Spring Mill Road, Gladwyne
610-525-6000, PhiladelphiaCC.net
Hole No. 5: The fifth hole at Philadelphia Country Club's Spring Mill Course is at once unique and familiar. In terms of degree of difficulty, it mirrors many of the other par-3's at this historic course, which was designed by William Flynn and opened in 1927. "The fifth hole wraps around the lake, so it's a very challenging shot," says Jay Horton, head of profes­sional golf at Philadelphia Country Club. "The par-3's here are extremely difficult, and that's a mark of a lot of the Flynn courses I've seen." From the very first hole, golfers face a challenging yet "pure golf course in the more classical sense," with only a few water hazards, according to Horton. "The very first hole is only 325 yards, or 302 yards from the member tees," he says. "It looks like you could drive a ball onto the green, and some people could, but the opening to do that is extremely narrow and surrounded by sand. There are plenty of places you don't want to go [on No. 1]. It's a risk/reward hole."
Talamore Country Club
723 Talamore Drive, Ambler
215-641-1300, TalamorePa.com
Hole No. 18: Known for its stunning views and shots over expansive wetlands, Talamore is challenging for low handicappers, yet its six sets of tees make for an enjoyable round for play­ers of any skill level. Players can take their pick of several challenging par-5 holes, but the par-71 course has any number of memorable holes. One of the par-5's—No. 18—meas­ures 517 yards from the championship tees, and has a double dogleg that includes an imposing water hazard capable of claiming errant drives.
Commonwealth National Golf Club
250 Babylon Road, Horsham
215-672-4141, CommonwealthGolfClub.com
Hole No. 18: The 21-year-old course, which was designed by the legendary Arnold Palmer, features closely cropped fairways, well-manicured greens and a number of challenging doglegs, yet it is perhaps best known for its 18th hole—technically a par-4. Although not a terribly long drive, the fairway and the approach to the green are separated by approximately 80 yards of wetlands. "Most people either love it or hate it," says director of golf Patrick Shine. A par-71, 7,100-yard course, Commonwealth is distinct in its terrain, which includes copious wetlands and water features on the back nine. In fact, the course has two distinct "flavors," according to general manager Terry Tumolo—the front nine, which is more of a links design, with rolling hills and wide open spaces, while the back nine has more in common with what's seen in the Southeast, such as Hilton Head, S.C. "It's a player's course," Tumolo says. "It's a shot-maker's course. If you can control your accuracy from the tee, you're going to find it to be fair."
Merion Golf Club
450 Ardmore Ave., Ardmore
610-642-5600, MerionGolfClub.com
Hole No. 18: Designed by Hugh Wilson, Merion's East Course has played host to more U.S. Golf Association Championships than any other course in America, which speaks volumes about the character of its greens, fairways and bunkers. The 411-yard No. 18 begins with a tee-off to a blind fairway, followed by a severely sloped green. Of course, this hole played a part in one of the most awe-inspiring comebacks in golf history: It was on this hole in the 1950 U.S. Open where Ben Hogan hit a superb and unlikely shot onto the green, which helped him make par, thereby forcing a playoff that would put him on track to earn his second U.S. Open championship.
PUBLIC COURSES
Broad Run Golfer's Course
1520 Tattersall Way, West Chester
610-738-4410, BroadRunGC.com
Hole No. 4: Broad Run, designed by renowned course architect Rees Jones, is one of the best-kept and best-manicured courses in the area, according to head golf professional Dale Lafferty. It also features some of the most scenic vistas in the region, especially on No. 16, which sits at the highest point in Chester County and overlooks the front nine, Lafferty says: "Fall golf here is probably the most scenic in the Philadelphia area." No. 4 would be considered the course's signature hole; it's an uphill par-4 measuring 387 yards, carved into a hill and surrounded by trees. In addition to No. 4, Lafferty likes No. 18 as "a great finishing hole"—a par-5 measuring 551 yards with pond on the right. Overall, the par-72 course tends to be somewhat "forgiving," with bowled fairways that challenge golfers while helping to keep them out of the rough.
Skippack Golf Club
1146 Stump Hall Road, Skippack
610-584-4226, SkippackGolfClub.com
Hole No. 13: A companion to Evansburg State Park, Skippack Golf Club is a 50-year-old course unique in its ability to challenge the most capable player yet also friendly to ladies and players who are relatively new to the game, according to general manager Travis Lock. "We do have some shorter par-4's here," he says, "but on the flipside many of the par-4's will make you earn your money, with greens that are small and challenging." No. 13 is a tight par-4 on a tough stretch of the back nine that's "one of the hardest in the county," according to Lock. At 433 yards from the white tees, No. 13 features "an incredibly intimidating tee shot" across rolling terrain and a span of Zacharias Creek. "You will need two very good golf shots to get on the green," Lock says. "It plays like a par-5."
The Golf Course at Glen Mills
221 Glen Mills Road, Glen Mills
610-558-2142, GlenMillsGolf.com
Hole No. 8: Among the 6,646 yards at Glen Mills, there are many spectacular holes to choose from, according to Dan Shupard, clubhouse manager and vocational instructor. "Every hole has its own personality and its own pitfalls," Shupard says of the Bobby Weed-designed course. "And if you manage the course and hit your shots well, you're probably not going to hit sand all day," despite the course having its share of bunkers. On No. 8, a short par-4 of 325 yards, the green is almost on a plateau, with a plum view of the Victorian-era buildings of the nearby Glen Mills Schools. "You see this old architecture in all its glory [on No. 8]; there's no better place for a tee box," Shupard says. In addition to No. 8, Shupard chooses No. 11 (a 376-yard par-4 "bane" with a seemingly flat green that's difficult to read) and No. 15 (a 529-yard par-5 with a "canyon" in the green, making for a very difficult putt). The par-71 course's expertly manicured conditions are remarkable because nearly everything needed for the property—maintenance, grounds-keeping, etc.—is handled by the students of the nearby vocational school.
Five Ponds Golf Course
1225 West Street Road, Warminster
215-956-9727, 5pondsGC.com
Hole No. 16: Known for its immaculate greens among Bucks County's top public courses, this par-71 features any number of crafty holes, including No. 16: a worthy par-4 measuring 402 yards from the white tees. It's a tough shot from the fairway onto the green, spanning a creekbed and two bunkers—one to the left of the fairway and another abutting the green. In addition, the 6,300-yard course features three par-5 holes: No. 5, which measures 545 yards from the white tees, and two more on the back nine.
Neshaminy Valley Golf Club
440 Almshouse Road, Jamison
215-343-6930, NeshaminyGolf.com
Hole No. 12: Designed on the property of what was once a dairy farm, Neshaminy Valley Golf Club—now in its 40th year—is a par-70 course ideal for beginner and intermediate golfers. The well-manicured, 6,014-yard course is situated on one of the last remaining tracts of open space in Warwick Township, and the Neshaminy Creek meanders alongside the 14th hole, giving the course its name. In addition to Hole No. 6, which is a "long par-3" of 219 yards, No. 12 is one of Neshaminy Valley's signature holes, according to Nancy Thomas, the course's treasurer and also a member of the LPGA since 1992. This 304-yard par-4 is a dogleg right positioned in one of the course's most secluded areas; it's surrounded by woodlands, making it among the most tranquil yet challenging holes in Bucks County.
Inniscrone Golf Club
One Clubhouse Drive, Avondale
610-268-8200, InniscroneGolfCourse.com
Hole No. 4: Many of the holes on this par-70, 6,660-yard course have acquired something of a reputation for their ability to test the uninitiated, according to Lori L. Van Sickle, the club's general manager and director of golf. Among those is No. 4, which Van Sickle describes as a "fabulous" par-4 measuring 435 yards from the championship tees, though most people play it from the middle tees at 370. "Pin placement can be impossible [on No. 4]," she says. "It's almost like a Donald Ross green where it's crowned on the back left side … and if you miss it you could roll into the woods." In addition, the view from the tee box on No. 12—a par-4 spanning 450 yards from the member tees—ranks among the most picturesque in Chester County. Then there are Nos. 16, 17 and 18 to contend with. "I would challenge you to find three tougher finishing holes than what you'll find here," Van Sickle says. "It's a very demanding course in terms of accuracy and length, but it's a beautiful venue."
Jeffersonville Golf Club
2400 W. Main Street, Norristown
610-539-0422, JeffersonvilleGolfClub.com
Hole No. 13: This Donald Ross-designed, par-70 municipal course is likely to surprise. In fact, it's "a flat-out amazing" course with "country-club conditions," according to head golf professional Michael Housley. No. 13, a par-4 hole measuring 408 yards from the white tees, features very well-placed bunkers on both sides of the fairway, with an oversized swale and a creek separating golfers from the green. Another signature hole, No. 18, is a par-5 with a double dogleg and a lake on the left-hand side of fairway. "I've invited PGA pros to come over and play this course, and they're shocked when they come here for the first time," Housley says. "Thanks to our head superintendant Rich Shilling and his team, the course conditions are absolutely phenomenal for even a country club, let alone a municipal course that does 40,000 rounds a year."
The Club at Shannondell
2750 Egypt Road, Audubon
610-382-9300, TheClubatShannondell.com
Hole No. 17: Named by Golf Digest among the "Best Places to Play," The Club at Shannondell offers a par-72 course that can be challenging as well as friendly to those with a higher handicap. Perfectly manicured yet pitched greens, narrowed fairways and a higher-cut rough will challenge any player, demanding precise shots from the tee onto the green. Wide, gentle rolling fairways appear to be somewhat forgiving, and at slightly over 6,100 yards from the back tees, the yardage can be deceiving. No. 17 is among the most memorable—as well as pivotal—because it employs well-placed bunkers and water hazards on the way to more of the same at the finishing hole.
Limekiln Golf Club
1176 Limekiln Pike, Ambler
215-643-0643, LimeGolf.com
Hole No. 4: Limekiln's 27 holes to choose from are spread across three separate nine-hole courses, thereby making each outing a unique experience. No. 4 on Limekiln's Red Course is a par-5 that offers more than its share of gauntlets: stands of trees and hazards to the left side out of the tee box, followed by a dogleg left. Golfers need two well-hit shots to get within a drop shot onto the green, which is expertly guarded by a front-side bunker.